Energy companies have been in the news the past year or so. Specifically, with energy companies dividing their assets and forming separate companies from the different sections. With events that have unfolded with Occidental Petroleum Corporation (NYSE:OXY) we may see it again. The previous two high profile splits have turned out to have hit the ground running. Let's see how Occidental is doing as of late.
Occidental Petroleum has $23.76 billion in revenue for the past year. As of the first quarter Occidental Petroleum has $65,824,000,000 and has $24,942,000,000 in liabilities. As it stands Occidental Petroleum's liabilities are 38% of their assets. This company is conservatively financed.
Occidental Petroleum has paid a dividend since 1975. They have also increased their dividend annually since 2003. The dividend is currently at $2.56 or a 2.80% yield. The payout ratio is at 42%. Occidental has a history of returning shareholder value.
Earnings for the past year are $5.43. The Graham Number is $78.73. The earnings for the past seven years are:
| | | | | | | | | | | |
| --- | --- | --- | --- | --- | --- | --- | --- | --- | --- | --- |
| Year | 2012 | 2011 | 2010 | 2009 | 2008 | 2007 | 2006 | | AVG | 25 P/E |
| EPS | $5.71 | $8.15 | $5.61 | $3.87 | $8.74 | $6.03 | $4.88 | | $6.14 | $153.50 |
At these levels I would consider entering a position in the $80.00 range. However, there are more things to consider before jumping in.
Ousting
Earlier this year Chairman Ray Irani retired a year early, due to an unfavorable conflict that had arisen between him and Chief Executive Stephen Chazen; shareholders ultimately sided with Chazen and Irani was amicably removed from his duties.
Share Repurchase
In addition to a dividend I want to see a solid share repurchase program in effect. Over the past 20 years the outstanding shares have increased by 32%. That means that if you have held this stock for the past 20 year your equity of the company has been reduced by one-third.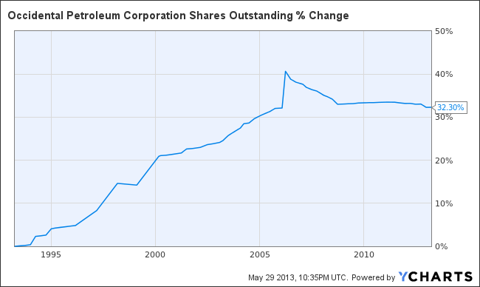 OXY Shares Outstanding data by YCharts
At this time Occidental Petroleum is looking into selling assets in order to repurchase shares and bring share holder value.
I like share buybacks for a simple reason. Most people look at stocks based on price, which is fine. However, if you are a long-term investor as I am, I want to see my equity in the company itself increase. Now throw out the price of the stock all together. There, gone! Think of your wealth simply based on the amount of shares in the company you own. Worst case scenario the company does not grow, so your original principal is safe. Over time if a company does not have a solid share buyback program in place you are losing principal. Why? Because your portion of the company is being given away diluting the shares of the company. Think of it as share-inflation, the invisible eater of equity.
Conclusion
We have another restructuring in our midst. Only a few suggestions have been thrown out as to how the company will restructure. Personally, I do not want to get involved before a restructuring due to the possibility the market will not favor the plans.
With the recent outing of Ray Irani, Chairman since 1990 the future of the company is uncertain. Not in a bad way mind you, just until the management at Occidental Petroleum come together and come up with a roadmap.
Until we hear about what direction the board wants to go, I would stay away from this stock. The fundamentals of Occidental Petroleum are fine at this point. My two concerns would be where is this company going and does it include a share repurchasing program for the long-term investor.
Disclosure: I am long IBM, KO, MPC, WMT. I wrote this article myself, and it expresses my own opinions. I am not receiving compensation for it (other than from Seeking Alpha). I have no business relationship with any company whose stock is mentioned in this article.