From Drought to Floods in the Midwest/ Hurricane Season
We have fielded many questions about the upcoming hurricane season and whether or not much of the Gulf Coast, Florida or the Northeast will be in harm's way this summer and fall. In addition, the Midwest drought has gone from famine, to feast to now, too much rain. I continue to see major flood issues the next 10 days for the Midwest grain belt, which a year ago began suffering from one of the worst droughts since the Dust Bowl days of the 1930's. The main impetus for this incredible change is the former deep snow cover over Canada, the cold U.S. spring and big changes in the Gulf of Alaska.
Ocean temperatures are cooler than normal along the equator representing occasional weak La Nina conditions that normally would support a very active hurricane season. However, there are other factors (too be discussed some other time down the road), that suggest to me that some forecasters and firms may be a bit over-zealous on how active the hurricane season will be.
Natural Gas Prices May have Reached Their Peak The next 1-2 months -- Normal to Cool Summer, still on Track
First of all, other than some occasional knee-jerk reactions in the natural gas market, hurricanes have much less of an impact in natural gas production and a very feeble influence in the market. This is because less than 25% of U.S. natural gas production is now off-shore compared to close to 60% during the pre Katrina years. If anything tropical storms and hurricanes can act to cool off the south, weaken demand and have a bearish impact on prices, at times. With our forecast for a cool early summer still in place, the weather is net bearish natural gas again, in which prices will have a very hard time rallying above $4.50 and could even hit $3.50 or lower later this summer, if cool weather and a lack of storms hit the Gulf Coast. Look for (NYSEARCA:UNG) prices to be steady to lower into summer. It is possible that a Pacific tropical system now hitting Mexico could move into the eastern Gulf coast and near Florida by later next week, but should be a bullish impact to the natural gas market. The earliest hurricanes ever to hit U.S. mainland occurred in 1895 and 1966, but the system next week should be quite a bit more feeble than in those years.
With respect to hurricanes, you can find NOAA's outlook here.
Laws of Fibonacci -- Found In Nature, Weather and in Markets
Many of the most experienced technical traders like to look at Fibonacci patterns when making more medium term market calls in currencies, precious metals and stock index futures. But just like the trends of markets, weather and nature have predictable cycles and trends which are unambiguously connected and related to each other. Without going into too much scientific detail today, periods of very active hurricanes and their specific storm tracks are often replaced with less active hurricane development and much more varying tracks. In other words, there is often a "retracement" or "lull" in hurricane activity after several very active years. In terms of where they track, we could (in a sense), make an argument that the State of Florida is in a long term downtrend in hurricane activity, not having a major storm since the infamous 2004 season. However, just using Fibonacci numbers and a retracement from Florida's downtrend in activity, should result in a "spike" up in activity, either this season or in 2014. While drought conditions could well ease in Florida, the possibilities of storms this summer or fall and disease issues, continues to support orange juice futures. However, orange juice prices may be near a top if needed rains fall later next week from a weak tropical system.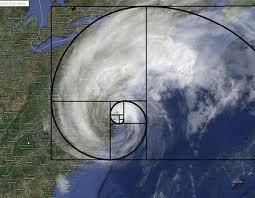 Hurricane Sandy last October. Its spiral is a strong signal of the powerful relationship between Fibonacci numbers (below) and the breath of nature.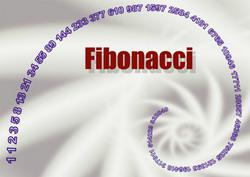 SOURCE OF PICTURES ABOVE -- Polynomialtimes.com
Big storms again are blasting the Western Corn Belt with more flooding delaying final planting of corn and hurting some early crops. You can see the spiral type band over Oklahoma and Texas that has resulted in incredible tornadoes recently and lots of damage.
While it is dangerous to relate all market moves and weather strictly to Fibonacci, of course, there are many instances in which weather patterns and commodity price action are unequivocally related.
In the case of corn and soybeans, we have been in a strong downtrend for months, based on my forecast of record South American production last winter, poor demand (especially for corn and wheat) and the U.S. drought easing the last few months. So one can look at this Fibonacci chart above and flip it. In other words, the "strong downtrend in grains may be taking a pause" and the impetus for that is incredible wet weather that is slowing planting down. I look for more abundant rain amounts in Iowa, Missouri and Illinois the next 10-15 days, possibly exceeding another 4-8 inches, on top of some 5-10 inch amounts over the last week. The result will be potentially millions of acres of corn that will have to be replanted as well as some soybeans too.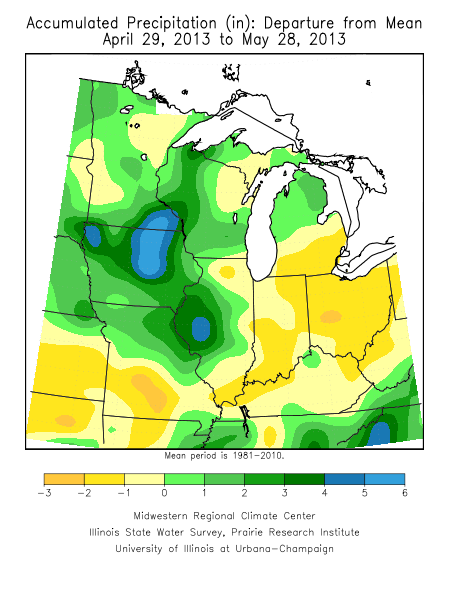 So the question is, will this short term move up in corn and soybeans and the ETFs (NYSEARCA:CORN) and (NYSEARCA:SOYB) be just an ephemeral affair in a bear market? Well, as a fundamental trader and analyst, I could tell you that using technical analysis does not always work and being able to read market psychology and crop potential and weather extremes ahead of the crowd is the key in grain trading. What about Fibonacci you ask? In my opinion, the recent ideal winter and early spring weather for grain markets may just be a retracement in an overall "uptrend" in global weather extremes. For example, new research suggests that some 70% of the time during the wettest springs, U.S. soybean yields are below trend line during summer. Hence, corn and soybean prices may have more medium term support.
This might be a change in our overall longer term bearish view, following the Midwest drought, last fall and winter.
Wheat prices and the ETF (NYSEARCA:WEAT) have trended lower due to ample world supplies. This is in the face of a bad drought and recent freezes this spring in the U.S. Plains and may be a bit surprising to some. However, important June rains may hit some key areas of Kansas, etc. and the Australia and Russian weather situation will be improving following earlier weather issues from dryness.
Hence, we have seen corn outperform wheat over the last week and this trend may continue for at least another week with more Midwest flooding to corn crops.
Other Markets and Weather
We began taking out the risk of cold weather in Brazil about 2 weeks ago and the reality of a huge Brazilian coffee crop still coming onto the market has pressured prices. While a low risk trade would be being long coffee call options and (NYSEARCA:JO) through summer, other than some short term concerns with wet weather coming up for the Brazil harvest this next week and tropical storm Barbara possibly bringing flooding to Central America, we would need a legitimate freeze to get coffee out of the doldrums.
In Cocoa, we became more bearish about 2 weeks ago, after we published a longer range study with respect to the likelihood of normal to above normal 2013 global cocoa production. Hence, as mentioned a while back, the ETF (NYSEARCA:NIB) probably has very little upside, at least through summer.
In Sugar and the ETF (NYSEARCA:CANE), wet weather in Europe may delay the crop from reaching good early potential in places like France and wet weather returning to Brazil may slow down the harvest. The market is down over 25% since last summer, due to the huge Brazilian crop, which is close to double last year. Unless we see major weather issues to the Indian Monsoon this summer, or major wet weather issues in Brazil, sugar prices will likely not reach the 20 cent level again.
Orange Juice prices had the run I was looking for this spring on drought in Florida and disease issues. However, some improvement in the drought is likely in coming weeks, so I am a bit unsure where prices may head. Then again, some hurricane threats could occur this fall.
Cotton is at the mercy of what China does, as well as summer weather in India, Pakistan, China and Texas. I unsure of this market at this point, as I have not been following it much.
Disclosure: I have no positions in any stocks mentioned, and no plans to initiate any positions within the next 72 hours. I wrote this article myself, and it expresses my own opinions. I am not receiving compensation for it (other than from Seeking Alpha). I have no business relationship with any company whose stock is mentioned in this article.