If you want good performance, it usually pays to buy stocks in the top performing sectors. Over time the top sectors change so you must adapt. Still, if you buy a great stock in a great sector, it is likely to stay at least a good stock in a mediocre to good sector. It also helps if it is an up and comer at the time you buy it.
Boots & Coots International Well Control, Inc. (WEL) and Continucare Corp. (NYSE:CNU) are two such stocks. Each has recently been added to the Russell 3000. Boots and Coots is a well services firm. The name comes from Boots Hansen and Coots Matthews, who founded the company in 1978. They were disciples of the legendary Red Adair of oil well fire fighting fame. The company has expanded from well fire fighting to a much more robust, well-rounded, well services company. CEO Jerry Winchester has grown the company from $25M in revenues in 1998 to $210M in revenues today. The fire fighting services amount to only 10% of the company revenue now.
Boots and Coots is still growing. The company provides a suite of integrated pressure control and related services to onshore and offshore oil and gas exploration and development companies primarily in North America, Asia, South America, North Africa, West Africa, and the Middle East. The company operates in three segments: Pressure Control, Well Intervention, and Equipment Services.
One of the reasons for the low price of this great stock is the situation in Venezuela. WEL has recently suspended operations there. Venezuela recently nationalized the operations of some foreign oil contractors. When that happened, WEL's share price dropped from $1.75 to $1.15. WEL is owed $21M by Venezuela, about 25% of WEL's current receivables. Venezuela has not nationalized any of WEL's assets yet. Petróleos de Venezuela, or PDVSA, reportedly had $14 billion in unpaid bills to oilfield service companies at the end of 2008. It is unclear if WEL will be paid any time soon. Venezuela may be waiting for the price of oil to go much higher before it considers paying any bills. It could try to nationalize all of WEL's assets, but this might be strategically a losing move. A good portion of the service provided is in the expertise of WEL's people.
We will likely have to wait some time for this to situation to play out. Venezuela seems unlikely to spend any of its oil revenue on anything but internal issues during this time of economic hardship. Payment seems likely to be a year or more away, if it comes at all. WEL is in a relatively good position in that it is small. Venezuela could pay its debt to WEL. Then it could contract with WEL for a much greater amount of services. Venezuela might then not pay a larger supplier of services at all or at a much later time. Since there is currently a recession, this scenario seems much more likely than the reverse scenario.
Whatever happens with the Venezuela situation, WEL is fundamentally sound. The company can bear this loss if it has too. The stock price already reflects the problem. The company is still growing. It reported 21% revenue growth in the first quarter of 2009. It grew revenues approx. 70% in the TTM period. It is slated to continue to grow at a good rate. Its margins have been lower than one would want.
However, those should improve as the world comes out of a recession.
A company that can grow revenue during a recession is usually a good bet to do well after a recession ends. WEL does 80% of its business overseas – a good portion in North Africa. Venezuela is by no means its only big client. WEL is expecting to get paid by Venezuela. Even for its "newly" nationalized assets, Venezuela still needs well services. WEL's 52-week high of $3.05 was last Aug. 25, 2008. It closed at $1.32 on Friday. It had a recent low of $.95 on Dec. 22, 2008. If the equities markets stage a significant retreat in the upcoming weeks, you may be able to buy this great stock at or close to $1. It is a bargain at any price near that. It is a bargain even at its current price. Many believe oil is in a general retreat from the $70 range to the $55 to $60 range (or more). This sector retracement should also help you get a better price on this stock. I have included some relevant statistics about the stock in a table below the CNU introduction.
The five year chart of WEL is below: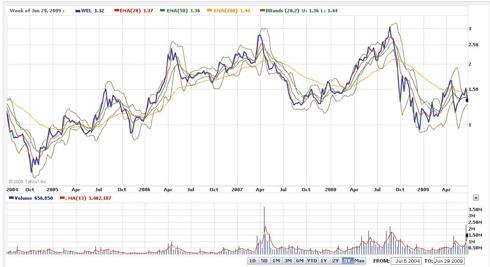 Click to enlarge
Continucare Corporation (CNU) is another new addition to the Russell 3000. "It provides primary care physician services on an outpatient basis in Florida. It provides medical services to patients through physicians, nurse practitioners, and physician's assistants. The company also provides practice management services, including assistance with medical utilization management, pharmacy management, and specialist network development to independent physician affiliates (IPAs). As of June 30, 2008, the company operated a network of 18 medical centers, and provided practice management services to IPAs at 25 medical offices. Continucare Corporation has managed care agreements with Humana Medical Plans, Inc.; Vista Healthplan of South Florida, Inc. and its affiliated companies; and Wellcare Health Plans, Inc. and its affiliates. The company was founded in 1996 and is based in Miami, Florida." (Yahoo Finance)
CNU has solid fundamental numbers. It is slated to grow about 44% in this recession year.
Its chart looks technically excellent. Plus it is a possible buyout target of many of the companies it supplies services to such as Humana (NYSE:HUM) (and its competitors). If a buyout were to occur, the price of the stock might double in the blink of an eye. Its recent high was Feb. 12, 2007 at $3.60. Its recent low was March 2, 2009 at $1.63. It is a good buy at its current price of $2.50. However, if the equities markets are about to retreat, it might be wise to wait to buy this stock until closer to the bottom of the retreat. A lot of people believe the retreat will go to at least $80 to $83 on the SPY. Others believe we will retest the lows of March. Still others believe the markets will go even lower than the previous lows. It is very difficult to make an exact determination. Much may depend on myriad factors, which are not certain yet. Time will tell. The 5 year chart of CNU is below: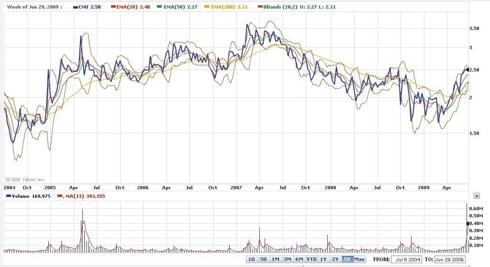 Click to enlarge
The table below contains some of the more interesting statistics on CNU and WEL. It seems to say that both of these stocks are solid prospects. CNU is possibly a little safer. It does not have money tied up in unstable foreign countries. WEL has the far lower PE, FPE, and Price/Book. The data below comes from TD Ameritrade and Yahoo Finance.
Stock

Boots and Coots, Inc. (

WEL

)

Price

$2.50

$1.32

Beta

0.5

1.4

PE

11.79

5.55

FPE

9.62

4.89

PEG

0.59

N/A

Avg. Analyst Rating

1.5 (Yahoo)

1.7 (Yahoo)

Price/Sales

0.55

0.47

Price/Book

1.40

0.99

Price/Cash Flow

9.33

3.6

EPS Growth (MRQ)

34.38%

-62.56%

EPS Growth (TTM)

43.49%

44.94%

Revenue Growth ((MRQ))

14.35%

21.40%

Revenue Growth (TTM)

7.22%

70.90%

5 yr Earnings Growth

33.64%

2.89%

% Held by Institutions

12.42%

40.14%

Short Interest

12K

1.1M

Float

32.2M

77.0M

Shares Outstanding

59.4M

78.2M

Avg Daily Volume

110,578

787,513

Gross Margin

18.79%

36.30%

Net Margin

5.02%

8.51%

Revenue Per Employee

$461, 181

$317,204

Return on Equity

12.78%

19.94%

Debt/Capital

0

29.90%

Quick Ratio

4.84

1.73

Interest Coverage

Not Applicable

4.09
CNU is lightly traded (although the Beta is only 0.5). WEL has a Beta of 1.4, but it is more heavily traded. They are both very likely to go down with a down market. It is wise not to fight the market. However, chance favors the prepared mind. It is wise to have a list of stocks you want to buy ready for when you think the market is at or near the bottom. You don't have to go all in at one time. It is often better not to do that. You might spread your buying out over months. I think both of these stocks merit a lot of consideration.