The Goose that Laid the Golden Eggs is a well-known fable that has become synonymous with financially crippling actions motivated by greed. In the tale, a man and his wife own a very special goose. Every day, the goose would lay a golden egg, which the couple could sell for a good profit. One day, in hopes that the goose contained a great amount of gold inside, they killed it, only to find that there was nothing special inside. The goose could no longer lay eggs and thus held no value to the couple. In their quest for instant riches, the man and woman destroyed a reliable source of long-term wealth.
This same lesson can be applied to retirement investing with a dividend growth portfolio. The ultimate goal of this portfolio is to provide the owner with dividend income in the years after retirement. Too many people today exemplify the "I want it now" mindset that will never result in lasting financial independence. In my mind, it is imperative that investors build up a large enough retirement portfolio so that they can live solely off of the dividend income. This way there is no need to withdraw capital from the portfolio. Once an investor begins to withdraw capital as well as dividends, it guarantees a constantly declining stream of income that will eventually run dry.
I view retirement investing as a method of collecting "geese", or stocks, that will perpetually lay "golden eggs" in the form of dividends. Upon retirement, there will hopefully be sufficient geese laying enough eggs to cover all expenses. It is the investor's responsibility to use these eggs as he or she pleases, without selling any of the geese. Ideally, dividend income will exceed expenses in retirement, allowing for reinvestment in more "geese" for the portfolio to further increase income. It is at this point that an investor will be truly financially independent in retirement.
Let's take a look at two recently retired investors who will live only off of their dividend income. Investor A has a $800,000 portfolio invested in high quality dividend stocks. Investor B was a slightly more prudent investor during his career, and managed to accumulate $900,000 in his retirement portfolio. They each need $70,000 annually to cover expenses, but will acquire this amount in different ways. Let's take a look at the stocks involved in their portfolios:
Altria Group Inc. (NYSE:MO) - Altria manufactures and sells cigarettes, tobacco products, and wine domestically. It is currently yielding an impressive 4.7%. With 44 consecutive years of dividend hikes and powerful brands such as Marlboro, the stock has provided tremendous returns in the past. Its combination of dividend growth and share buybacks makes Altria a solid long-term play. Such a consistent stock is a great candidate to continue to be a buy and hold stock going forward.
AT&T, Inc. (NYSE:T) - AT&T is the largest U.S. telecom stock with a current market cap of about $200 billion. AT&T provides wireless services to over 100 million subscribers, all of whom pay monthly fees for wireless coverage. This telecom giant has paid and raised its dividend annually for the past 30 years and is currently yielding 4.9%. With earnings per share of $1.25 and a dividend of $1.80, T seems to have payout ratio of almost 150%. Since a company needs to earn enough to cover the dividend payment, this ratio might initially look to be very high and difficult to sustain going forward. However, if we look a little closer at the free cash flows of AT&T, we see that it is generating plenty of cash to continue its payout. The dividend does not seem to be in any danger going forward.
Exxon Mobil Corporation (NYSE:XOM) - Exxon Mobil is one of the world's largest integrated energy companies, focusing mostly on the production of oil. Last year marked the 30th consecutive year that the company raised its dividend when XOM boosted it by over 20% to $0.57 quarterly. The current quarterly dividend of $0.63 gives Exxon a yield of about 2.8%. I believe it is currently attractively valued compared to the overall market as its PE of about 9 is less than the industry average.
Johnson & Johnson (NYSE:JNJ) - Johnson & Johnson manufactures and sells drugs, medical devices, and healthcare products across the globe. Some of its well-known brands are things that we use every day such as Tylenol, Band-aid, Listerine, Splenda, Acuvue, and Neutrogena. The company has a strong balance sheet with over $20 billion in cash compared to only $15 billion in debt. It has raised its dividend for the past 50 years, making it one of the most consistent dividend growth stocks around. With a dividend yield of around 3% and a 5-year dividend growth rate of over 8%, JNJ looks to be a strong candidate for any retirement portfolio.
McDonald's Corp. (NYSE:MCD) - McDonald's is one of the strongest brands in the world. Uncertainty over former CEO Jim Skinner's retirement last year caused a little weakness in the stock price, however it has bounced back nicely with Don Thompson at the helm. Management has proven its ability to adapt to changing consumer preferences with healthier menu choices, and will continue to do so in the future. The current payout ratio and growing income leave plenty of room for future dividend increases. Revenues and cash flows rose over 12% from 2010 to 2011, while net profit margins stayed above an impressive 20%. MCD is the dominant player in the fast food industry and still has plenty of room to expand globally, including its recent push into India.
Procter & Gamble Co. (NYSE:PG) - Procter & Gamble has been the definition of consistency over its storied history, as it has raised its dividend annually in each of the past 56 years and currently yields 2.9%. PG is a consumer goods behemoth, with multiple huge brands that generate billions of dollars in sales. Popular shampoos such as Head & Shoulders and Herbal Essences have established strong customer loyalty have a large market share. Other household products by Procter & Gamble have similar stability and predictability in sales revenue, such as Bounty paper towels and Charmin toilet paper. Most of the massive brands owned by PG will be around for a long time, making it a great choice for a retirement portfolio.
All of the stocks listed above can qualify as Hall of Fame "Geese" because they have been providing investors with high quality and consistent golden eggs for many years. Although it is possible for any "goose" to die via a dividend cut or elimination, these companies run very little risk of doing so. The average yield of the companies listed above is about 3.5%, so we will use that as the yield for each portfolio, with average annual dividend increases and capital appreciation of a conservative 5%.
An Example
Here is a graph of Investor A's portfolio over time, from his retirement age of 60. As you can see, it initially yields 3.5%. Since this is not enough to fully cover annual expenses, a chunk of the portfolio must be sold off each year to cover this gap. The value of the portfolio drops every year, leaving the investor with nothing at age 95.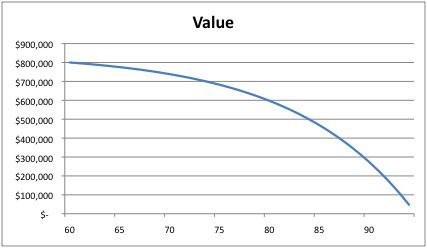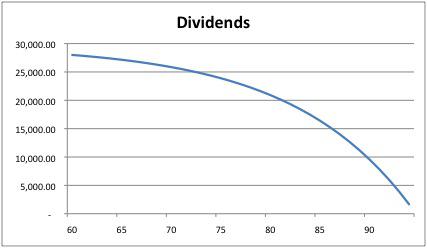 Below is the graph of the value of Investor B's portfolio with the same annual withdrawals as Investor A. However, the extra amount ($900k vs. $800k) that the portfolio started with allows it to continually increase in value since the dividends and capital appreciation exceed the withdrawals. This is clearly the preferred case for capital preservation and leaves the investor with a significant asset far into the future.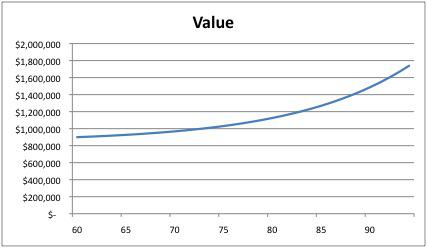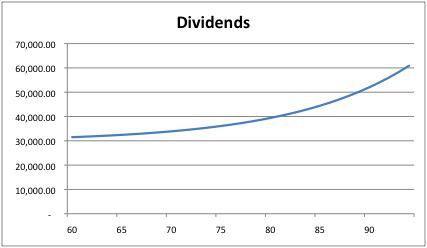 It is hard to imagine that a difference of only $100,000 at retirement allowed the second investor to grow his portfolio while the first investor's deteriorated. To sum it up, retirement can be viewed as a game of collecting the most "geese" that you can so that the golden eggs you are receiving in retirement exceed any expenses you may have. Although it takes discipline, it is important to maintain and grow the portfolio as much as possible. Accumulating a high quantity of blue chip companies will allow for a financially independent retirement.
Disclosure: I am long JNJ, MCD, MO, T, XOM. I wrote this article myself, and it expresses my own opinions. I am not receiving compensation for it (other than from Seeking Alpha). I have no business relationship with any company whose stock is mentioned in this article.