Company Name: Canadian Solar Inc. (NASDAQ:CSIQ)
Reported EPS: $-0.10
Consensus EPS: $-0.84
Reported Revenue: $263.6M
Key Stats
Gross Profit: $25.6M
Gross Profit Previous Year: $25.1
Gross Profit Increase: 2%
Total Solar Module Shipments: 340 MW
Total Solar Module Shipments Previous Year: 343MW
CSIQ Beats Earnings on the Back of Posting Smaller 1Q Losses than Expected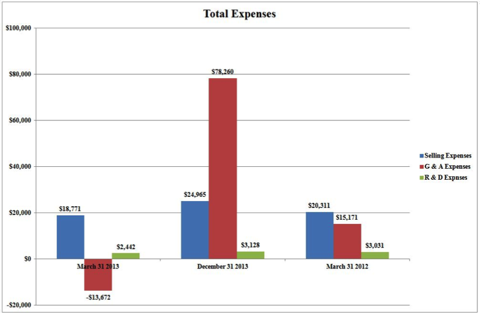 Canadian Solar Inc. reported earnings Tuesday morning that beat analyst expectations of -0.84 by 0.74 as the company took on fewer losses than expected. Great losses were expected as result of recent happenings in the solar sector, which is very volatile and has had issues with trade relations, pricing, and more. Mostly solar panel prices have decreased dramatically as more firms have entered the sector during the period where the greatest renewable energy subsidies were being provided by European governments especially. Now that these subsidies have mostly stopped existing, the solar sector is in trouble.
These relatively good results by CSIQ were mostly due to lower expenses during the quarter as compared to the previous quarter and the same quarter last year. The total changes in expenses can be seen in the chart above. It can be seen that all operating expenses dropped this quarter as compared to the previous quarter and the same quarter last year. For example, General & Administrative Expenses came down from $78M to positive $13M as a result of the Jiangsu Suzhou Intermediate Court reversing a previous determining that an arbitration award by CSIQ to LDK Solar (NYSE:LDK) in the amount of $30M
Revenues did fall this quarter by about 10% with the greatest decrease coming in CSIQ's European market. This market registered a decrease of revenue for the amount $54.7M, which is a 45% over the previous quarter and a nearly 54% decrease over the previous year.
Analysis and Outlook
Most of the positives that CSIQ encountered this quarter were one time occurrences that cannot be expected to happen every quarter. General and Administrative expenses are down mostly because of the reverse arbitration award of $30m that will not occur in next quarters.
Selling Expenses and Research and Development Expenses also decreased but this occurred because of the decreased demand for CSIQ products. Competition and abundance of companies in the industry has commoditized the solar industry, meaning that the lowest priced company is the most appealing. The solar industry needs to have consolidation and more companies closing shop in order to create an industry where margins can grow. The quarter, as we have shown above, was not tremendously great in showing organic growth, and most gains were not from actual products being purchased and new orders being filled. That issue is why CSIQ's recent run is likely to not last.
CSIQ's future P/E is currently at 55.24, signifying that the stock is quite overvalued at this time. We tend to look for value at sub-15 on future P/E. Until the company can prove that they are able to effectively beat comps year/year, we cannot at this time recommend buying this stock.
Management says that customer demand uncertainty is very high which can be translated to them being uncertain of their ability to beat comps (and remember these comps continue to decline each year). Second quarter module shipments are expected to stay the same as this quarter and expect expenses to increase next quarter as one-time gains will not occur. The company has announced that they are planning to make further inroads into emerging markets in South East Asia as revenues continue to decline. These expansions will continue to increase subsequent quarters' expenses. This move may allow for future revenue increases, but the company has not yet shown any success there. We would rather wait until organic growth occurs there before we believe that the company has turned the corner.
Recommendation
Sell CSIQ
We are recommending selling CSIQ if you currently own on recent gains, as we believe those gains should evaporate as more individuals begin to see that most of CSIQ's success was not from business success. We, however, do not recommend shorting CSIQ due to heavy volatility in this name.
Disclosure: I have no positions in any stocks mentioned, and no plans to initiate any positions within the next 72 hours.
Business relationship disclosure: The Oxen Group is a team of analysts. This article was written by David Ristau, one of our writers. We did not receive compensation for this article (other than from Seeking Alpha), and we have no business relationship with any company whose stock is mentioned in this article.