Lindsay Corporation (NYSE:LNN) reported fiscal third-quarter earnings of $0.42 per share, beating our expectations of $0.34 per share and market expectations of $0.25 per share. The company has been successful in cutting personnel as well as other operating expenses through its cost-reduction initiatives implemented in the first three quarters of fiscal 2009.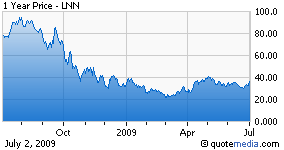 The company posted revenue of $84.6 million for the quarter, compared to $143.6 million in the third quarter of fiscal 2008. Current global economic conditions are adversely impacting the company's businesses. Irrigation equipment revenue declined 45%, and Infrastructure revenue was down 21% year-over-year.

In the Irrigation segment, Lindsay witnessed a 47% drop in domestic sales and 40% drop in international revenue. Management stated that despite an improvement in agricultural commodity prices, farmers have stayed away from purchasing capital goods due to the prevailing uncertain market conditions.

The Infrastructure business is highly dependent on government funding of transportation projects. During the past several months, federal, state and local governments have cut down spending on infrastructure projects, pending the availability of funds. The company stated that it hasn't experienced the impact of the stimulus spend on its top-line to date.

Moreover, the company announced that the Mexico City Movable Barrier project continues to be delayed pending the resolution of issues between the contractor and local government. The project, with a total contract value of approximately $19.6 million, was originally expected to begin in April 2009.

It was anticipated that the company would realize the majority of the total contract value in the second half of FY09. However, the company is now uncertain about seeing any revenue from this project this year. The uncertainty surrounding the project further underscores the lack of visibility for the company's top-line performance.

Though the difficult macro-economic environment is a concern in the near term, we believe the long-term outlook for Lindsay remains positive due to the need for increased food production driven by the worldwide population growth and the strong need to improve transportation infrastructure.

We maintain our Hold recommendation on LNN.