Since Bernanke's testimony to Congress last week, interest rate-sensitive securities have had it tough. The mortgage REIT ETF (NYSEARCA:MORT) is down about 5%, utilities (NYSEARCA:XLU) are down 4.5%, and the long-bond (NYSEARCA:TLT) is down about 2.5%. This is relative to a mere 1.5% decline in equities (NYSEARCA:SPY).
I don't see the bottoming in interest rates as a negative for broader stocks, as long as rates are starting to rise as a result of increased economic activity. As Barry Ritholtz at The Big Picture points out, we simply don't yet know why rates have begun to perk up.
For at least the last 6 months, my framework for thinking about the economy has been that we are actually in pretty good shape. The U.S. budget deficit is expected to come in at about 4% of GDP, or only $642 billion (don't even try with the "you can't trust the CBO" argument) - a far cry from the $1 trillion-plus deficits we've become accustomed to. FY13 GDP estimates currently range from about 2.5-3%, which should bring the unemployment rate closer to 7%. Housing prices have been on a tear, but this is likely being driven more so on the supply side more than from organic demand.
There are plenty of concerns, to be sure. In terms of equity prices, revenue growth stagnated in Q1, which doesn't bode well for earnings as margins have likely peaked. That being said, weak Q1 revenues can plausibly be linked to the effects from the sequester, and spending seems to have picked up since then.
With inflation still running below the 2% target (currently at 1.7%), it's clear that we are running well below "full" capacity utilization and that we have plenty of room to grow without igniting inflation. With consumer deleveraging coming to an end, it looks like 2014-2015 GDP estimates for ~3.2-3.5% growth are on track. 10-year interest rates around 2% simply don't reflect the underlying economy, and they appear to be ready for a sustained move higher - though expect the Fed to "talk" them down if they rise too quickly.
Finally, it should be noted that Chairman Bernanke mentioned that the Fed is watching for investors "reaching for yield." The Fed knows that some interest rate-sensitive assets are overvalued by historical measures - at the very least, you've got to be careful holding these now.
Warren Buffett has been selling shares of Proctor & Gamble (NYSE:PG) on "valuation," which is logical given its premium to the broader market despite the likelihood of subpar growth going forward. Consumer staples stocks have benefited from their status as being safe havens whose fortunes aren't strongly tied with the overall economy.
PG has drawn dividend investors in with its ~3% dividend and steady EPS growth as margins have expanded, but with revenue stagnating PG is trading at almost 18.5 times next year's earnings. It's difficult to imagine P&G growing EPS at a long-term rate higher than 6-7% given its size; the total yield (earnings + dividend) isn't bad at around 8.5%, but upside is severely limited.
Colgate-Palmolive (NYSE:CL) is trading at 24.5 times last year's earnings, and 19 times next year's EPS. The stock also trades at 22 times FCF, which has been pretty flat post-recession.
CL has been aggressively buying back stock, which doesn't appear to be very prudent given its valuation and relatively high debt burden. With a 2.2% dividend, the total yield is only about 6.3%.
The following is a chart courtesy of Phil Pearlman. It indicates the unusual strength and momentum in consumer staples stocks: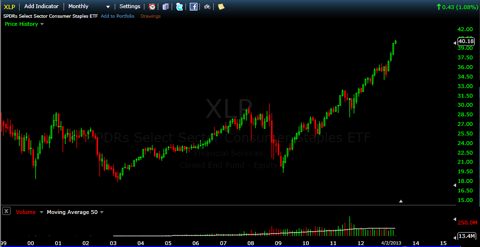 Most of these stocks are moving well above their long-term trends, and CL is no exception. The 5-year average TTM P/E is closer to 19, and while normalized EPS is likely around 22, 6-8% forward EPS growth doesn't justify a premium multiple.
Coca-Cola's (NYSE:KO) core businesses have been doing great over the past few years, and the outlook remains relatively strong. That said, 22 times earnings for a mega-cap snacks company growing at ~8% a year is pretty steep. Not outrageous, but definitely expensive.
The above three stocks can be summed up as follows: great American companies with strong businesses, trading at multiples that are 10-20% above their historical averages. They're still growing at high-single digit rates, but I'd wait for rates - and subsequently their valuations - to normalize before initiating positions. If you've held these for a while, there's no reason to rock the boat; some gains may have been pulled forward, but the income generation is solid and the equity components of these stocks should grow at a mid-single digits rate on average.
Several utilities names, however, are moderately-highly overvalued. Though Duke Energy (NYSE:DUK) is down a quick 11% from its 52-week high, investors are paying a silly 20.5 times earnings. Though PEG ratios aren't perfect, the PEG of 4 on this name is indicative of investors paying up for the 4.4% yield. EPS will likely grow at 3-4% long-term. Southern (NYSE:SO) has a similar quantitative profile.
Investors in mREITs like American Capital Agency (NASDAQ:AGNC) have gotten smacked around in the past few weeks as mortgage rates have climbed to 4%. AGNC and Realty Income (NYSE:O) have been hit hard as their book values decline as a result of a rise in yields. On the flip side, income generation should remain solid as the yield curve steepens; mREITs make loans on the long-dated end of the curve and get financing on the short-end.
Conclusions
Comparisons to the "nifty-fifty" era in which blue-chips were trading at 40-60 times earnings may not be justified, but many of these stocks will continue to sell-off as rates rise. 2% yields on the 10-year Treasury aren't yet compelling enough to catalyze a mass shift away from slow-growing stalwarts with big dividends, but we're on our way.
Investors looking to get into these names should be excited about the dynamic under way as it should provide them with several opportunities to initiate positions with far more favorable return profiles and improved yields-on-cost.
Disclosure: I have no positions in any stocks mentioned, and no plans to initiate any positions within the next 72 hours. I wrote this article myself, and it expresses my own opinions. I am not receiving compensation for it (other than from Seeking Alpha). I have no business relationship with any company whose stock is mentioned in this article.