Growing consumer confidence, a strengthening economy, and continued growth in emerging markets like Brazil and China are leading to steady growth in spending, and demand for luxury goods. As such, stocks for companies producing and selling luxury goods are poised to reap the benefits associated with this growth in consumer spending and purchasing. While these luxury goods manufacturers continue to benefit from growth in consumer spending investors can seek out quality dividend payers, at attractive valuations, within this market segment to obtain significant capital gains and continual growth of dividend income.
While the stock market as a whole has performed very well over the past year, with the Dow Jones Industrial Average up 23% over the past year, luxury goods indices have outperformed the market slightly up roughly 30% over the same period. Despite this growth in the sector of the market a number of luxury goods stocks have underperformed, and some are growing at rates fast enough to maintain outperformance over the years ahead.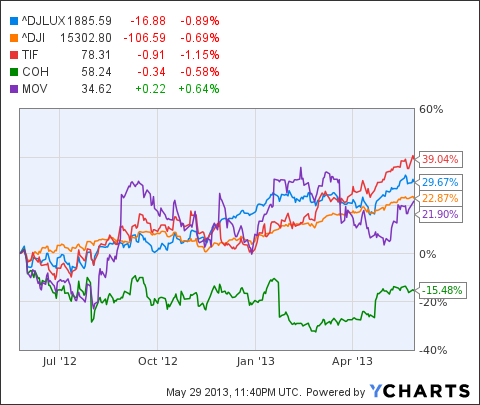 Coach Inc. (NYSE:COH)
Coach is a luxury goods manufacturer known best for creating purses and other accessories. The Coach brand is highly recognizable, and has an ever growing product and customer base. The company has focused on differentiating themselves within the luxury market by building a recognizable brand with loyal customers, positioned as a market leader. The company offers handbags, footwear, both men's and women's accessories, eyewear, jewelry, and more. COH distributes there goods to customers through direct to consumer distribution, retail outlets, and wholesale to department stores.
Coach currently trades at $58.23/ share, trading with a TTM P/E ratio of just 15.83, below the company's five year average of 16.2. COH has grown earnings 15.8% annually over the past five years (10% previous 12 months), and projects forward earnings growth over the next five years of nearly 12% annually. The company has some of the strongest profit margins in the industry, and carries virtually no debt on the balance sheet. With an annual dividend of $1.35/share, COH yields 2.3% at the current price. COH has only paid a dividend since 2009, but has more than quadrupled since that time. With a payout ratio of just 32% of earnings, COH appears to have significant room to continue growing the dividend in the years ahead.
Despite all of this, COH has underperformed the broader market over the past twelve months; the stock has fallen by 15.5%. I believe the continued growth of COH earnings will lead to a period of strength ahead for the company and the stock. Investors who purchase shares of COH at this level could see the stock rise to $65 before the end of the year, and benefit from a rapidly growing dividend in the years ahead.
Movado (NYSE:MOV)
Movado Group, Inc. designs, manufactures and distributes for Movado, Ebel, Concord, ESQ Movado, Coach, Tommy Hilfiger, HUGO BOSS, Juicy Couture, LACOSTE and Scuderia Ferrari watches worldwide and operates Movado company stores in the United States. The Company is a leader in the design, development, marketing and distribution of watch brands sold in almost every major category comprising the watch industry. The Company also designs, develops and markets proprietary Movado-branded jewelry which it retails in its luxury Movado Boutiques.
Shares of Movado currently trade at $34.64 with a TTM P/E ratio of just 15.4, significantly below the companies five year average of 27.1. Over the past year, EPS and Revenue have grown by 75% and 9.5% respectively. On top of the significant growth in EPS over the past 12 months, MOV anticipates EPS growth of greater than 25% over the year ahead. MOV carries no debt, and maintains strong profit margins. The company has grown the dividend to $0.20 annually, since cutting the dividend to just $0.05 in 2009. At the current price MOV yields 0.58%, paying out 64% of earnings.
MOV stock has underperformed the broader market by about 1% over the past year, but with rapid growth in earnings anticipated over the next year, and with continued growth expected in the luxury goods market for a number of years I see opportunity for investors in MOV. Rapid growth in earnings should enable MOV to grow the dividend at a significant rate, while still reducing the overall payout ratio. Investors who buy in to MOV at or below $34.50 should see strong gains through the end of this year, and beyond.
Tiffany and Co. (NYSE:TIF)
Tiffany & Co. is a holding company that operates through its subsidiary companies. The Company's principal subsidiary, Tiffany and Company, is a jeweler and specialty retailer, whose merchandise offerings include an extensive selection of jewelry, timepieces, sterling silverware, china, crystal, stationery, fragrances and accessories. Through Tiffany and Company and other subsidiaries, the Company is engaged in product design, manufacturing and retailing activities.
Shares of TIF currently trade at $78.32. giving shares a TTM P/E ratio of 24.3, above the company's historical average P/E of 20.5. Earlier this week, TIF reported top and bottom line earnings above analyst expectations. TIF anticipates growing earnings by 14% next year, and sees potential for double digit earnings growth for the next five years. With strong profit margins and low debt, TIF sports a strong balance sheet and healthy cash flow. Paying an annual dividend of $1.36, TIF shares sport a 1.72% yield at the current price on a payout of 38.8% of earnings. TIF has rewarded investors over the past five years averaging a CAGR of 17.8% over that period.
TIF has outperformed the broader stock market by about 15% over the past year, and may be slightly overbought at the current level. Investors should watch TIF closely and look to initiate a position in the stock if it pulls back to $75. The company has consistently committed to returning capital to shareholders, and with earnings continuing to grow at a double digit pace, the trend of rapidly growing dividends should continue.
Conclusion
Luxury goods manufacturers offer great opportunity for investors as the economy continues to improve and strengthen. Demand for luxury goods remains strong and earnings among luxury goods manufacturers continue to climb. While they may not all offer fantastic valuations at the current levels, investors should watch these companies closely and may identify great opportunities to initiate long term investments to reap capital gains and growing annual dividend income.
Disclosure: I have no positions in any stocks mentioned, and no plans to initiate any positions within the next 72 hours. I wrote this article myself, and it expresses my own opinions. I am not receiving compensation for it (other than from Seeking Alpha). I have no business relationship with any company whose stock is mentioned in this article.