"Be Fearful When Others Are Greedy and Greedy When Others Are Fearful"

--Warren Buffett
BioFuel Energy (NASDAQ:BIOF) on its website claims it was "... formed to produce fuel ethanol and thereby play a role in helping to solve the U.S. and the world's energy dilemma. By initially creating a sustainable business in the United States, it is our belief that we can earn a reasonable profit while reducing U.S. dependence on foreign energy and helping the environment. In doing this we expect to provide growth opportunities for employees and provide financial returns to our shareholders." The problem with that is BIOF has never earned even an operating profit, let alone a net income, and now has negative margins. It currently cost BIOF more per gallon to make ethanol than it can even sell it for. With a business model like that, BIOF is literally worth more dead than alive.
BIOF is now struggling to merely survive. I first wrote about BioFuel Energy as a bear on Feb 6, 2013 with the price in the mid-$4 range, about where it is now, after briefly rising as high as $7 per share.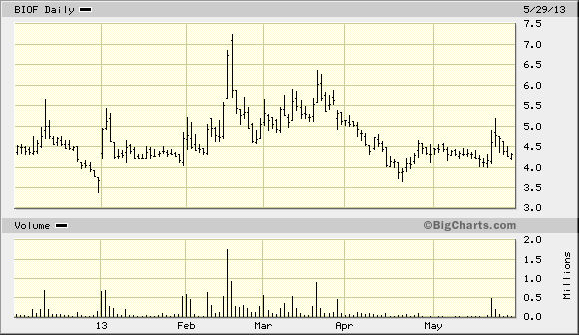 Among several items I noted in my last article that made me concerned about BioFuel Energy's future their debt repayment situation, which I believed then and even more so now could be the death of BioFuel Energy:
In BIOF's most recent conference call, which was filled almost entirely with bad news, a rather gloomy warning was issued in the beginning:
The most significant occurrence of the third quarter was our operating subsidiaries not making their principal or interest payments at the end of September. This event of default will likely have significant consequence to the company and its shareholders.
Nearly three months later, not a peep out of the company on anything, let alone any update on refinancing attempts. Its latest 10Q filing showed nearly $200 million in mostly current liabilities and only $42 million left in current assets along with "a Notice of Default on September 28, 2012 from First National Bank of Omaha."
Since that time:
1. On Feb 20, it was announced that significant layoffs occurred.
2. On Mar 26, it was announced that BioFuel received a notice of default from First National Bank of Omaha and hasn't been making any payments. A grace period was granted until the end of July. BioFuel Energy further mentioned it may need to sell off its remaining assets and pay the lenders off first, implying there would be nothing left for shareholders.
3. On April 1, BioFuel Energy released yet another terrible financial report with no positive or even hopeful commentary whatsoever. This time, no conference call was even hosted.
4. On May 14, BioFuel Energy had its Q1 release with another devastatingly net loss, negative gross profit margin, continued decline in dwindling shareholder equity, and increased debt load from interest. Once again, no positive or even hopeful commentary was offered as well as no conference call even hosted.
This has all of the markings of quickly dying company which even management seems to have no desire to defend. Yet investors continue to bid it up over $4.00 per share for nearly a year straight now, showing no fear. I believe this may just be the result of investors blindly throwing money across various alternative energy stocks with so many of them running lately such as Tesla (NASDAQ:TSLA) and SolarCity (SCTY). They should be fearful instead of greedy, and I believe that's what makes BIOF a great shorting opportunity. Be fearful when others are greedy.
What or who could save BIOF? Either an angel investor such as Billionaire David Einhorn who did save it 3 years ago, a sudden and drastic shift upwards in fuel prices or downwards in corn prices, or a new government program aimed at helping failing ethanol producers I suppose. I wouldn't hold my breath though. 2012 for the first time in 16 years saw a decline in ethanol production as 20 ethanol producers halted production in the last year. Even the top 25% of most efficiently operated ethanol plants barely make a profit. BIOF, of course, is far from most efficient. For Q1, sales are down 36%, with a hefty net loss of $4.6 million. In the trailing 4 quarters, BIOF has had net losses in each of them as high as over $10 million. BIOF has less than $10 million left in the bank and $200 million in debt. It has neither time nor money to waste and desperately needs a life line. But in this extremely market-wide ethanol environment, who would want to do so on terms that are favorable to BIOF common shareholders? Death is knocking on BioFuel Energy's door.
I believe shorting BIOF, if one can find the shares to borrow, would be a successful and high percentage gain strategy in the months ahead.
Disclosure: I have no positions in any stocks mentioned, and no plans to initiate any positions within the next 72 hours. I wrote this article myself, and it expresses my own opinions. I am not receiving compensation for it (other than from Seeking Alpha). I have no business relationship with any company whose stock is mentioned in this article.