Over the last month we have seen a tremendous shift in investor sentiment towards interest rate sensitive securities. The true "sell in May" trade has been to reduce your exposure to mortgage REITs, commercial REITs, Treasuries, mortgage backed securities and utility stocks. Most of these securities (with the exception of Treasuries) have been the shining stars of income investors' portfolios over the last year. However, they have also been the hardest hit by the recent talk of asset purchase tapering by the Federal Reserve.
From my experience, income investors do not like drawdown in their portfolios and they don't like to sell positions that have performed well for them in the past. If your portfolio has experienced outsized volatility over the last two weeks then you are more than likely invested in positions that are highly sensitive to changes in interest rates.
Look at the average drawdown of the fixed income holdings in your portfolio, and then ask yourself if the reward is worth the risk. If it isn't, then it's time to make proactive changes to your holdings. However, at this very juncture, I think it's wise to keep things in perspective. This is a time to look to make lateral changes to your portfolio so that you emerge from this recent bout of volatility in a better position than when it started. You don't want to compound your mistakes by letting go of securities when they are at a better value than when they were at their highs. Here are a few things that I am keeping in the forefront of my decision making process for my clients' portfolios:
My last ditch upside target for the 10-year Treasury yield is 2.4%. Anything higher than that and all bets are off, and rates could easily extend to 3%. I think it's safe to say that a move like that would torpedo the economy, and the recent "Fed Speak" would be immediately revoked. Operating under that thesis in the short term, we are already over 2/3 of the way there, in addition to being at the top end of the channel. Shortening duration now, could lessen your chances of participating in any back filling or relief rally. I have already taken steps to shorten duration without sacrificing yield, and am now focused on new opportunities rather than worried about another 0.5-1% drawdown in my fixed-income holdings. Keep in mind that rising rates aren't always a bad thing; they mean higher yields for any new capital put to work at lower fixed-income price levels.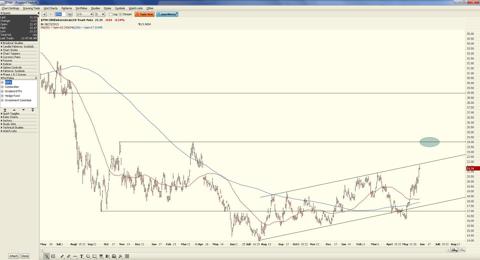 Click to enlarge
(Click to enlarge)
Volatility in equities is heightening, especially in the defensive sectors. This is a good thing for those that actively paired back their dividend equity exposure. Make future changes to your portfolio with a steady hand, don't rush to "clear the decks" to satisfy any short-term jitters. Like I have mentioned in the past, wait until volatility subsides to reduce exposure, or make opportunistic purchases if items on your buy list reach attractive levels. It's all going to depend on how your portfolio is currently allocated in addition to your risk tolerance.
Never adjust your risk management plan mid-correction. In all honesty, I have the hardest time with this one, as the nature of every correction can differ from the prior one. When you think it's going to be equities that get hit, its bonds, and vice-versa. Adhere to the plan you have laid out for yourself when you purchased the investment in the first place. Keeping solid risk management practices in place will allow you to always side step the "big loss".
Monitor changes in Interest rates and equities closely through the iShares 20+ Year Treasury Bond ETF (NYSEARCA:TLT) and the SPDR S&P 500 ETF (NYSEARCA:SPY). If you have been patient with making changes to your portfolio, or have had cash waiting on the sideline, now is the time when you need to pay very close attention to take advantage of the opportunities.
Disclosure: I have no positions in any stocks mentioned, and no plans to initiate any positions within the next 72 hours. I wrote this article myself, and it expresses my own opinions. I am not receiving compensation for it. I have no business relationship with any company whose stock is mentioned in this article. Fabian Capital Management, and/or its clients may hold positions in the ETFs or mutual funds mentioned above. The commentary does not constitute individualized investment advice. The opinions offered herein are not personalized recommendations to buy, sell or hold securities.