Markets in Asia were hit hard last night and the Nikkei was especially hard hit as it fell over 5%. It has been supercharged, so this pullback was not at all unexpected and is in fact healthy, but if the flight of capital abroad continues as does the populace's desire to exchange Japanese government bonds for better yielding foreign bonds then Abenomics might just face some unanticipated headwinds.
Chart of the Day:
We want to highlight this long-term chart of initial unemployment claims as we are nearing normalcy and as this chart's decline rate tapers off, so too shall continuing claims if history holds true and this all points to further evidence that our theory of a strong economy with a higher growth rate going into the close of the year might just be materializing...and faster than we anticipated as well.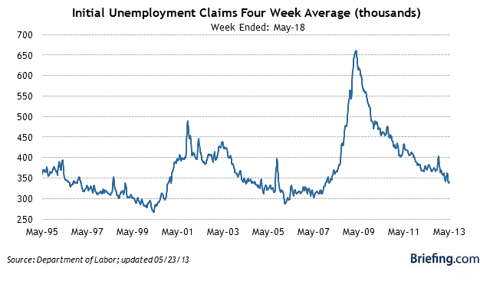 Chart courtesy of Briefing.com
We have economic news due out today, and it is as follows:
Initial Claims (8:30 a.m. ET): 340k
Continuing Claims (8:30 a.m. ET): 3000k
GDP - Second Estimate (8:30 a.m. ET): 2.5%
GDP Deflator - Second Estimate (8:30 a.m. ET): 1.2%
Pending Home Sales (10:00 a.m. ET): 1.5%
Natural Gas Inventories (10:30 a.m. ET): N/A
Crude Inventories (11:00 a.m. ET): N/A
Asian markets finished lower today:
All Ordinaries -- down 0.85%
Shanghai Composite -- down 0.27%
Nikkei 225 -- down 5.15%
NZSE 50 -- down 0.40%
Seoul Composite -- down 0.05%
In Europe, markets are higher this morning:
CAC 40 -- up 1.06%
DAX -- up 0.72%
FTSE 100 -- up 0.28%
OSE -- up 0.49%
Telecommunications
We are not exactly sure what Dish (NASDAQ:DISH) is doing these days as they seem to be all over the place in their attempt to gain a foothold in the wireless telecommunications market. They spent $2 billion to acquire assets from bankrupt Lightsquared and then yesterday after the close announced an eleventh hour enriched bid for Clearwire (CLWR) for $4.23/share. Obviously the bid was to entice holders to vote against the Sprint (NYSE:S) tie-up but with yesterday's news that the US government and Softbank had reached an agreement on a foreigner owning Sprint it appears that one of the main hurdles Dish was counting on to buy it some time has been cleared.
With its latest venture into the wireless telecom market, is Dish potentially endagering the business model which has led to these steady gains in its stock price over the past five years? This is a question investors should be asking.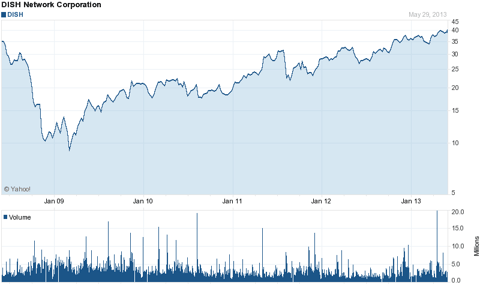 Chart courtesy of Yahoo Finance.
Clearwire shares were up over 21% in after hours trading, rising $0.75/share with the last trade we saw putting the shares at $4.23/share. This new bid adds another twist to this saga and it will be interesting to see just how many Clearwire shareholders begin to think that the big holdouts asking for far more than the initial bid may not have been so crazy after all and look to follow their lead.
Retail
One of our favorite grocery stores to shop at, The Fresh Market (NASDAQ:TFM), reported earnings which beat and saw shares rise smartly yesterday. The company beat on the bottom line numbers as their margins improved and same store sales rose. Even more important, the company announced that they were reaffirming their guidance for the year while raising their guidance as it pertained to same store sales growth. This is a specialty retailer which is not all that different from Whole Foods or Trader Joe's and in our area they locate in upscale neighborhood clusters just like its bigger competitors. This should continue to be a good growth story moving forward as the company continues to grow their store count and fill in their footprint. The conference call transcript is located here.
Biotechnology
Celsion Corporation (NASDAQ:CLSN) caught our eye yesterday as the biotechnology company rose $0.45 (39.47%) to close at $1.59/share with volume surging to 29.1 million shares. The rally was sparked by the company's announcement regarding four new patents being awarded which cover the company's ThermoDox proprietary technology (see press release here). The patents were issued in China, Japan, South Korea and Taiwan. Still pending are applications in the United States and Europe. Readers may remember this name and that is because we have highlighted it before, earlier this year when shares did a free fall from the $8/share area all the way down to the $1/share range.
Phoenix rising? It is not usually the case with biotechs, especially this soon after a huge drop.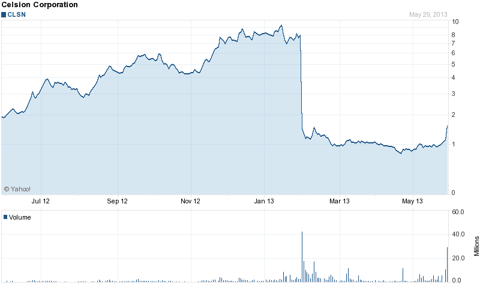 Chart courtesy of Yahoo Finance.
Technology
We always like to talk about blasts from the past and lately Sonus Networks (NASDAQ:SONS) has been a name which continually comes up. The shares have been sparked by a recent string of good news and yesterday the company rose nearly 13% to close at $2.89/share as investors continued to move into the name after their announced partnership with Juniper Networks. The news has pushed shares to a new 52-week high and once again excited shareholders as well as given them hope that maybe the company can once again become a high flier and finally deliver on the promise many have seen here over the years.
This long-term chart of Sonus shows just how disappointing it has been for investors who have been involved for some time. Could it be poised to turn the corner, or is it just another blip on the screen?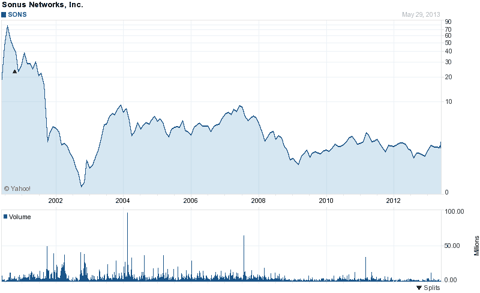 Chart courtesy of Yahoo Finance.
Disclosure: I have no positions in any stocks mentioned, and no plans to initiate any positions within the next 72 hours. I wrote this article myself, and it expresses my own opinions. I am not receiving compensation for it (other than from Seeking Alpha). I have no business relationship with any company whose stock is mentioned in this article.