Oil has once again come under pressure yet oil related equities have remained relatively strong which leads us to believe that it is either short-term move or not at all related to the equity side. It sounds absurd we know, but lately the narrative has not been on whether US shale oil can compete against OPEC members, but whether some of these OPEC members can compete against US shale oil. How the tables have turned!
Chart of the Day:
Don't look now, but gold took out $1400 earlier this morning before retreating and finding support and rising back above the threshold as we wrote. Pretty strong move, but we would be hesitant to make too much of it.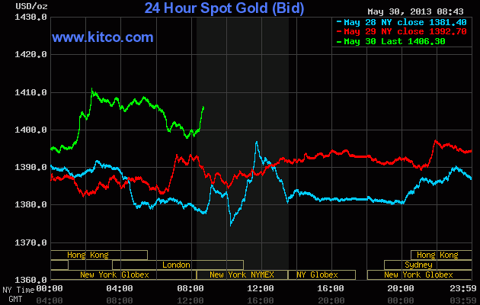 Click to enlarge
Chart courtesy of Kitco.com
Commodity prices this morning are as follows:
Gold: $1399.70/ounce, up by $8.40/ounce
Silver: $22.605/ounce, up by $0.152/ounce
Oil: $92.86/barrel, down by $0.27/barrel
RBOB Gas: $2.7817/gallon, down by $0.0214/gallon
Natural Gas: $4.173/MMbtu, down by $0.011/MMbtu
Oil & Natural Gas
Lost upon many in the sector is that Chesapeake Energy (NYSE:CHK) has been rallying strongly in recent trading sessions. The moves are those which fall under the heading of 'Slow and Steady' much like yesterday's move where the shares rose $0.42 (1.90%) to close at 22.58/share on volume of 15.6 million shares. The shares were thrown off to the side as the company dealt with bad press relating to their previous CEO and the large investors who took positions on the board have cleaned house and appear to have the ship turned here. One cannot argue with the results and now that a new CEO is in place the company can get back to raising funds via asset disposition while focusing on using internally generated cash flows to fund exploration and relying on external sources less moving forward. We would have preferred a bigger name to have been hired as CEO, but the choice is not a bad one. Continue to watch this name as natural gas rises and they continue to work towards diversifying their production mix.
We have seen a nice solid move over the last few weeks.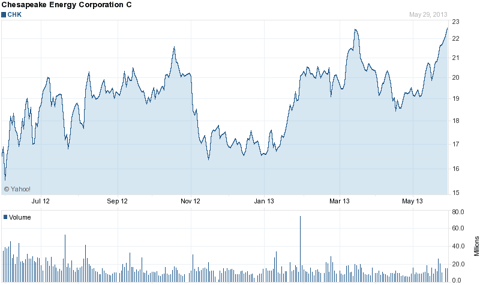 Click to enlarge
Chart courtesy of Yahoo Finance.
Uranium
Our uranium watch list continues to see all of the names move higher and yesterday they showed tremendous strength, with Uranium Energy Corporation (NYSEMKT:UEC) moving higher by $0.16 (7.58%) to close at $2.27/share on volume of 1.1 million shares. With the volume increasing along with the share price, we are getting even more bullish on these names and feeling quite confident in our recent comments that this name specifically could reach $2.50/share in the short-term. Readers should remember, and we want to stress this point, that we do see a pullback over the summer months in the sector before a resumed rally. Rather than chase, pick your spots and move in on those pullbacks.
Precious Metals
With the precious metals rallying yesterday and gold names strong, the Direxion Daily Gold Miners Bull 3x Shares ETF (NYSEARCA:NUGT) saw its units increase by over 13% to finish above $10/share as volume surged to 12.1 million shares. We have been more cautious of the precious metals lately, keeping our junior names and physical gold and silver holdings while we wait for the economic data to tell us that the coast is clear and there is reason to head higher or the chart action becomes compelling enough for us to move in based on technicals alone. Right now we do not understand all of the movements, so we have decided to pick our battles and with the movement and interest in this ETF yesterday it appears that many large traders and the smart money have decided to take this approach as well.
Coal
Although yesterday was in fact a down day, we were disappointed with the price action in the coal names as we saw both Alpha Natural Resources (ANR) and Cliffs Natural Resources (NYSE:CLF), which is a coal and iron ore name, fall below levels we have previously highlighted as both psychologically and technically important. For those who missed it, Alpha finished below $7/share and Cliffs once again broke below $20/share. The weakness was across the board and industry-wide, so in that sense this was not at all that bad, however the fact remains that natural gas continues to move higher and yet we are seeing shipments pick up at a pretty slow rate. This all got us to thinking about how the switch from coal to natural gas happened and made us wonder just how long some of this natural gas may or may not be under contract. Generally one could go out a year or so, but when prices were so low is it possible that the utilities locked in the natural gas going out further than normal simply to lock in the lower prices and further justify the switch from coal to natural gas? This is something we want to look into further as we know utilities will line up years of supply of other energy sources when prices are low, so the idea is not out of right field and could explain part of what is going on.
Let's just say it has not been a great year for these names...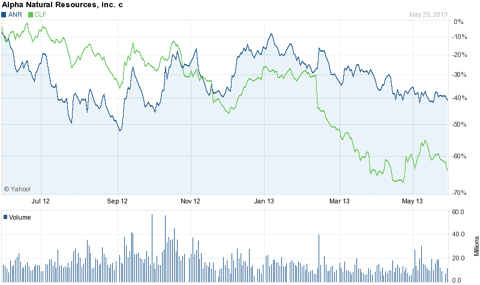 Click to enlarge
Chart courtesy of Yahoo Finance.
Disclosure: I have no positions in any stocks mentioned, and no plans to initiate any positions within the next 72 hours. I wrote this article myself, and it expresses my own opinions. I am not receiving compensation for it (other than from Seeking Alpha). I have no business relationship with any company whose stock is mentioned in this article.