Food costs look favorable in 2013, with investors expecting some relief as firms get past the temporary impact of last year's drought. Broadly, analysts expect food costs to trend lower in 2013 based on current spot or future prices, but currently estimate 2% food inflation.
Upside potential in margins will serve as catalysts to support stock prices. A same-store sales inflection will help leverage labor or rent. However, softer same-store sales in quick serving restaurants (NYSE:QSR) will linger throughout the year.
The U.S. restaurant and fast food industry is currently treading some bumps, subsequent to the 2% payroll tax hike, delayed tax rebates, and increased gas prices. However, reports indicate increased optimism and intent to spend among consumers, particularly high-income households. Given the strengthened consumer, continued jobs/wage growth and a potential spring same-store sales inflection, the industry will likely recover fully by the second half of 2013.
Given the abovementioned industry scenarios, we tried to compare the current fundamentals of three dividend yielding restaurants: Yum Brands (NYSE:YUM), Darden (NYSE:DRI) and McDonald's (NYSE:MCD) to see if we could determine which offers the best chance of dividends.
Ticker Summary

Click to enlarge
Source: Capital IQ
McDonald's
Global Diversification. McDonald s reported 50% of profits from its international operations. But more recently, global headwinds have been accentuated (Europe & APMEA), with the industry flat or declining in many markets. The U.S. market is seen as well-positioned, and MCD is taking more market share. MCD was said to be willing to sacrifice a little bit of margin to maintain that traffic and grow its share of the fast food market.
Balance Sheets. Management has constantly increased debt levels over the past few years, while focused on maintaining their "A" credit rating. Most analysts expect the increase in leverage to be below 2012's amount. Apparently, there is no plan for a significant increase in such leverage for a one-time return of cash to shareholders.
Cash flow and Dividends. The cash flow priority is re-investing in the system, via new unit growth or re-imaging existing units. Beyond that, the priority is for dividend followed by share repurchase, which represented $1.1 billion in first quarter of 2013. The company has no plans to shift more of its cash flow towards dividends, as credit rating agencies perceive dividends as fixed payments, thus lowering their credit standing.
Market Share. Brand equity continues to score higher in Goldman Sachs' consumer survey due to premium positioning and strong execution. Despite these improvements, MCD is losing customers. Goldman Sachs noted the most likely explanation is a lack of meaningful new product news to drive consumers into the company's restaurants. They are cautiously optimistic, however, that management's strategy of a more robust product pipeline this year could translate into better results going forward.
Yum Brands
Taco Bell Resurgence. Yum Brands Taco Bell represents roughly 60% of YUM's U.S. operating profits. The Taco Bell brand is on track for 5% to 10% same-store sales this year driven by new product introductions. Brand equity has greatly improved, which relates to the brand's future trajectory.
Taco Bell has signed a new agreement with its franchisees that will consolidate all advertising spending towards a single national budget starting in 2013. This will result in a 40% increase in advertising this year, something that can be considered as a meaningful driver of sales in 2014.
Risk Factors. Investors should be cautioned in risk-taking due to the following:
(1) China's Economy - China's macro economy has failed to stabilize in a reasonable time, which could cause underperformance in YUM's shares unless China's macro improves.
(2) Relative Valuation to MCD - According to Goldman Sachs, another pushback relates to YUM's relative multiple to MCD which is wider than the historical valuations even after the recent sell-off in YUM shares. Analysts see this as reflective of MCD's fundamental underperformance rather than an extended multiple for YUM. Goldman Sachs sees it as entirely rational given their expectation for a 15% to 16% out-year EPS growth from YUM versus 8% to 10% for MCD.
The chart below shows that YUM's relative P/E multiple is above its long-term average. The chart on the right shows the two stocks' forecasted EPS growth which proves to have a wider gap:

Click to enlarge
Source: Company Data, Factset Research & Goldman Sachs Forecast
Darden Restaurants
Dividends and Capex. Dividend growth is a priority for Darden Restaurants (DRI) and the company is even willing to further reduce capex if needed. Capital expenditures guidance was previously cut to $600 million from $625 million in 2014 on slower growth. Further reductions are not desired near-term as unit pipeline is already in development and maintenance. Capex is currently at optimal levels, estimated at $140 million.
The chart below explains that the company is spending 100% of its cash flow from operations on dividends and capex: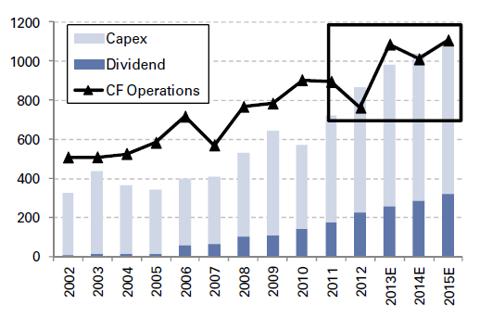 Click to enlarge
Promotions. The management does not expect further uptick in promo efforts in casual dining. It acknowledges the threat from fast casual dining as their cumulative traffic is up versus quick serving restaurants, while casual dining is down.
Conclusion
It appears that despite the resurgence of fast food chains in U.S., Darden seems to be an excellent "Buy" as a dividend play considering the growth potential. McDonald's appears more neutral at this point because the company is having to reinvest money into the business in order to re-ignite growth leaving little room for fast dividend increases. Lastly, Yum's shares worth avoiding at the time being as the valuation is relatively high and the Chinese economy has yet to stabilize. .
Disclosure: I have no positions in any stocks mentioned, and no plans to initiate any positions within the next 72 hours.
Business relationship disclosure: Black Coral Research, Inc. is a team of writers who provide unique perspective to help inspire investors. This article was written Hans Centena, one of our Senior Analysts. We did not receive compensation for this article (other than from Seeking Alpha), and we have no business relationship with any company whose stock is mentioned in this article. Black Coral Research, Inc. is not a registered investment advisor or broker/dealer. Readers are advised that the material contained herein should be used solely for informational purposes. Investing involves risk, including the loss of principal. Readers are solely responsible for their own investment decisions.