A very interesting chart from the WSJ shows us that while housing might be coming back, prices have yet to reach 99 peaks and as such, the conclusion is that housing is not in a bubble as many people say it is.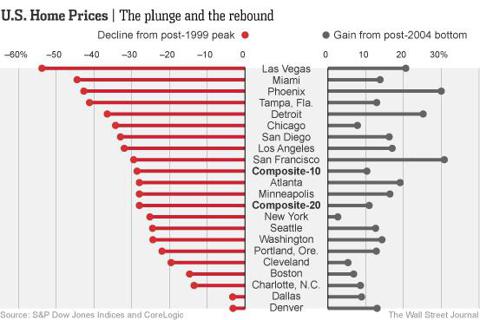 I think I agree with that statement. Indeed if we look at the latest data from S&P/Case-Shiller, we will notice that while on a percentage basis prices are climbing, at the national level, the S&P/Case-Shiller U.S. National Home Price Index is at mid 2003 levels.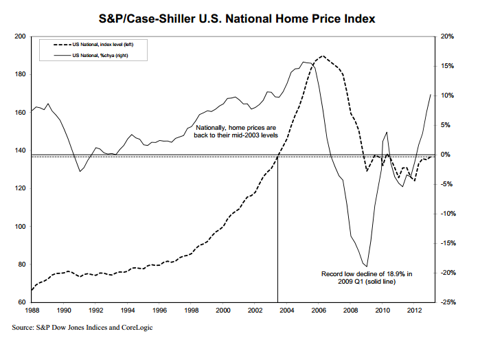 And as the press release says:
The chart above shows the index levels for the U.S. National Home Price Index, as well as its annual returns. As of the first quarter of 2013, average home prices across the United States are back at their mid-2003 levels. At the end of the first quarter of 2013, the National Index was up 1.2% over the fourth quarter of 2012 and 10.2% above the first quarter of 2012.
So while housing is indeed recovering in terms of national house prices, we are still far from the peak of 2006. However, when one looks at the top five housing stocks, their market capitalization is approaching the highs of the bubble years of 2006. What gives?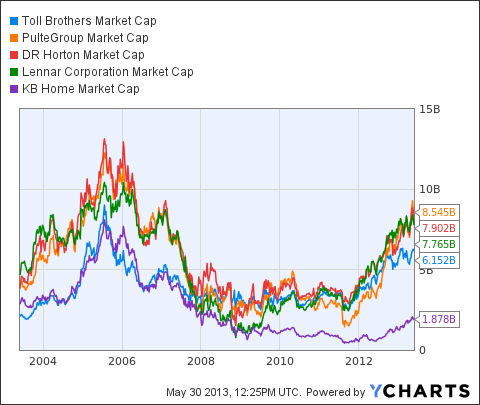 TOL Market Cap data by YCharts
I think nothing gives and that these stocks are simply expensive. For as the chart below shows us, while quarterly revenue has increased slightly over the years, nevertheless were are still very far from the levels of 2006.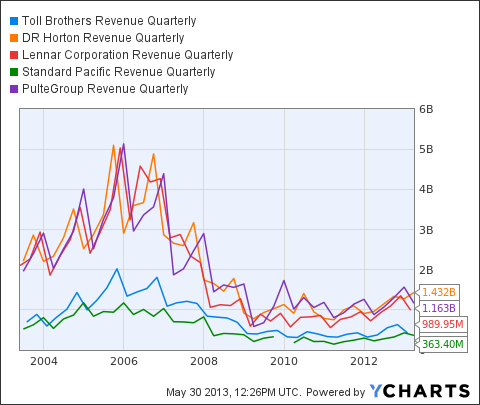 TOL Revenue Quarterly data by YCharts
The table below shows the top five housing stocks by market cap. I have depicted the forward P/E, the one-year price target consensus and the potential profit if you were to buy these stocks at today's prices and hold onto them for 12 months.
| | | | | |
| --- | --- | --- | --- | --- |
| | Forward P/E | 1-YR Price Target | Current Price | Possible Profit |
| Pulte (NYSE:PHM) | 14 | 23.2 | 22 | 5.50% |
| DR Horton (NYSE:DHI) | 14.5 | 27 | 24.52 | 10.00% |
| Lennar (NYSE:LEN) | 17 | 43.7 | 40.4 | 8.00% |
| Toll Brothers (NYSE:TOL) | 23 | 39 | 34.47 | 13.00% |
| Standard Pacific (SPF) | 16 | 9.56 | 9 | 6.20% |
To begin with, the future P/E of these stocks is not exactly a bargain, although I cannot say that these stocks will be in bubble territory in 12 months from now.
However when taking into account the possible price appreciation for holding these stocks for the next 12 months, then we see that the risk-reward is not exactly in our favor.
Four out of the five stocks can yield you a possible return of 10% or less and only Toll Brothers has the potential to reward you with a return of 13% over the next 12 months.
The bottom line is that housing, in terms of house prices, is not in a bubble and the housing recovery will continue. However, as far as housing stocks are concerned, I don't see much value at these prices, especially given the low possible appreciation potential over the next 12 months.
Also, given the run-up of the market, I would be a seller of these stocks if and when we get confirmed technical weakness on a weekly scale.
Disclosure: I have no positions in any stocks mentioned, and no plans to initiate any positions within the next 72 hours. I wrote this article myself, and it expresses my own opinions. I am not receiving compensation for it (other than from Seeking Alpha). I have no business relationship with any company whose stock is mentioned in this article.