CVS Caremark Corporation (NYSE:CVS) has provided pharmacy healthcare services throughout the United States since it was founded in 1963. In the past 52 weeks, investors in the company have enjoyed a gain of 32.83%. The company has continually pushed for greater achievements within the corporation and this has led to plenty of progress over the years. The company most recently reported annual revenues of $123.10 billion.
In early May, CVS released its 10-Q for the quarter ended March 31, 2013. Year-over-year quarterly revenue growth remained about flat, falling only a tenth of a percent. Earnings, on the other hand, increased an impressive 23.20%. In fact, the company has consistently grown earnings over the past 10 years, as shown by the chart below.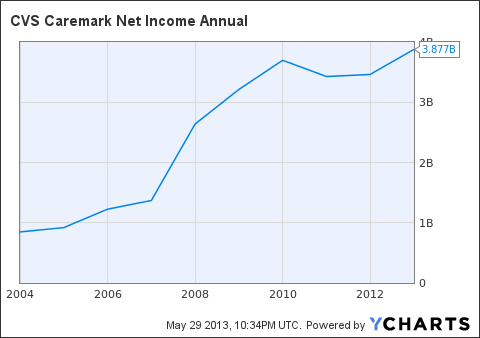 CVS has operated quite efficiently as a corporation. The return on assets is at 7.12% and the return on equity is even better at 10.65%. Profit margins are cutting it a bit close at 3.30%, and operating margins are at a much safer 6.11%. These statistics show that CVS is able to succeed as a business at the most basic level, as it is bringing in a greater amount of money than is being brought out. Two of the company's main competitors in the drug store industry are Rite Aid (NYSE:RAD) and Walgreen (WAG). CVS simply dominates these competitors, as seen by the statistics in the chart below:
| | | |
| --- | --- | --- |
| Company | Revenue | Net Income |
| CVS | $123.10 billion | $4.06 billion |
| Walgreen | $70.79 billion | $2.06 billion |
| Rite Aid | $25.39 billion | $107.47 million |
What this chart shows is that CVS is the favorite pharmacy of American consumers, in terms of voting with the dollar. While it is dominating its competitors, CVS can focus on continuing to grow and improve itself. In the most recent quarter, CVS reported a year-over-year profit increase of $469 million. Gross profit as a percentage of net revenues increased to 18.1%. These increases were primarily a result of increased generic sales.
CVS divides its operations into a Pharmacy Services Segment and a Retail Pharmacy Segment. In terms of gross profit, the Retail Pharmacy Segment plays a much more important role, as it accounted for $4.95 billion of the $5.58 billion total. Gross profits in the Retail Pharmacy Segment increased by 8.3% compared to the same quarter in 2012, although this was largely driven by the fact that Easter (which has a large impact on front-store sales) was in April in 2012 and March this year. For this same reason, profits in this segment next quarter could be slightly less impressive than expected if this holiday shift isn't accounted for.
There are only a few risks that could potentially impact the operations of CVS. First, a general economic decline could result in a decrease of purchasing power for consumers, which would entail a decrease in revenue and earnings for CVS. A second risk pointed out in the company's quarterly report is the efforts being made to reduce reimbursement levels for generic drugs. With unpredictable modern day politics, where healthcare is such an important subject, a change could be made quite rapidly that could effect CVS in either a positive or negative way. The legislation that will come to pass is quite unpredictable, and the results could vary.
Overall, CVS has had very few problems with growing its business in an efficient and effective manner. Many investors might not look at CVS with any respect because the company isn't exactly starting any revolution. Nevertheless, the company is making money. Revenues and profits continue to rise as CVS dominates the drug store industry. And as I previously addressed, there are very few (if any) risks that need to be paid serious attention to. On top of all this, CVS offers a dividend of 90 cents per share.
Disclosure: I have no positions in any stocks mentioned, and no plans to initiate any positions within the next 72 hours. I wrote this article myself, and it expresses my own opinions. I am not receiving compensation for it (other than from Seeking Alpha). I have no business relationship with any company whose stock is mentioned in this article.