2013 has been good to Viacom's (NASDAQ:VIAB) stock. It has risen by nearly 31% in the year-to-date, outstripping the returns of both the S&P 500 and NASDAQ 100, which include Viacom among their components.
Viacom vs. S&P 500 and NASDAQ 100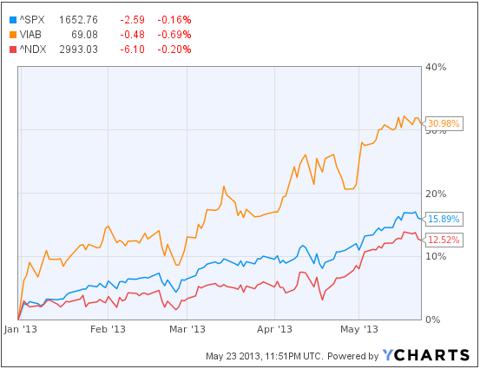 Source: YCharts
The interesting thing about Viacom this year isn't exactly what it has done so much as what it didn't do - and what it didn't do was lose as much money as Wall Street thought it would. For the first quarter, it earned 96 cents a share - 2 cents lower than the adjusted earnings per share it earned in the same quarter a year earlier and 5 cents higher than the 91 cents analysts had been expecting, according to Thomson-Reuters.
Viacom's earnings "escape" is not unlike one of the many engineered by the crew of the Starship Enterprise - a fitting analogy considering that Star Trek is a property owned by its subsidiary Paramount Studios.
Viacom is probably hoping the analogy ends there, however: the latest iteration in the Star Trek franchise, "Into Darkness," failed to meet the studio's expectations, despite considerable hype, earning just $164.6 million from both its domestic and international releases.
Moreover, despite more favorable critical reviews than Marvel Studios' "Iron Man 3," which it unseated for the top spot on its opening weekend alone, "Into Darkness" is unlikely to earn the $1.1 billion that Marvel's "Avenger" did. Indeed, "Iron Man 3" earned $65 million during its opening weekend in China - not very far from the $84 that "Into Darkness" earned in the United States.
Given this and its already huge run-up in 2013, should investors still consider adding to their positions in Viacom? We take a look.
Earnings
The underperformance of "Into Darkness" is just the latest among Viacom's woes on the box office front: its worldwide movie revenues fell by 15% in the first quarter. That said, Viacom did do relatively better on its TV networks, where its viewership grew by 2% overall, thanks to a resurgence on Nickelodeon.
New hits such as "Elementary" and continued strong performance from staples such as "How I Met Your Mother," "CSI" and "The Big Bang Theory" and have also helped the company, though the expiration of its deal to provide content to Netflix (NASDAQ:NFLX), which now has its own original programming, is likely to have a significant impact on revenues, with analysts now expecting Viacom's revenues to decline marginally (0.3%) in 2013.
For the year, analysts expect earnings to rise by just 11.6% - a far cry from the 18.8% pace that it enjoyed, on average, over the past five years. Investors should get used to a slower pace: over the next five years, analysts expect earnings to grow by just 12.78% - lower than the 16.6% growth rate of its industry as a whole but moderately higher than the expected earnings growth rates for its major rivals Disney and Time Warner.
The reality is that with the rapid evolution of the mobile space and the ubiquity of high-speed data networks, large media companies are now facing challenges from smaller rivals such as Netflix and even new industry entrants such as Amazon (NASDAQ:AMZN). Diminished expectations are simply reflective of this new paradigm.
Fundamentals
Viacom is not exactly undervalued or cheap: its current price-earnings ratio of 17 is exactly in line with its industry's and just a bit lower than the S&P 500's 17.7x. It's worth noting that Viacom is in the middle of its range, P/E-wise over the past five years, having traded as low as 5.5x earnings and as high as 29.9x. At the same time, its price-to-sales and price-to-book ratios are a bit higher than its industry, as is its price-to-cash-flow. In short, there's really little case to be made that Viacom is a bargain at its current price.
If challenges from new sources and smaller incumbents persist over the next five years, as they are expected to, Viacom investors can take solace in the fact that their company has considerable financial strength: its cash ratios (quick and current) are considerably better than its industry's average. What's more, it carries roughly half the level of debt that its peers do, with a debt-to-equity ratio of 1.3x compared with its industry's 2.6x.
That liquidity isn't going to be a problem for Viacom should be obvious from the fact that it recently raised its second quarter divided by 9%, which would widen the 45% dividend yield gap between itself and its industry peers further.
Such strong financial numbers are the result of Viacom's strong operating fundamentals: its trailing 12-month operating margin is at 82%, compared with its peers' 65%. That number is actually a huge improvement over its five-year average margin of 71%, which was likewise better than the 59% its competitors enjoyed in the same period. This, in turn, allowed Viacom to post an average net income margin of 12% over the past five years - nearly double its industry's rate of 6.5%.
What all this means is that, if there are leaner times ahead for the big media firms, Viacom is likely to come out of it a bit better than its rivals. That doesn't mean, however, that investors should be lining up to buy Viacom stock.
Conclusion
While Viacom is obviously a very well run company, its stock has already run-up significantly in the year-to-date period, rendering any upside limited. In fact, at its current price of about $69, it is within striking distance of the consensus price target of $71 - a paltry 2.9% upside. Given this and the anticipated slowdown in its earnings prospects, we would not recommend buying Viacom at this time.
Disclosure: I have no positions in any stocks mentioned, and no plans to initiate any positions within the next 72 hours.
Business relationship disclosure: Black Coral Research is a team of writers who provide unique perspective to help inspire investors. This article was written by Jonathan Lara, one of our Senior Analysts. We did not receive compensation for this article (other than from Seeking Alpha), and we have no business relationship with any company whose stock is mentioned in this article.