Amarin (NASDAQ:AMRN) Showing Strength Ending the Week
Amarin longs hate me, because I'm the "evil short" that "bashes" the stock with articles; but, the fact is just that I call it like I see it. This is an article to point out a couple of good things in the world of Amarin this week.
I'll give longs a couple minutes to pick themselves up off the floor now.
Amarin has been running hard Thursday, currently (10AM CST) up over 10% and trading multiples of its daily average volume well before mid-day. After starting slow out of the gate Thursday, Amarin blew through the $7 line by mid-day. This article will give an outlay as to the catalysts that occurred this week, a quick technical analysis, upcoming catalysts, and my renewed position on the company.
From its website, "Amarin Corporation is a biopharmaceutical company focused on the commercialization and development of therapeutics to improve cardiovascular health. Amarin's product development program leverages its extensive experience in lipid science and the potential therapeutic benefits of polyunsaturated fatty acids. Vascepa (icosapent ethyl) is Amarin's first FDA approved product and is available in the United States by prescription."
After the drug's approval, the company failed to produce any major pharmaceutical partners, brought on its own sales staff, and is taking a stab at launching Vascepa on its own. So far, the launch hasn't gone amazing, but it hasn't gone poorly. Numbers had been running commensurate to prescription predictions and the stock has been stuck in limbo between $6.50 and $8 for the past two months.
The catalysts for Amarin's pounding earlier this week and it's run-up today started at the beginning of the week. Sunday's prescription data came in at a rise of 7.5%, which was a much needed improvement for the bullish argument after last week's paltry TRx data. Where data had momentarily lapsed, it appears to have begun to accelerate again, proving the bullish argument (at least for now) that prescription data is cyclical.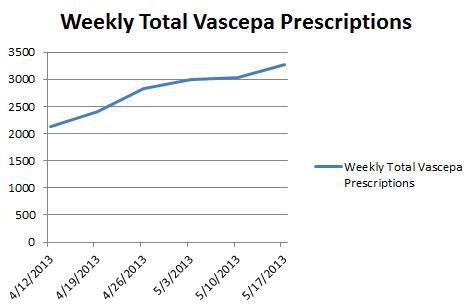 You can say that I'm holding weekly scripts under a microscope by looking at them on a weekly basis, but the data really is that important; and it also, despite what some analysts contend, does act as a catalyst for Amarin's stock price. Vascepa is all Amarin has, why not pine over the excruciating minutia of the details? I know longs love it anyway, despite the accusations they hurl out in the comments of my "bashing" articles.
Just as Amarin longs thought they were getting off on the right foot this week, the stock was hit hard on news, as Brian L. Wilson reported this morning:
Particularly damaging was commentary in a note made Tuesday by the equity research firm Summer Street, quoting an "Amarin insider" who claimed that there was "no reason to give Vascepa to patients with TG <500 mg/dL before the completion of the patient outcomes study. This gave Amarin quite a scare about the commercial viability of Vascepa in the ANCHOR indication, although it was revealed Wednesday by an Adam Feuerstein article that Summer Street's note was misleading, and built on misquoted statements.
However, it was just hours after Wilson was published that it was then reported by Seeking Alpha that Dr. Eliot Brinton, the doctor quoted by Summer Street, claimed that he was misquoted. He also claimed that he ever made the statement that the FDA would not move forward with Vascepa for ANCHOR until further study took place.
In conjunction with that good news, Amarin also put out some good news of their own this morning. A press release that went out pre-market Thursday showed further improvement for Vascepa when used with statin therapy. The press release stated:
The data presentation titled, "Effects of Icosapent Ethyl on Lipoprotein Particle Concentration and the Fatty Acid Desaturation Index in Statin-treated Patients with Persistent High Triglycerides (the ANCHOR Study)", reported that Vascepa 4 g/day, when added to optimized statin therapy for 12 weeks, significantly reduced median particle concentrations of total very-low-density lipoprotein (VLDL) by 12.2%, total low-density lipoprotein (LDL) by 7.7%, and small LDL particles by 13.5% across the 12 week treatment period, compared with placebo.
In conjunction with the patent news announced last week, this was a one-two punch for longs who are betting big on the ANCHOR implication of Vascepa getting FDA approval, introducing another massive potential patient population to the drug. ANCHOR will be a massive catalyst for Amarin. Good ANCHOR news at this point means the stock is going to run, no questions asked.
Amarin's chart technicals, as a supplemental approach to looking at the company, also seem to be shaping up slightly.
If Amarin can close this week out over the 50DMA, which is currently $7.09, they can find some bullish momentum to move to where the next real test is going to be, $8.00.
As you can see, the stock hasn't been able to break through the resistance at the $8 mark over the past few months. I'd call Amarin a technical buy if it can break $8, not only for the reason of breaking a massive resistance level, but because the 200DMA continues to slide downward, increasing the future chance of a bullish cross if the stock can hold up. Charting may not mean much to Amarin longs, but I assure them it will when millions of algorithm programmed trading desks (that will probably at some point enslave the human race) notice a technical signal and buy automatically.
What the Bulls Will Say
Amarin bulls will point out this condensed list of good things:
AMRN is showing trading strength
ANCHOR looks more probable as we hear more
Patent news, while supplemental now, could mean everything
Prescription data snapped back into place last week
The technicals look firm and show support at $6.50
What the Bears Will Say
Amarin bears will point out this condensed list of bearish things:
AMRN is regularly trading between $6.50 and $8, so this isn't a monumental run-up
ANCHOR is still 6 months away, and there are still some analysts that contend they will not receive FDA approval
Patent news won't mean much unless the company can execute
Amarin is burning through a ton of cash
Upcoming Amarin Catalysts
Updated prescription data on Sunday 6/2/13
Updates on ANCHOR status
Updated earnings, end of summer 2013
Conclusion
There's never been more of me wanting to lean bullish on Amarin than right now, to be honest. I've brought my put and call spread the closest to even on each side as it's ever been (thankfully buying calls on the crash a couple days ago.
I stand by my sentiments that I don't like that Amarin's eggs are still all in one basket, but with every day that goes by and every small piece of progress Amarin makes, it becomes tougher and tougher to rehash the short argument in the face of results.
My strategy continues to lean towards a long-term options strangle, as I'm sure in the years to come Amarin is either going to flourish beautifully or go under completely. I don't see any middle ground for this company and I think you'd be hard pressed to find a bull or bear who thinks this stock is going to be trading at $7 a year from now.
Best of luck to all Amarin investors.
Disclosure: I am short AMRN. I wrote this article myself, and it expresses my own opinions. I am not receiving compensation for it (other than from Seeking Alpha). I have no business relationship with any company whose stock is mentioned in this article. I hold puts and calls and have a slightly bearish lean in my spread.