Despite the tepid market action, the Century Club scan continues to generate lots of interesting charts. The Century Club scan is a technical scan using MarketClub's smart scanner to search for charts that have a perfect +100 score in its objective scoring system, tweaked with a filter to focus in on microcaps. Here's a few it pulled up this week:
ADA-ES (Nasdaq:ADES)
Comment: In Q1 report, CEO Durham said "With our interim AC [activated carbon] facility near start up and the construction of our AC manufacturing facility moving forward on schedule, we remain extremely enthusiastic about our market position and our prospects for recurring revenues along with substantial growth beginning mid-year 2010."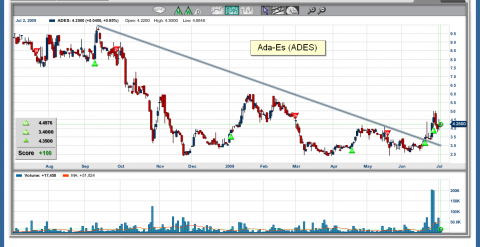 StarLIMS Technologies (LIMS)
Comment: In Q1 report, CFO Friedman said "Our strong revenue performance, combined with our focus on cost containment and services margin improvement, enabled us to significantly expand our operating margins. We continue to gain market share by leveraging our strong product portfolio and balance sheet, and for the full year we believe we can achieve ongoing growth even in the current IT spending environment."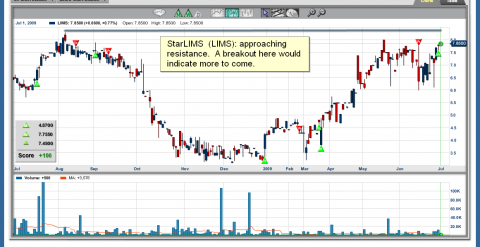 Omnova Solutions (NYSE:OMN)
Comment: Up 600% from recent lows, Omnova Solutions shows no signs of slowing down. It just took out a major technical resistance line (in gray below).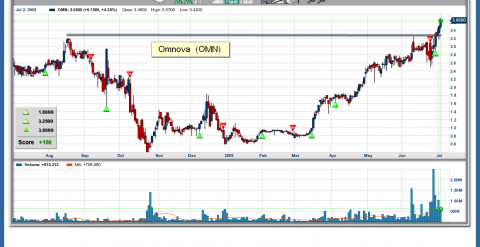 CFS Bancorp (NASDAQ:CITZ)
Comment: who says all banks must be shunned like the plague? CFS looks pretty good, from a purely technical perspective.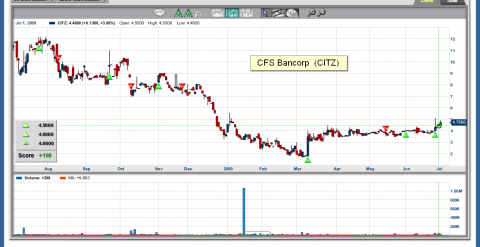 Vical Inc. (NASDAQ:VICL)
Comment: Vical looks like it is coiling here, creating what Adam Hewison calls "energy fields" for a big move up.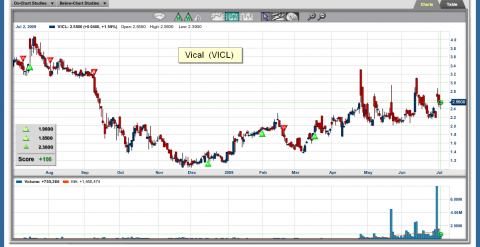 You can run the Century Club scan, or get updated signals and trend analysis, with a risk free trial of MarketClub.
DISCLOSURE: No positions in stocks mentioned.