Apple (AAPL) is a tech darling of Wall Street. It has also been one of the best investments this decade. Investors think that Apple will always be there for them to stabilize their portfolio.
These should be warning signals. Apple was once loved like this twenty years ago, too. The company was slow to react to the evolution of the personal computer in terms of size and price. Microsoft's (MSFT) Windows OS also made the personal computer the easiest it had ever been, up until that point, to use and Apple's OS was treated like the plague. Many thought Apple would be left behind.
Then Steve Jobs came back and reinvented the company. The content, distribution, and way we listen to music were changed forever with the iPod. Apple's Mac line got renewed interest because of the IiPod and the laptop became a popular school supply. In this economy, however, with 9.5% unemployment and a rising sense that frugality is good I wonder who is going to buy a luxury PC for a couple of thousand when one can get a different brand of laptop or a PC, printer, and monitor package between $800-$1200? The iPhone was the second new hit product of the decade. It introduced touch technology in a device that was music player, cell phone, and internet access all in one.
Here is the problem. The goal is too lofty for growth, in my opinion. The iPhone, especially now with a $99 price tag, will eventually start to cannibalize iPod sales. A $99 iPhone will also reduce Apple's margins per sale on the device. Finally the rate of iPhone sales will likely decrease as it has been a hot product for the last couple of years. Soon everyone that wants one will have one and the market for it will have become mature.
Of course, this thesis goes out the window if Apple comes up with the next new big thing, like it has done twice this decade. But this is the other problem. Apple's big idea over the last couple of years has been tweaks to and price reduction of the iPhone. That, in the long-run, is not a way to increase future growth. And it only erodes margins.
Here are two models formulating target prices. One is a residual earnings model. The other is a free cash flow to equity model. Consensus earnings estimates were taken from information provided by TDAmeritrade up until 2011.
click to enlarge images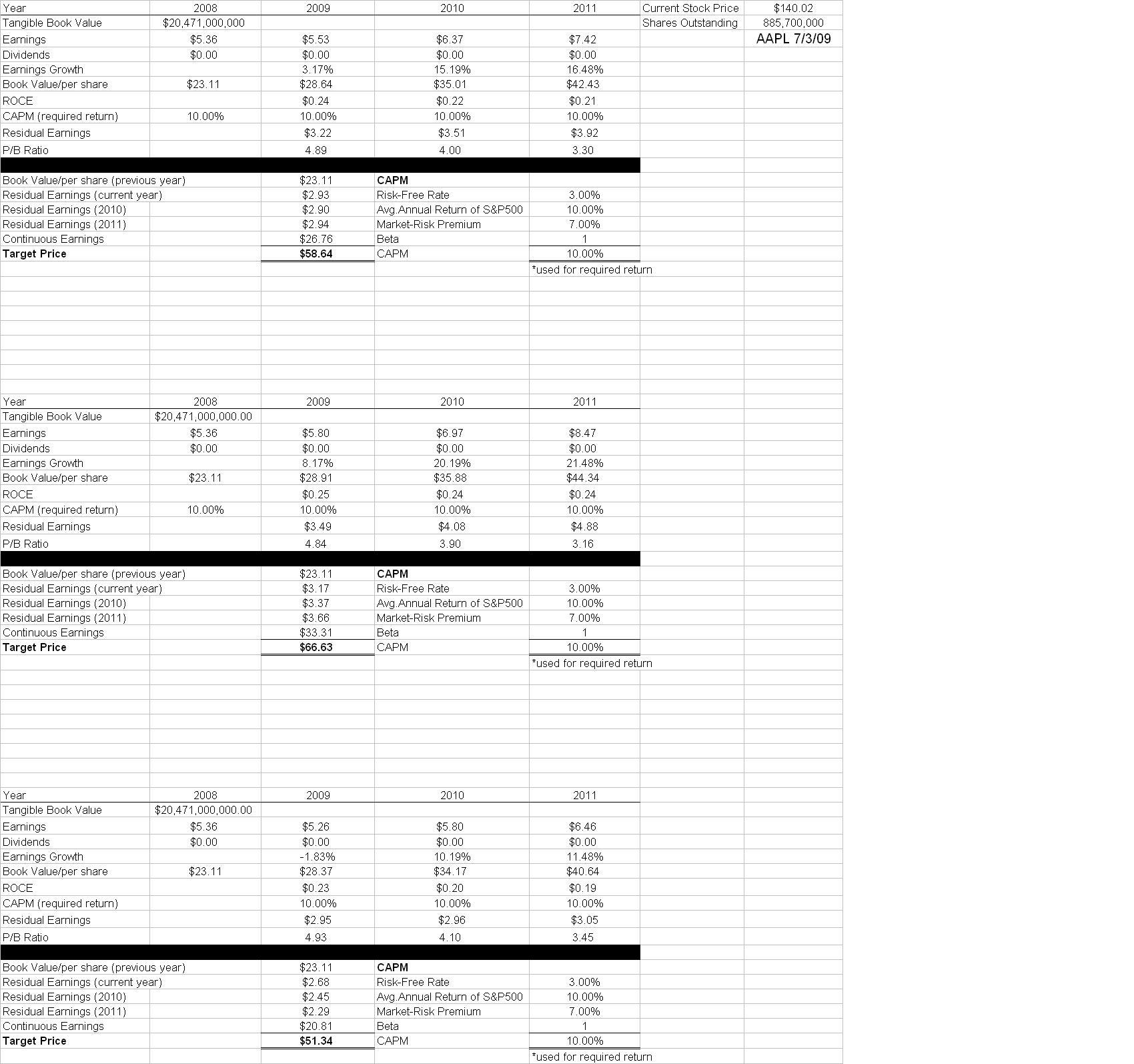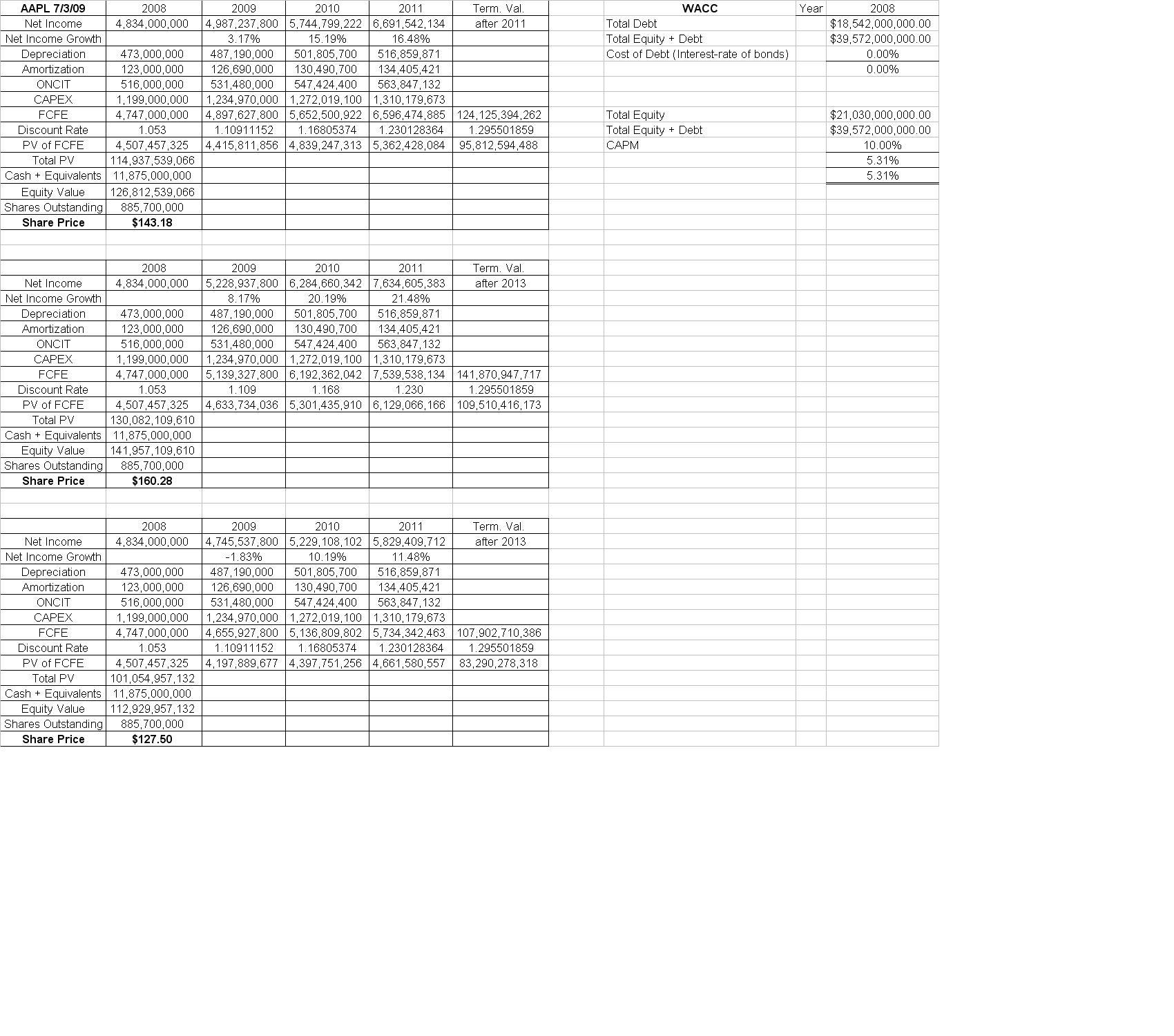 The top calculation for each is just consensus estimates. The middle calculation is 5% above consensus estimates. The bottom is 5% below consensus estimates.
Based on the earnings model, Apple is overpriced, even at the 5% above consensus estimates. But we see that the market is valuing Apple based on free cash flow in this case. According to this model, Apple is optimally priced - unless you believe that Apple will beat consensus estimates by at least 5%; then there is potentially $20 more of upside in the stock.
Based on the fact that I believe the iPhone will cannibalize the iPod, reduced margins, and fewer Mac sales, meeting and beating Wall Street consensus will be hard to come by. Without a new product to excite consumers, and anything right now will have to really excite consumers for them to part with their money, Apple will be on the road to maturation and a dividend company, but stock price appreciation will be non-existent.
Disclosure: No positions in any company mentioned in this article