The $30.5 billion Unified Communications (UC) market, which is expected to be worth $61.9 billion by 2018, is heating up as Microsoft (NASDAQ:MSFT) and Cisco Systems (NASDAQ:CSCO) battle it out to be the dominant player. Up to now, Cisco has had the edge, which is understandable as it has a global presence and has been a leader in the field for the past 20 years. However, there is an upcoming event that could tip the market in Microsoft's direction. That event is the much anticipated launch of Microsoft Lync with Skype enabled. Microsoft and Cisco are global powerhouses, but with integration of Skype into Lync, Microsoft will now also have a global customer base. There is one way to play Microsoft's new growth engine and that is to buy a derivative play of the Lync platform and that is AudioCodes (NASDAQ:AUDC). AudioCodes works directly side by side Microsoft and is set to make big revenue gains in the months to come as Microsoft's Lync/Skype collaboration gains global adoption and becomes Microsoft's next multi-billion dollar business segment.
Lync is Microsoft's UC offering that is an all IP communications system that it is deploying as a PBX replacement and which it is hoping will offset the death spiral in the PC market. Not many companies could pull this off, but Microsoft has the resources, footprint, know-how and determination to make it successful. With the integration of Skype, Microsoft will be hoping to lure even more enterprises away from its competitors with its expanded offering. Skype has been used primarily by consumers as enterprises have previously been wary of voice quality issues, but with voice quality issues resolved and now its integration into Lync, it has taken away many of the apprehensions IT managers had in deploying it for their enterprises. At the 2013 Lync conference, Microsoft announced that it had sold 5 million Lync voice seats, including 2 million over the past 14 months. We should see a considerable increase in Lync sales once the Skype enabled offering hits the market.
According to ZK Research, the UC market's preferred vendors are Cisco 43%, Microsoft 26.5%, Avaya and Nortel 7%, and IBM (NYSE:IBM) 6%. Clearly it is a two horse race especially as Microsoft is about to introduce Lync with Skype and is spending heavily in a bid to raise its market share. One problem that Microsoft recently overcame is that it did not have a complete package to offer enterprises when bidding on a contract. Unlike Cisco, which offers a complete end-to-end solution, Microsoft was relying on a lot of different vendors to supply components such as IP phones, SBCs and management software. In January of this year, AudioCodes, a Microsoft gold partner, introduced One Voice for Lync, which brings all the hardware, software and professional services to the enterprises that are going to market with Microsoft Lync. AudioCodes now aligns itself with Microsoft's Lync group on dozens of new bids each quarter. On the last conference call, AudioCodes' CEO said he already saw over 10 new large deals that past month and if that continued it had the potential to provide "hockey stick growth."
AudioCodes:
According to Microsoft, Lync revenues grew by 30% last quarter and it is excited about it continuing to grow. Over the last few years many enterprises (including 90 of the Fortune 100 companies) have been installing Lync. Many of these installations have been Lync without voice and the addition of Skype may be the catalyst needed for IT managers to upgrade to Lync with voice. Additionally, many of these installations have been small initial trial runs, so there is also a large growth potential here. AudioCodes is a strong VoIP player with a 20-year history and over the past 4 years, the company has been a survivor in the UC space as many companies went bankrupt or were gobbled up at discount prices. As a result, the company zeroed in on its fundamentals and core strengths, aligning itself with Microsoft's Lync and becoming more of a software house than just a hardware play.
Additionally, AudioCodes has a comprehensive suite of SBCs for the enterprise. Enterprise SBC (E-SBC) sales grew by 20% last quarter and its product portfolio gives it a real chance of being a strong player in the $1 billion E-SBC market over the next 5 years. Following on from its success in the enterprise SBC market it announced yesterday that it is introducing a Software SBC solutions strategy for cloud, data centers and hosted environments. This is a very important announcement as it now allows AudioCodes to compete head on with Sonus Networks (NASDAQ:SONS), Acme Packet and Cisco Systems in the carrier space.
On the latest conference call, CEO Shabtai Aldersberg announced that Oracle's (NASDAQ:ORCL) recent takeover of Acme Packet, a competitor in the E-SBC market, "is opening for us more opportunities in the market (E-SBC) as we find more customers open to do business with us." Investors should note that in the early 2000s AudioCodes was the number 1 player in the gateway market. It already has a 6% share of the E-SBC market after introducing its first E-SBC in only 2012. Aside from Microsoft, AudioCodes has strong relationships with BroadSoft (NASDAQ:BSFT), Avaya, Genesys, Alcatel-Lucent (ALU), AT&T (NYSE:T), Liberty Media (NASDAQ:LMCA) and Telefonica (NYSE:VIV).
One Voice for Microsoft Lync:
One voice for Microsoft Lync consists of hardware, software and support services.
| | |
| --- | --- |
| Hardware: | E-SBCs, Gateways and IP phones. |
| Software: | SmartTAP (call recording solution) and Auto Attendant (call routing). |
| Support Services: | Branch Office Survivability (remote server), Session Experience Manager (SEM) software (call monitoring) and support services (Lync deployment and post sales support). |
Looking at AudioCodes' IP phones, it would not be inconceivable of AudioCodes to see revenues of $20 - $25 million from sales of IP phones if each phone is priced at $100.00 and AudioCodes garners 10% of Microsoft's Lync voice seats. Microsoft sold 2 million Lync voice seats in 2012 so this could be a conservative number for 2014. AudioCodes' core strength is in voice and as such I believe that it will be able to take away market share from the likes of Polycom (NASDAQ:PLCM) that announced on its last conference call that it had shipped its 10 millionth IP phone in its history. I believe that AudioCodes possesses all the necessary ingredients to make its One Voice for Lync a complete success in winning large contracts that are ten times the contract size it reached in the past. Our research tells us that while Microsoft doesn't publicly pick one preferred partner over another, it is our opinion that it is showing a bias to AudioCodes and its One Voice for Lync. This positions AudioCodes to show tremendous revenue growth two quarters out.
Competitors:
In the SBC market, the competitive landscape was recently shaken up when Oracle unexpectedly stepped in to buy the number one player Acme Packet for $1.8 billion or 6.5 time revenues. This left two publicly traded companies Sonus Networks and AudioCodes. Sonus focuses primarily on the carrier space, while AudioCodes focuses solely on the enterprise space. The carrier space is a mature market and last year was saturated with SBCs from both Acme Packet and Sonus as they fought for market share. This is the reason Acme Packet went from $85-$13 last year and why Sonus's stock price went on a similar downward spiral. However, the enterprise market is in its infancy. It is being driven by the growth of unified communications and of cloud call centers and it is one of the reasons Sonus recently purchased NET, a small time enterprise SBC player. I believe the top player in the enterprise SBC market is AudioCodes and trading at 1.1 times 2014 revenues now, it should be worth a double or triple from here once investors fully recognize the coming growth in the enterprise market.
Valuation:
This morning, Jefferies Group upgraded Sonus Networks to a buy and raised its price target to $3.50. Two of the reasons the analyst outlined for the upgrade - ongoing adoption of SIP trunking and hosted PBX by enterprises, and the eventual adoption of IP-based real-time services such as videoconferencing - show that unified communications is gaining momentum, which is good for all players in the industry. This follows last week's upgrade for Sonus by Northland Capital, which raised it from market perform to outperform with a $3.25 price target. With revenues of $253 million and 282 million shares outstanding these two price targets give Sonus a valuation of 3.6 and 3.9 times revenues. Applying this same valuation to AudioCodes will give us price targets of $12 and $13 per share. Sonus has $1 per share in cash. If we subtract this out from the price targets it gives us valuations of 2.5 and 2.8 times revenues. Again applying this valuation to AudioCodes gives us price targets of $8.35 and $9.35.
Fundamentals:
| | | | |
| --- | --- | --- | --- |
| 2013 Revenues (Millions) | 2013 EPS | 2014 Revenues (Millions) | 2014 EPS |
| Year: $136 | Year: $0.20 | Year: $160 (est.) | Year: $0.41 (est.) |
| Q1: 32.3 | $0.02 | Q1: 36.5 (est.) | $0.06 (est.) |
| Q2: 33.3 (est.) | $0.04 (est.) | Q2: 38.5 (est.) | $0.08 (est.) |
| Q3: 34.4 (est.) | $0.06 (est.) | Q3: 41.5 (est.) | $0.12 (est.) |
| Q4: 36.0 (est.) | $0.08 (est.) | Q4: 43.5 (est.) | $0.15 (est.) |
Balance Sheet:
| | |
| --- | --- |
| Cash: | $57 million |
| Debt: | $20 million ($6 million short-term) |
| Inventory: | $15 million |
| Shareholder Equity: | $100 million |
| Shares Outstanding: | 38.5 million |
| Short Interest: | 77k shares |
Chart: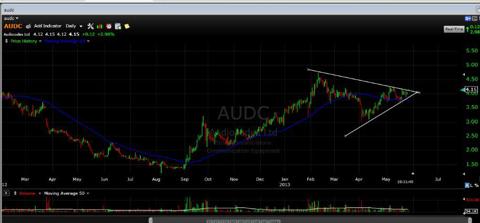 Click to enlarge
AudioCodes is on an uptrend and a break out at $4.30 will give it a new target price of $8 over the next few weeks. A longer-term price target is $12.
Short Position:
When you look at AudioCodes' short position together with its institutional ownership we get a picture of a company that has slipped between the cracks. The very low short position of 77K shares actually speaks volumes in telling us that institutions and hedge funds are scared to short it. The lack of shorting is therefore a reason to buy. The low Institutional ownership of 18% is telling us that it has been missed by institutions. When you consider that its competitor Sonus has an institutional ownership of 53.5% then you have to concede that the low institutional ownership is simply due to the fact that not enough institutions know its name or its story.
Acquisition:
One reason I believe that Microsoft will eventually come out on top in the UC market is that unified communications is being driven by software and that is Microsoft's core competency while Cisco's is engineering. I believe that AudioCodes would be a valuable asset to Microsoft's Lync group as its understanding of codecs, voice packets, universal systems and its complete line of hardware makes Microsoft Lync a one stop solution similar to what Cisco Systems has to offer. This combination would make Microsoft a much stronger player overnight. Oracle's acquisition of Acme Packet has increased the chances that another outsider could come in for AudioCodes. With its ties deepening it may be in Microsoft's interest to protect its relationship with AudioCodes by acquiring it. Microsoft already views dealing with Acme Packet as sleeping with the enemy, it would not want the same situation to happen to AudioCodes if, say, Cisco stepped in with a bid to acquire it. Another potential acquirer could be Polycom, which already has ties to Microsoft with its IP phones and software. The addition of AudioCodes' products and support services would give Polycom a more complete UC portfolio and assist it in competing for market share and in landing larger contracts.
Conclusion:
The growing unified communications market is about to see a further spike in interest with Microsoft's launch of Lync with Skype enabled. I am suggesting taking a position in a derivative play on Microsoft and that is AudioCodes. AudioCodes as a Microsoft gold partner and working side by side it on Lync has the possibility of being the biggest beneficiary of a successful Lync/Skype offering. AudioCodes has built up its UC portfolio of products, software and support services and as such it has become a much more attractive takeover candidate. I believe that we will see AudioCodes trade higher and I have a $12 price target.
Disclosure: I am long AUDC. I wrote this article myself, and it expresses my own opinions. I am not receiving compensation for it. I have no business relationship with any company whose stock is mentioned in this article.