Subordinated bonds or preferred shares are a very appealing asset class within the fixed income sector. Since investors are desperately seeking for yield, they also pile into hybrid bonds. Even though, hybrid bonds should be a part of the overall bond strategy, I have the impression that this market has run at least for now somehow too far and yields are not compensating the inherent risks (maturity, subordination, payout cancellation, credit risk, etc.).
Currently, subordinated bonds trade expansive versus senior financial bonds.
Spread subordinated financial bonds versus senior financial bonds: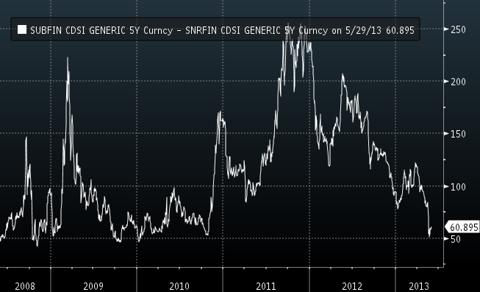 Subordinated bonds from financials are trading on levels last seen in 2008 and late 2010. I doubt that all the fundamental problems are solved. But I'm not ruling out that these bonds could rise even more before they correct. Senior financials still have room to their lows therefore subordinated bonds could rise somewhat further.
Spreads Senior Financial Bonds: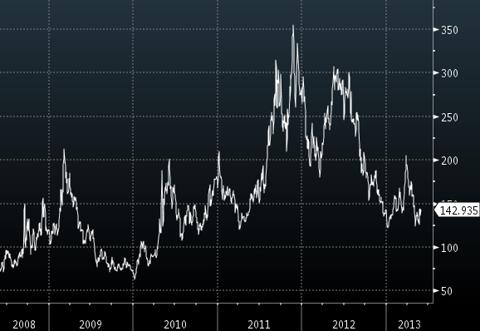 With few exceptions, bank debt and particularly subordinated debt look expansive, with the exemption of some CoCo bond structures from UBS (NYSE:UBS) (USD 7.25% UBS, ISIN: XS0747231362, yield to first call 4.9% p.a.) or Credit Suisse (NYSE:CS) (USD 7.875% Credit Suisse, ISIN: XS0595225318, yield to first call 5.2% p.a.). Both banks are well capitalized and broadly ahead of the Basel III schedule. Besides UBS and Credit Suisse, I still like the EUR 6% Achmea subordinated bond (ISIN: NL0000168714). Achmea is an insurance company based in the Netherlands with very strong fundamentals and a focused management team. Industrial issuers are usually the most attractive bonds form a risk/reward perspective with sound balance sheets and less correlation to financial markets. General Electric Capital Corp. (NYSE:GE) just came out with a junior subordinated bond (USD 5.25%, ISIN: US369622ST38, yield to first call 5.25% p.a.). The credit spread over 10Y US Treasuries was approx. 3.25% which is attractive for a AA- rated bond and a strong company such as GE.
Tactically, it looks increasingly likely that spreads will widen again, therefore subordinated bonds will correct. The market has gone up far too fast and is ripe for a correction. I think it is time to lighten up on subordinated bonds and realize profits. On the other hand, US Treasuries could rebound somewhat. I think buying TLT (US 20Y+ Treasury Bonds) and TIP (Treasury Inflation Protected Bonds) could be interesting. Also US High Yield Bonds, JNK are breaking down versus US IG corporate bonds. That's another warning sign that an imminent correction could happen.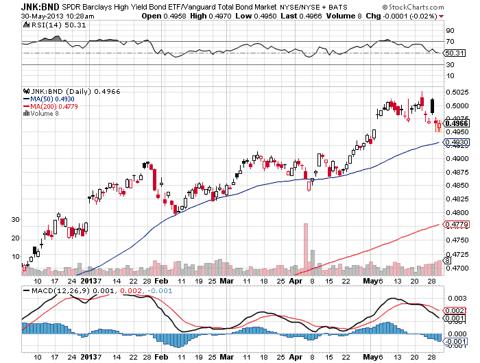 Overall, I see any increased QE as driver for further gains in subordinated bonds and would strongly favor Europe. The ECB will very likely introduce massive QE actions after the German election in autumn. That could fuel the final risk-on rally in this asset class. But first, it's time to be cautious.
Disclosure: I have no positions in any stocks mentioned, and no plans to initiate any positions within the next 72 hours. I wrote this article myself, and it expresses my own opinions. I am not receiving compensation for it. I have no business relationship with any company whose stock is mentioned in this article.