The shares of North American Palladium (NYSEMKT:PAL) have been hit hard after the company reported Q1 results. Was the sell-off justified after all the bad news the company issued or is the recent stock price of $1.10 a bargain?
North American Palladium Ltd. was founded in 1968 as Madeleine Mines Ltd. and has its headquarters in Toronto, Canada. Renamed to its current title in June 1993, the company primarily mines and explores for palladium but also for gold. Byproducts are platinum, silver, nickel and copper. The main operation is the Lac des Iles palladium mine. This mine was closed in October 2008 due to declining metal prices and reopened in October 2010.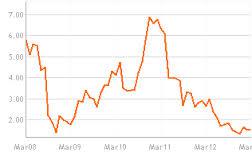 source: theglobeandmail.com
Q1 results
Q1 Results were outright disastrous. A loss of $2.8 million compared to a loss of $900,000 a year ago, a revised production outlook by 10-15% and a looming cash crunch were the main subjects of the first quarter report. The stock price declined by 20% and more. How much bad news do you want?
In a previous article I wrote that the main problem for mining companies today is to get costs under control. The increasing costs of mining and exploration could cause cash flow problems. This is exactly the case for NAP. Analysts are predicting that NAP will run out of money within 3 months.
On the other hand, NAP has still some value in the recently bought mining fields, the new production methods almost installed and the promising development for palladium prices.
So there is a lot of bad news for shareholders. But for people who are not invested yet in the PGM (platinum group of metals) industry this could actually be a nice opportunity. NAP is down and on the ground and waiting for someone to give them a hand. As soon as a white knight arises, it is time to jump in and profit from the hidden value in the stock. One company to buy a stake in NAP could be its main (and only) competitor on American soil - Stillwater.
Stillwater Mining Company (NYSE:SWC)
The other palladium producer in North America is Stillwater Mining. Unlike NAP, Stillwater is doing reasonably fine. With a strong balance sheet, low production costs and decent profitability the company is in every way an example for NAP.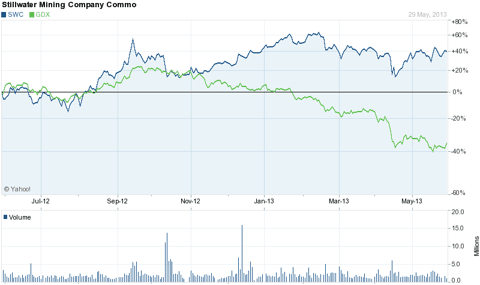 source: yahoo.finance.com
The stock is clearly outperforming the gold miners index (NYSEARCA:GDX). Stillwater is well positioned to benefit from the strong supply/demand fundamentals for palladium.
Stillwater, with its strong balance sheet, has the money to buy a minority stake NAP and profit from increasing palladium demand. NAP has no choice, it needs cash, and it needs it right now.
Conclusion
North American Palladium is in desperate need of cash. Within 3 months, the company might run out of money. With the promising prospects for palladium demand, it would be very attractive for healthy mining companies to try and buy NAP. Stillwater, with its expertise on the palladium market, could be one of the candidates.
Disclosure: I have no positions in any stocks mentioned, and no plans to initiate any positions within the next 72 hours. I wrote this article myself, and it expresses my own opinions. I am not receiving compensation for it (other than from Seeking Alpha). I have no business relationship with any company whose stock is mentioned in this article.