Solar stocks in 2013 have seen their prices soar due to a number of positive catalysts such as the uptrend in the broader indices, improvement in global demand and better than expected company quarterly results. Some solar stocks have however raced ahead of the pack giving a return of ~80-250% YTD. The one factor that is common across these companies is their large exposure to the Japanese solar market. Very generous subsidies given by the previous Japanese government has led to entry of a large number of companies such as Goldman Sachs into the solar installation business. Attractive returns have already led to a manifold increase in solar energy installations. Companies with a strong presence in the Japanese solar market like Canadian Solar (NASDAQ:CSIQ), JA Solar (NASDAQ:JASO) and Sunpower (NASDAQ:SPWR) have benefited through increased shipments. Japanese solar companies like Kyocera, Sharp and Panasonic too have seen revenues increase due to their strong presence in the domestic market. But these companies have not seen a large stock price increase as the solar business still forms a small part of their overall business. Solar companies which do not have strong marketing network in Japan have lost out as they have not been able to catch the solar boom. Renesola (NYSE:SOL) has only recently managed to get a Japanese solar certification. First Solar (NASDAQ:FSLR) stock has also performed tepidly as it has almost no presence in the fast growing large markets of China and Japan. However, investors should remain wary that solar booms inevitably lead to busts and companies which are exposed the most to these booms are hurt the worst. I would look to invest in fundamentally strong solar stocks with a wide geographic footprint and low costs.
How the current Japanese solar boom started
Solar Energy in Japan has a long future dating back to 1994, when the Japanese government introduced capital subsidies to boost solar energy installations on rooftops. Till 2004, Japan was the largest solar market in the world after which it was overtaken by Germany. After 2004, the growth in the solar industry tapered off as the government reduced the subsidies for solar panels to almost zero. The genesis of the current Japanese solar boom can be found in the Fukushima nuclear incident which took place in 2011. The backlash against nuclear energy resulted in the government looking for alternative energy sources. Japan generates a very small percentage of power from renewable energy sources, as it depends mainly on imported fossil fuels and nuclear energy. The shutdown of the nuclear power plants and the eventual phasing out of nuclear energy made the government look towards solar and wind energy. One of the last acts of the previous government was the passage of a legislation which would give a very generous 42 yen/Kwh for solar power.
However with the setting of a crazily high Feed in Tariff, solar demand is set to increase exponentially in Japan. Note Japan is already one of the biggest markets globally and has a large solar manufacturing industry. This is ideal grounds for a subsidy led solar boom like what happened in Spain in 2008 and Czech in 2010.
Japanese demand continues to increase rapidly
Recently released Japanese solar installation figures indicate that solar installations in Japan increased by 200% in 2012. A large number of solar projects are under construction which include both residential and ground mounted solar power plants. The Japanese solar demand is expected to continue growing by ~120% in 2013, despite lowering of feed in tariffs in April as the IRR remains very attractive. 2013 Japanese solar demand is expected to exceed 3 GW.
In July 2012, the government announced a full buy-back scheme which successfully stimulated solar installations. Installations in the fourth quarter of 2012 alone reached over 1GW and the total 2012 installations showed an on-year increase of about 200%. A new feed-in-tariff (NYSE:FIT) will become effective in April 2013. Under the new scheme, the FIT for solar PV systems under 10kW is lowered to JPY38/kWh (US$0.40/kWh) and the FIT for systems above 10kW is lowered to JPY37.8/kWh. Ahead of the cuts, the Japan market has been experiencing a surge of installations. Digitimes Research predicts the total solar installations in Japan to reach 3.2-3.5GW in 2013.
Solar stocks with large Japanese exposure give outsized returns
Solar stocks with big exposure to the Japanese market have seen their stock prices outperform the general sector despite having similar business profiles. JA Solar and Canadian Solar reported better than expected results due to a large increase in shipments to Japan. Canadian Solar said that Japan has become its biggest market with ~25% of its shipments going to the country.
Canadian Solar's panel shipments to Japan jumped 75.9 percent in the first quarter from the fourth quarter, accounting for nearly 25 percent of the company's shipments. The company said it expected panel shipments of between 380 megawatts (MW) and 420 MW in the current quarter, with Japan accounting for 35-40 percent of those shipments, Canadian Solar said.
The chart below clearly shows that Sunpower, Canadian Solar and JA Solar have outperformed the rest of the solar stocks by a significant margin as Japanese solar demand has greatly boosted their overall shipments.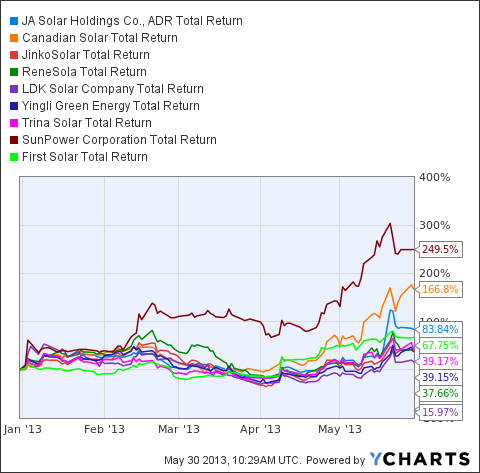 JASO Total Return Price data by YCharts
Booms always lead to Busts
There is a striking pattern in how solar booms engendered by generous government subsidies always lead to big busts. Except for Germany, every country seeing a boom has seen a big bust, with solar installers suing the government for removing subsidies and implementing retroactive taxes. Despite sharp reduction in subsidies, Germany has installed almost 7 GW annually for the last 3 years. Smaller countries like Czech, Greece, Bulgaria have seen messy end to their solar booms. Countries with big exposure to these booms saw sharp corrections.
Note Solar Booms are generally followed by a Bust after a couple of years as the massive subsidies forces the Government to stop the incentives abruptly and even apply retroactive taxes . This story has been completed in a number of countries like Spain, Italy Czech and Bulgaria already and Japan is in the first phase. Sumitomo one of the largest industrial groups has decided not take part in this bubble and is investing instead in wind energy which has lower FITs and lower returns as well. The story goes like this:

a) Government starts a solar subsidy program by giving above market rates for solar electricity

b) Solar systems prices go down making the FIT very lucrative

c) Massive solar boom ensures with solar developers setting up huge capacities in short period of time (Czech saw 1 GW of solar installed making it the 4th largest solar market)

d) Burden becomes huge in the government leading to increasing rates for customers

e) Government clamps down and imposes taxes and fees on existing solar power plants

f) Investors cry wolf and sue the government.
Summary
Investing in solar energy stocks is not an easy thing at the best of times and the current climate can hardly be classified as a good time. There is no clarity on how the current Chinese European solar trade spat will play out. India is also thinking of imposing duties on imports of foreign solar panels which have decimated the Indian solar manufacturing industry. USA has already imposed stiff duties on Chinese made solar modules. The Japanese solar boom has temporarily made the results of some solar companies look good. USA solar stocks have also seen a big boom due to the rise in the USA stock markets and some stocks like SolarCity (NASDAQ:SCTY) are definitely in the bubble territory. Even one of my favored solar plays Sunpower (SPRW) has raced a bit ahead of its fundamentals. The best solar stocks to buy right now are those with very low costs, a global marketing network, vertical integration and a solid management team. My top pick in the solar industry is Renesola which has missed out most of the current rally in solar stocks. Investors can also look at Jinko Solar (NYSE:JKS) and Yingli Green Energy (NYSE:YGE) which have seen a sharp increase in 2012 market share. Trina Solar (NYSE:TSL) should be avoided as the company has continuously failed to meet guidance over the last several quarters. Small cap solar players like Real Goods Solar (RSOL) and Ascent Solar (NASDAQ:ASTI) should also be looked at carefully before making a buy decision.
Disclosure: I have no positions in any stocks mentioned, and no plans to initiate any positions within the next 72 hours. I wrote this article myself, and it expresses my own opinions. I am not receiving compensation for it (other than from Seeking Alpha). I have no business relationship with any company whose stock is mentioned in this article.