As the summer starts to heat up and many of the stocks that I am interested in buying seem fully valued, I thought I would take this opportunity to look back on the past year and reflect on my family's transition from index and mutual fund investing to dividend growth investing. It has been an educational year (well, almost a year now), and I wanted to share some of the story.
First, some context. I just recently turned 33, am married, and have one child. We are investing for the long term. We made our first purchases starting in 2008 with Sequioa Fund (MUTF:SEQUX) and Fidelity's Total Market Index Fund (MUTF:FSTVX). Later, we added investments from Pax World -- (MUTF:PAXWX), (MUTF:PXWEX) and (MUTF:PAXHX) -- to reflect our social ideals in our investments. Our investment strategy was very straight forward: dollar cost average by contributing a set amount each month unless every show on NPR could do nothing but talk about how the stock market was exploding, in which case, buy as much as we realistically could. Incidentally, this strategy seems to have worked well for us to date.
Last summer, I was reviewing our financial status and was interested in moving out of cash. We had been stockpiling cash for a potential down payment for a number of years, and finally it was becoming too large a percentage of our assets. At the time I was very fortunate to find Robert Albers' "Dividend Growth Investing," which I reviewed for SeekingAlpha here. That book and a growing belief that the point of assets, whether they be stock investments or otherwise, is to generate cash led me to take the plunge and begin selecting individual stocks with the goal of creating a rising dividend income stream.
I should note that I come from a family of investors, and in retrospect, I'm a bit surprised it took me this long to start selecting individual equities for our portfolio. My father's idea of a good birthday present in high school was copies of books such as Benjamin Graham's "The Intelligent Investor," Peter Lynch's "Beating the Street" and "One Up on Wall Street," and Greenwald, et al's "Value Investing: From Graham to Buffett and Beyond," all of which are still on my bookshelf today. I think before learning about dividend growth investing, I lacked a framework for how to begin narrowing down the vast universe of stocks to a smaller list that was worth further individualized research.
Initial Portfolio Build
Before making our first purchases, my wife and I discussed the goals of the investment portfolio, the plan to achieve those goals, and decided on an initial allocation of resources to the portfolio. The first goal was to build an asset that threw off cash at a rate that grew better than inflation (target of greater then 8% organic growth on the portfolio as a whole). We would hold the portfolio in a taxable account and reinvest all dividends in the security that generated them. Holding the portfolio in a taxable account creates a bit of a safety net at the cost of tax-free growth in the event of future financial challenges (or college expenses for children) as we can turn dividend reinvestment on or off as the situation demands. Finally, we equate stock ownership with business ownership and will only invest in companies that align with our particular social responsibility compass. Thus, unless there is a compelling reason otherwise, we steer clear of investments in the fast-food industry, the energy industry, and defense contractors. We do make exceptions for companies that are operating relatively more environmentally and socially responsibly in their industries than peers, which we vet through Pax World's stock selections. These constraints mean our final portfolio is quite likely to look different than many other investors, which we are fine with.
We also have a division of labor with regards to investment decisions. I am responsible for identifying stocks that have the potential to meet our dividend growth goals, for doing initial due diligence, and for valuation. My wife and I then discuss the business and its long-term prospects. If we don't see a clear reason why the business would be making more money in five or 10 years, we steer clear. Often, this can lead to very simple and straightforward investment theses, but I feel this is one area where simple is good.
One final note before giving the portfolio as it now stands: Initially, I had planned for about 15 positions, but over time and by reading a number of SeekingAlpha articles and comments, we decided to adjust that number upwards to 30 or 40. Some of the earlier positions are thus overweight, and we will rectify that over time by increasing smaller stakes up to parity as funds become available after the portfolio is constructed. Also, we do weight stake sizes in some ways by our perception of risk: all investments in the financial industry tend to get smaller stake sizes.
Ticker

Date Investment Initiated

Percentage of Portfolio

Gain/Loss since Purchase

Current Dividend Yield

% Dividend Growth 5 Year

(WAG)

7/16/12

12.68%

46.45%

2.22%

23.74

(NYSE:PG)

7/9/12

11.14%

27.94%

3.05%

10.79

(NYSE:NSC)

9/24/12

10.21%

19.54%

2.60%

15.11

(NYSE:NVS)

8/20/12

10.19%

17.97%

3.48%

17.75

(NYSE:EMR)

7/19/12

10.11%

17.31%

2.86%

8.79

(NASDAQ:INTC)

8/23/12

9.08%

4.35%

3.71%

14.09

(NASDAQ:LLTC)

7/24/12

6.89%

20.24%

2.77%

8.23

(NASDAQ:VOD)

10/3/12

6.01%

5.41%

5.10%

5.9

(NYSE:AFL)

8/9/12

5.10%

19.49%

2.51%

10.87

(NYSE:BNS)

8/7/12

4.58%

6.13%

4.12%

4.77

(NYSE:MDT)

7/27/12

3.91%

36.27%

2.01%

17.13

(NYSE:NEE)

2/20/13

2.56%

2.24%

3.49%

7.91

(NASDAQ:MAT)

2/4/13

2.54%

8.29%

3.21%

10.58

(NYSE:DLR)

5/20/13

2.37%

-3.97%

5.12%

20.1

(NASDAQ:NKSH)

12/19/12

1.40%

11.81%

3.18%

7.68

(NASDAQ:MBVT)

1/11/13

1.24%

2.29%

3.90%

0

Total Portfolio

18.31%

3.26%

13.15
Current Yield and % Dividend Growth 5 Year taken from Morningstar's portfolio tracker (except for VOD's dividend yield, which I think was perhaps not properly annualized).
At present, we have allocated 2/3 of the capital we had decided to devote to this portfolio. The remaining 1/3 will ideally be distributed over approximately 17 lots. Our current sector allocation is below. I have split out Consumer Defensive from Consumer Cyclical, which accounts for the two different "Consumer" entries.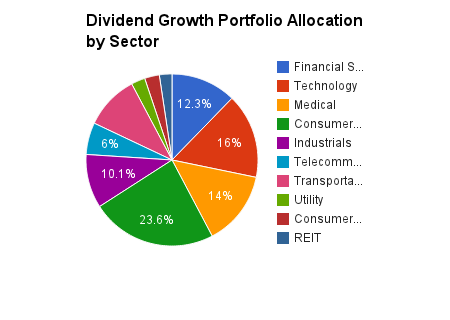 The portfolio as it currently stands reflects some of our beliefs about the future. I think that over a period of years, the businesses that support healthcare will deliver strong, consistent results. This accounts for the presence of WAG, MDT and NVS as some of the earliest investments in the portfolio. While we are leery of banks in general, we do have a strong belief in regional banks, which is realized through NKSH and MBVT. Our investment in MBVT also shows that we view the portfolio construction rules focused on dividend growth as strong guidelines but not mandates, as we believe MBVT is a very sound company that will deliver steady results over time. While rail infrastructure may face short-term challenges from depressed coal prices, we believe that it is critical to the country's economy and expect NSC to be doing very well 10 years from now. PG was our first stock selection and intended as a stable core. Additionally, as global food and nutrition challenges are met, we think the next stop is cleanliness, and consumer giants such as Procter & Gamble will benefit over a course of many years. At the time of initial purchases, both WAG and PG were under a bit of a doom and gloom cloud that we viewed as temporary and conducive to establishing long-term holdings at attractive prices. INTC, of course, remains under such a cloud.
Going forward, I am looking at the REIT space as well as international stocks that have grown their dividends in their home currency. As these are less familiar to me, it is taking more time for me to feel satisfied that I understand the businesses and their roles well enough. As a small individual investor, I have the ability to fill a full position in a thinly traded ADR, which a large institutional investor may not have access to. As such, I believe there may be significant value opportunities in this sphere. After allocating the remaining capital to the portfolio (I'm in no rush), I plan to review some of the earlier investments and possibly reduce their sizes and distribute the resulting funds to other companies with strong records in the same industry (NVS and NSC come to mind here). I've also recently discovered that I have access to a Bloomberg terminal through my university, so I've been having a bit of fun with that…
In some ways we have been fortunate to start this project in an upwards moving market so that we have seen capital appreciation in some of our earliest picks. However, I think the true test of an investor comes in bear markets. Given our time horizon and the ability to focus on tangible results such as dividend income, I believe that we are prepared for significant drops in share price and hope we will treat such occurrences as opportunities to increase our share ownership.
Disclosure: I am long AFL, BNS, DLR, EMR, INTC, LLTC, MAT, MBVT, MDT, NEE, NKSH, NSC, NVS, PG, VOD, WAG. I wrote this article myself, and it expresses my own opinions. I am not receiving compensation for it (other than from Seeking Alpha). I have no business relationship with any company whose stock is mentioned in this article.