At first blush, Infinera Corp. (NASDAQ:INFN) stock appears to be overly expensive trading at almost 50x forward earnings estimates. With a history of inconsistent execution and years of losses, why would an investor consider Infinera? This is a great question. Thankfully, the answer is surprisingly simple. After spending the past five years developing the world's best-in-class 100G technology architecture and platform, the DTN-X, Infinera is poised to enjoy a powerful five-year growth cycle that is currently underestimated by the Street.
In our view, forward estimates for 2014 are woefully low. As Infinera continues to seize market share from its competitors and executes on its business plan over the next six to eight quarters, the potential for $1 billion in revenues and $1 in earnings by 2015 is very real. With the stage set for exponential growth and profitability, at current levels, Infinera's shares offer investors the potential for a highly asymmetric outcome: shares have minimal downside and large upside. By the end of next year, INFN could see its shares trade at all-time highs above $30. There are many reasons for our bullishness. Let's get to them.
Company History
Infinera was brought public by Goldman Sachs in 2007. After being priced at $13, shares quickly doubled over the first two weeks of trading, topping out at $30. The initial fanfare was understandable. In 2005, Infinera revolutionized the 10G long-haul transmission market with the release of its DTN platform. The core of the DTN platform rested in the company's PIC technology, which essentially integrated switching capabilities into traditional optical analog transmission. Within 18 months, Infinera catapulted to No. 1 market share in the 10G market. Revenues scaled from $4 million in 2005 to $500 million in 2008.
Being a start-up and a latecomer to a market that had been established in 1997, Infinera was unable to crack into the Tier 1 market however. Tier 1 operators had no interest in certifying a technology that was already seven to eight years into its life cycle. When the financial crisis hit in 2008, INFN saw its smaller customer base dramatically reduce purchase orders. Revenues quickly dropped from $500 million in 2008 to $300 million in 2009.
Faced with rebuilding its business for the next major cycle, Infinera made a calculated, strategic decision. The company determined 40G was going to be an afterthought, and instead, 100G was going to be the next big thing in the optical space. The period of 2008-2011 became years of long-term development for Infinera, leading to five long years of marked underperformance, with revenues vacillating between $309 million and $454 million. Not surprisingly, INFN's stock languished in a trading range of $6-$13 for four years.
Behind the scenes, however, significant innovations were occurring at Infinera. The company's engineers were diligently developing its next-generation product offering, the DTN-X. Three short quarters after launch, the DTN-X quickly became regarded as the industry's best-in-class 100G offering.
Now fast-forward to the spring of 2013 and one thing has become very clear: Infinera's foresight into the optical space was dead-on. Demand for 40G never materialized and was an afterthought for carriers -- 100G is going to be the next big thing.
100G's Decisive Inflection Point Arrives in the Second Half of 2012
On May 17, Frost and Sullivan released market research on the global 100G optical market. Since commercialization began in 2010, the market size of the 100G space increased dramatically by 210% in 2011 and 387% in 2012. Looking ahead, the global 100G market is poised to grow from $892 million in 2012 to $4.8 billion by 2015.
From Frost & Sullivan:
The market is mainly driven by the demand for high quality broadband network services, especially by the growing IP traffic and number of broadband subscriptions during recent years and in the future. The 100G optical network implementation can bring high network efficiency and reduce unit transmission cost per byte; thus it can justify the network operators' investment return. The major applications for 100G is providing interconnection for IP/MPLS core routers, and data centers, based on the research. Future major applications may include LTE, metro network, and ultra-long reach networks.
On May 1, Infonetics Research echoed Frost & Sullivan's bullish predictions on the 100G space. Andrew Schmitt, principal analyst for the optical space at Infonetics, stated: "100G optical transceivers arrived in force in 2012, with virtually every vendor fielding a solution. Though the market is nascent and the growth rate will slow, coherent 100G shipments are on track to more than double in 2013 and again in 2014."
The evidence is clear. As adoption rates accelerate around the world, 100G has experienced an important inflection point. The technology currently ranks as one of the most robust segments within the optical market, if not the entire telecom equipment sector. Given that Infinera has quickly seized the No. 1 market share ranking within 100G in three quarters, we believe the company will benefit the most from this multi-year growth curve with its best-in-class DTN-X architectural platform.
Competitive Backdrop: Infinera's Best-In-Class Offering Trumps All Others
The 100G market will be dominated by five vendors: Alcatel-Lucent (ALU), Ciena Corp. (NASDAQ:CIEN), Huawei, Infinera, and ZTE. These five companies accounted for over 76.2% of the market share by unit shipments. With barriers to entry very high, new competitive forces will likely refrain from entering the market. A land grab for market share has therefore begun. Here are some quick market observations on the 100G space:
In March, President Obama signed into law an appropriations bill that prohibits government agencies from buying IT systems from Chinese companies without first obtaining approval from the FBI. This means that both ZTE and Huawei will not participate in the North American market.
Huawei's exit from the North American market should reduce pricing pressure, allowing Infinera to scale margins quicker in the coming quarters.
Alcatel and Ciena introduced 100G offerings in 2010. Even with a two-year lead time on Infinera, both companies quickly ceded significant market share losses to Infinera.
In the May 20, 2013 edition of the Dell'Oro Group Optical Transport Report, Infinera was the #1 leader in the worldwide long-haul 100G WDM market. Infinera accounted for 34% of the long-haul 100G WDM ports sold in Q1 and for 29% of all the long-haul 100G ports put into production since the 100G market opened up in 2010.
Five Differentiating Aspects to Infinera's DTN-X Offering
To truly comprehend what is happening in the marketplace, we spent considerable time educating ourselves on the distinct and underlying advantages that Infinera's DTN-X provides for carriers. Since its inception, Infinera's mission has been to transform the way telecommunications networks are built and to help their customers succeed. Infinera accomplishes this through deep innovation, where its track record is unparalleled. As we see it, there are 5 differentiating factors that distinguish the DTN-X as the best-in-class 100G offering. Let's go through them one at a time:
1. Infinera Is Ushering In a Major Architectural Shift to an Intelligent Transport Network
Perhaps the most differentiating aspect to what Infinera is doing is this: the company is not just offering carriers the best 100G product, it is helping to facilitate the transition to an intelligent transport network. At the heart of its architectural design is the built-in OTN switching, which eliminates stranded capacity, thereby providing optimal routing.
Once thought of as a niche technology, this is no longer the case. From Infonetics: "In the recent past there was a sizeable minority of carriers who planned to skip OTN switching, but that minority is dwindling. In the next 3 years, OTN switching is going to be a requirement for most WDM transport platforms in the metro and all higher-density systems in the core."
In a survey conducted by Infonetics, 86% of service providers surveyed are planning to deploy OTN switching. By 2016, nearly all of these operator respondents predicted that they would want systems that integrate OTN switching and packet switching in the same platform.
Think about it for a second. Not only was Infinera's management able to anticipate the 100G dominance in the next big cycle, they also laid the foundation for OTN switching to become the standard through which the converged network will be based. In short, Infinera is once again disrupting the optical market just as they did in 2005. This time around it is in 100G, instead of 10G.
Here is a visual representation of INFN's elegant solution: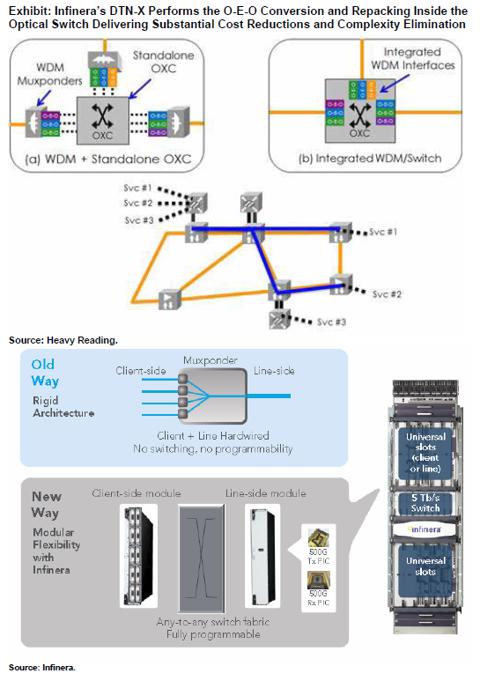 Here is what Infinera's management had to say about this important trend of convergence:
We are now beginning to see the market explore the next cost step function in network design, convergence. Convergence is becoming a reality, as carriers seek additional improvement with the integration of switching and DWDM transmission to reduce the complexity of operating networks as they scale. Infinera, with our photonic integration advantage, is uniquely able to deliver convergence without compromise, ensuring the full capabilities of both DWDM and OTN switching even when integrated into a single platform. Leveraging this position, we are combining our architectural advantage with software intelligence to deliver more capabilities at the transport layer and with functionalities previously reserved for higher and more expensive layers of the network.
As for its two main competitors, Alcatel-Lucent and Ciena, while both companies can claim to be able to accomplish OTN switching (via putting switching cards in the DWM 6500 in Ciena's case), both companies simply seem to be retrofitting. With retrofitting there will always be compromise and a limit on how many cards you can install. Not the case with Infinera's DTN-X architecture, which enables carriers to pack the network without compromise. This is a huge advantage.
2. 500-Gig Super Channels Provide Carriers with Unparalleled Scale
The second differentiating aspect to the DTN-X is that it provides investment protection assurance through unparalleled scale. To this end, Infinera is currently the only company delivering 500-gig long-haul super-channels while their competitors are only delivering 100-gig. These super channels create a better total cost of ownership when looking at the network in its entirety. Moreover, even if INFN's competition is successful in eventually transmitting 500-gig, they will most likely have significant compromises versus the performance that Infinera's 500-gig long-haul super-channels currently deliver.
3. Lower Capex and Opex Costs
The DTN-X also offers lower capex and opex costs through network efficiency, network convergence and PIC economics. Analysis completed by Infinera has demonstrated that integrated switching in WDM of the DTN-X can produce up to 60% lower total cost of ownership by utilizing fewer channels, less fiber connections, less space and less power when compared to more conventional architectures.
The integration of optical components and functions into large scale photonic integrated circuits (PIC) results in significant benefits when integrated into a DWDM system. This integration approach enables significant power, space and cost savings for long haul DWDM applications.
4. Fast Mesh Protection
Infinera's DTN-X also offers fast shared mesh protection, which helps control the cost structure inherent to network build outs. This is significant, with more service providers accelerating the shift to mesh based topologies based on OTN from SONET/SDH designs. In an Infonetics Research piece from May 6, while optical mesh current plays a small role in carrier networks, it will play a dominant role for these networks by 2016.
5. Service Delivery Velocity/Reliability
One final note on the DTN-X. It gives carriers the ability to increase customer wins and to reduce churn through service delivery velocity and unparalleled reliability. Infinera has eight years of field-hardened experience integrating OTN switching. Its customers can provision 100G services in minutes and have them run reliably for years.
Not surprisingly, these differentiating technologies of the DTN-X have begun to translate into significant traction for Infinera. In its most recent earnings conference call with investors, INFN's management team stated that they were looking at one of the most robust pipelines of RFP activity it had seen in years. The pipeline consists of a strong mix of both new customers and a healthy number of existing customers.
More specifics from the call: "Revenue growth on a year-over-year basis was 20%, reflecting the strength of our current DTN-X market momentum. During the first quarter, we received DTN-X purchase commitments from 6 additional customers, two that were moved to Infinera for a total of 27 DTN-X purchase commitments to date. We exited the first quarter with increased backlog and strong bookings momentum."
Although not specific as to how much the backlog had grown for the company since the end of 2012, CEO Tom Fallon stated that it had grown "significantly." We found this quote from Fallon particularly telling:
We have a very active pipeline of large customers across multiple segments and geography. The DTN-X was built for large networks and is designed to meet the needs of Tier 1 customers. It is opening up opportunities for us around the world and expanding the markets we can address. In Eastern and Western Europe, we are winning new business, contrary to what many would expect given the economic concerns in those regions. In North America, our business with Tier 1 cable and Internet content provider customers is robust. They're also seeing strong interest in Asia, which historically has not been a significant market for us. Fundamentally, we believe that our strategy of rolling the DTN-X product to address Tier 1s and other high-capacity providers, combined with Infinera's scalable business processes, manufacturing and global support services, is allowing us to achieve our growth objectives.
Was The Recent Secondary Offering Done For LEVEL 3, and/or Verizon?
Importantly, Infinera has already secured its first Tier 1 customer for the DTN-X with CenturyLink (CTL), a 10% customer last quarter. This sets the stage for other Tier 1 wins. With all indications pointing to a robust second half of the year and a break out 2014-2015, Infinera's management team made another savvy move recently. They did a convertible offering, led by both Goldman and Morgan Stanley, which added $135 million to its balance sheet. The $135M capital raise should be viewed as a very bullish sign of the company's forward prospects, perhaps suggesting Infinera may be on the cusp of securing additional game-changing contracts from both existing customers and potentially also from new tier 1 operators.
In an early May note to investors, influential optical analyst, Alex Henderson from Needham, surmised the odds were very high for Infinera to regain its premier position within Level 3 (NASDAQ:LVLT). With Huawei exiting the U.S., the fact Level 3 was once a very significant customer of Infinera's, and with Infinera representing roughly 50% of the L3 core, odds seem very high that Infinera will secure this win. With Level 3 poised to spend $200 million on its network over the next three years, such a contract win would require significant working capital. With its balance sheet buttressed, Infinera can easily accommodate such a large order.
There have also been some rumblings in the market that Infinera may become the second source supplier to Verizon (NYSE:VZ). MKM Partners broke this story to investors a few weeks ago:
Infinera may have a shot at Verizon. The base case for underpinning our buy rating on Infinera does not assume it will win second-vendor status at Verizon for 100G long-haul transport. However, our conversations with Verizon at the event appear incrementally positive for Infinera in its bake-off against Alcatel-Lucent. The Verizon technology executives made positive comments about the price/performance characteristics of Infinera's unique physical interface card ((PIC))-based optical transport architecture. It remains to be seen whether this is enough to overcome the long-standing relationship between Verizon and Alcatel-Lucent, but we are now slightly more hopeful that Infinera may break through at the carrier.
In addition, Verizon has clearly been vetting out Infinera's technology since early last year, with both companies co-authoring a white paper on 500G entitled, "Real-Time PMD Tolerance Measurements of a PIC-Based 500 Gb/s Coherent Optical Modem." While only a white paper, Verizon nonetheless did co-author it with Infinera, not with Alcatel-Lucent. Considering that the DTN-X is the only solution offering 500G live capabilities currently, odds seem to favor Infinera displacing Alcatel-Lucent with Verizon as their second source supplier. This could translate into $100 million in spend by 2015. This decision should come in the second half of this year.
Needless to say, if Infinera were to secure either Level 3 or Verizon, forward numbers would move up dramatically. In addition to these two potentially game-changing opportunities, the DTN-X is opening up opportunities for Infinera with new Tier 1s outside of North America. Asia has suddenly become a hotbed of activity for the company. From the Q1 call:
We are getting access to customers that we didn't have access to before and those customers have a different profile. They're definitely larger customers, Tier 1 type customers. What we're seeing are opportunities around the world, we're seeing them in Japan; we're seeing them in Hong Kong; we're seeing them in the New Zealand, Australia area; we're seeing them in India; we see them -- we're seeing them in Korea. We're seeing broad-based ranges of opportunity -- Vietnam. Whether we win those, I don't know. But DTN-X is viewed as cutting-edge technology with a history of large-scale deployments around the world with other carriers. And we are being invited very aggressively to both RFPs and our earning opportunities for short listing. I think that the tale will still be told later this year. But we have not seen this amount of broad activity in Asia ever, and I'm expectant of success in that area, though starting off at a pretty small base.
Forward Guidance Too Low
Our bullish stance on Infinera and the optical space was enhanced a few days ago when Cisco released its annual visual networking index (VNI). In it, Cisco forecast the pace of internet traffic growth - a subset of IP traffic growth - to be above plan. This implies the need for more routing and optical capacity, benefiting all of the big opticals, including even Ciena and Juniper (NYSE:JNPR) after Infinera. What does this mean for Infinera? At the minimum, we expect Q2 to be at the high end of the guided range. Revenues of $140 million would constitute a nice beat and usher in a move to profitability ahead of schedule.
More importantly, forward guidance is clearly way too low. Management is playing guidance close to the vest. Considering its inconsistent track record until recently, management knows they need to get back into the Street's good graces by executing well and posting a number of consecutive "beat and raise" quarters. As it stands now, analysts have no incentive to raise numbers for the second half of this year or, for that matter, for 2014. They will wait for the company to do so first.
The smart money is certainly not waiting for the analysts to raise their numbers, with the stock quickly positioning itself near recent 52-week highs. Volume has been noticeably strong the past few days. This should not be surprising with Goldman and Morgan putting their best customers to Infinera in the low-$9s after the convertible holders were finished with their hedging activities.
Leverage in the Infinera Model
In addition to all of the aforementioned data points demonstrating a particularly robust second half of the year, history is also on our side. During the last two years, Infinera has grown revenues by 10% from Q2 to Q3 to Q4. Assuming $140 million in revenues in Q2, this implies $155M in revenues for Q3 and $170M for Q4. Current estimates for Q3 stand at $135 million, with Q4 estimates pegged at $144 million. There is ample room for upside in the second half of the year. A Q4 revenue number of $170M would allow the leverage in Infinera's model to begin to manifest itself. To see what we mean, let's take a quick look at Needham's very low 2014 estimates for Q2-Q4 to see how the leverage begins to appear. Note the highlighted areas:
Needham Q2-Q4 2014 INFN Estimates:

Source: Needham.
According to Needham's model, INFN's underlying profitability is set to double as revenues go from $152M to $158.5M over three quarters. Earnings per share will go from $.04 to $.08. It is therefore not a stretch to model $0.12 at a $170 million quarterly revenue run rate. If we are correct in our assumptions for the second half of this year, Infinera would be poised for a record 2014. Current analyst estimates are forecasting revenue to grow at only 11% year over year. 30% top-line growth seems more appropriate, especially with year-over-year revenue growth accelerating into 2012's Q4.
If Infinera does $590 million in revenues in 2013, a 30% growth rate for 2014 would translate into $767 million in revenue for next year. At these revenue levels, the company would most likely scale to their mid-term operating model of 45% gross margins and 10% operating margins, translating into $0.55 cents in earnings for next year. This compares to current estimates calling for only $.21 in EPS.
Looking ahead to 2015, a ramp in revenues of another 30% gets you to $1 billion in revenues and a $1 in earnings. Six quarters into their manufacturing ramp of DTN-X, along with high-margin line card fills accelerating throughout next year, makes a longer-term operating model of 50% gross margins along with 15% operating margins certainly achievable. After all, at its peak in 2008, Infinera posted one quarter of 50% gross margins, along with 20% operating margins. Will these be the new operating metrics the company aspires to reach by 2015/2016?
Risks
What could go wrong? The biggest risk at this juncture seems to be the macro environment. Having noted that, the economy is improving. Also, with an expanding geographic base of customers, access to new verticals and new Tier 1 opportunities, Infinera seems to have this risk covered well for at least the next few quarters.
Pricing pressure is the most obvious second risk. Pricing is always a concern for hardware makers. Having noted that, with Huawei exiting the U.S. market, pricing pressure should not be a forefront issue in an environment where demand is increasing. Infinera also has a software element to its offering, helping the company offset the usual pricing degradation seen each year.
There is also the risk a new competitive offering emerges to challenge the DTN-X. Considering its many differentiating aspects noted earlier, its best-in-class architectural thrust, and a robust spate of RFPs being fast-tracked with carriers around the world, investors can rest comfortably knowing that nobody is going to touch Infinera anytime soon.
Investment Summary
What does this all mean for Infinera's stock? How high can it go? These are most important questions a potential investor can ask. Here is what we think will occur.
We expect Infinera to post a head-turning beat and raise in late July. Forward estimates should get quickly raised and price targets will begin to move into the mid-teens shortly thereafter. INFN should break above important price resistance at $13 and then settle into the $15 zone before basing out over the ensuing months.
Let's not get ahead of ourselves for now, however. Our first price objective is $15 by the fall. Assuming we are correct with our forecasts, a dramatic upwards revaluation will occur on Infinera over the next six to eight quarters, similar to what investors in Lions Gate Entertainment (LGF) have enjoyed over the past 15 months. We look forward to seeing this growth story play out and to updating investors accordingly as Infinera's massive inflection point becomes appreciated by numerous new investors in the coming quarters.
Disclosure: I am long INFN. I wrote this article myself, and it expresses my own opinions. I am not receiving compensation for it (other than from Seeking Alpha). I have no business relationship with any company whose stock is mentioned in this article.