The Canadian dollar exchange traded fund is depreciating as the country's oil exports slow and the U.S. dollar strengthens on speculation of the Federal Reserve scaling back stimulus measures.
The CurrencyShares Canadian Dollar Trust (NYSEARCA:FXC) was down another 0.6% Thursday and has declined 0.6% over the past month. FXC is designed to track the price of the Canadian dollar through a deposit account denominated in the Canadian currency.
The U.S. dollar currently trades at around 1.04 Canadian dollars.
"The Canadian dollar is underperforming as commodity prices continue to dip and the U.S. dollar gets stronger amid eventual Fed tapering talk, which has weighed on risk assets," Dean Popplewell, head analyst in Toronto at the online currency-trading firm Oanda Corp., said in a Bloomberg article. The recent durable-goods report "supports the idea of potential pullback from the Fed. And commodities are getting weaker, which suggests the currency is likely to continue to be soft."
Market observers also believe that the continued risk-on trade is working against commodity currencies, like the Canadian dollar.
"The risk sentiment and volatility has taken some of the edge out of commodity currencies," Shaun Osborne, chief currency strategist at Toronto-Dominion Bank's TD Securities unit, said in the article. "Canada's general trend has been strong growth, but the U.S. is looking cheap as the economy turns and we get more whispers of tapering, and that will continue to reflect on the Canadian dollar.
Nevertheless, futures traders are diminishing their bets against the Canadian dollar. For instance, the number of bets by hedge funds and other large speculators for a decline in the Canadian dollar compared with those on a gain, or net-shorts, was 33,852 on May 21, compared to 44,417 the previous week.
CurrencyShares Canadian Dollar Trust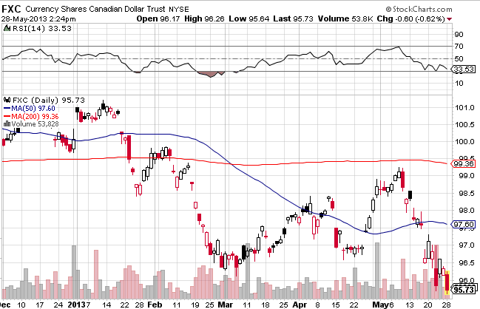 Click to enlarge
Max Chen contributed to this article.
Disclosure: I have no positions in any stocks mentioned, and no plans to initiate any positions within the next 72 hours. I wrote this article myself, and it expresses my own opinions. I am not receiving compensation for it. I have no business relationship with any company whose stock is mentioned in this article.
Additional disclosure: Mr. Lydon serves as an independent trustee of certain mutual funds and ETFs that are managed by Guggenheim Investments; however, any opinions or forecasts expressed herein are solely those of Mr. Lydon and not those of Guggenheim Funds, Guggenheim Investments, Guggenheim Specialized Products, LLC or any of their affiliates.