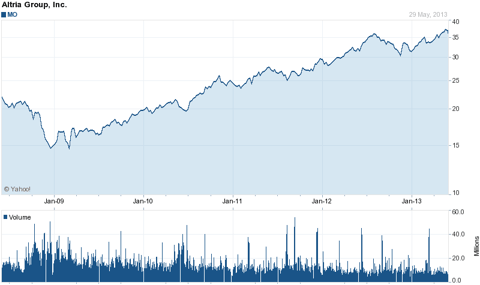 I've never owned a single share of Altria Group (NYSE:MO). I've looked at the company plenty of times because from a pure numbers perspective it certainly always looks interesting.
Altria always sports a big fat dividend yield, lots of free cash flow, a low price to earnings ratio and a good balance sheet. These are all of the things that a value investor likes to see in a potential investment.
Investors who have owned Altria have done well because earnings and cash flow keep growing. What hasn't helped them much though is how the market values this company. The valuation metrics are continually very modest for such a successful cash flow machine.
I guess those modest valuation multiples are likely going to always exist because tobacco is a bit of an ugly business to be associated with. After all the company sells a product that first addicts its customer and then potentially shortens his or her life span.
This week I was looking at a company that is a pure play on the oil sands. The company is actually even called Canadian Oil Sands (OTCQX:COSWF).
As I looked at the company I found it curious where the stock price is currently trading. Despite pretty darn high oil prices Canadian Oil Sands is not a very popular company with Mr. Market.
Then it occurred to me, perhaps these oil sands producers are the new "tobacco" companies and forever destined to be shown little love from the market? Perhaps fear of government action aimed at reducing carbon emissions will put a lid on valuation multiples for oil sands producers?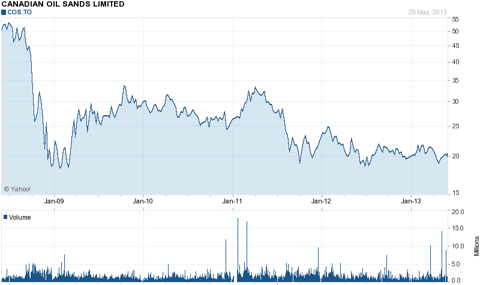 Have a gander at the stock chart on Canadian Oil Sands above. Leading up to the financial crisis of 2008 shares of the company traded for over $50 per share. Then not surprisingly as oil crashed into the $30s shares of Canadian Oil Sands crashed along with it.
In 2009 shares of Canadian Oil Sands (with oil in the $30s) were briefly under $20. That is quite a fall from $55.
Fast forward to today and we have oil prices that have nearly tripled from the bottom in 2009 to well over $90 today. Meanwhile shares of Canadian Oil Sands are still stuck at $20!
Oil has tripled and Canadian Oil Sands shares have hardly recovered at all. That doesn't seem fair.
In fact when you consider the leverage this company has to the price of oil it seems downright ridiculous that oil can triple and Canadian Oil Sands shares hardly budge.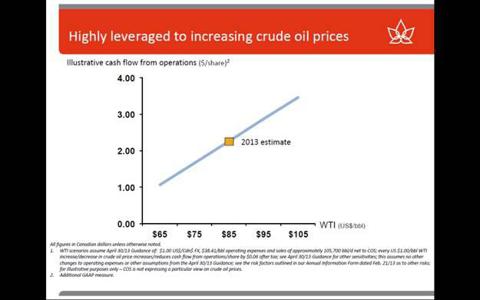 The chart above shows how Canadian Oil Sands cash flow reacts to changes in WTI crude oil prices. As the price of oil goes, so too should go the shares of Canadian Oil Sands.
How Does The Valuation Look at $20 Per Share?
I suppose it is possible that Canadian Oil Sands was well overvalued prior to the financial crisis in 2008. What we need to know is what the valuation of Canadian Oil Sands looks like at the current share price before concluding whether or not it is undervalued.
Canadian Oil Sands Valuation - Dividend Yield
The shares of Canadian Oil Sands do look pretty attractive from a dividend yield perspective. With a quarterly dividend of $0.35 per share the current dividend yield is $1.40/$20.29 = 6.9%. In a world where interest rates are at near all time lows that looks pretty attractive.
And the slide below shows that this yield also looks very attractive next to its competitors and the overall market.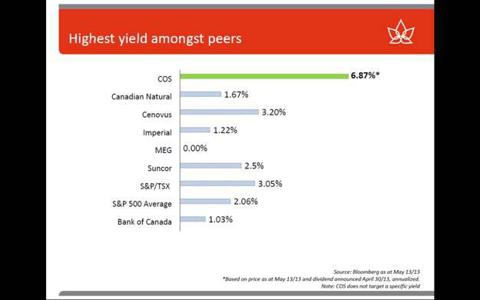 The dividend should also be very reliable when you consider how consistent Canadian Oil Sands is in the amount of production it receives out of its ownership in Syncrude. Production has been right on 290,000 barrels per day for 7 straight years.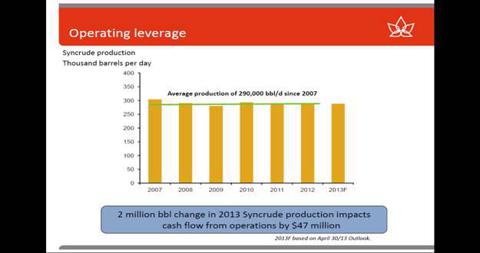 Canadian Oil Sands Valuation - Cash Flow
While the dividend yield is significant and appears sustainable, the valuation of Canadian Oil Sands on a cash flow basis (using guidance) does not make the company appear to be a screaming bargain.
With cash flow from operations expected to be $1.1 billion in 2013 and an enterprise value of roughly $10 billion Canadian Oil Sands is trading at 9 times cash flow.
That hardly seems unfair for a company that while reliable hasn't shown much growth for a long time.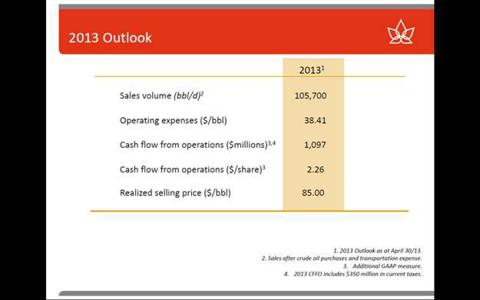 Canadian Oil Sands Valuation - Reserves
Where Canadian Oil Sands really shines is in the size and reliability of its reserves. The reserves are very long-lived, which should mean they are sold into higher and higher oil prices going forward. Independent reserve auditors estimate that the Syncrude proven and probable reserves have a 44-year life at current production rates. There are unbooked contingent and prospective resources beyond that which should significantly extend that window.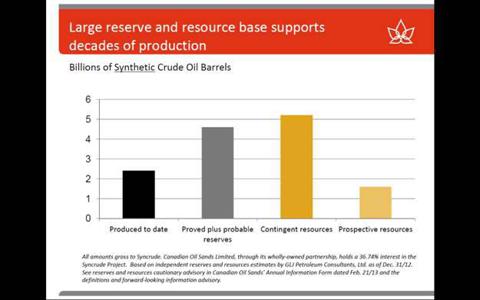 Canadian Oil Sands has a 36.74% interest in 4.5 billion of proved and probable reserves. That is 1.65 billion barrels net to Canadian Oil Sands. With a $10 billion enterprise value that means at the current share price investors are paying $6 per barrel of proved and probable reserves.
Over the long term, paying $6 per barrel of oil seems pretty attractive, although much of that oil is going to be produced a long way out in the future. That lessens the present value of the production, but is a good thing if you think oil prices 20 years from now are going to be a lot higher.
Like A Tobacco Company Canadian Oil Sands Is Unpopular But Not Unattractive
Canadian Oil Sands might be a new version of a tobacco company given how unpopular oil sands development has become.
One thing that could take away some of that unpopularity is an approval of the Keystone XL pipeline. Approval of the pipeline could make the market realize that the oil sands are going to be produced for a long time to come.
Disclosure: I have no positions in any stocks mentioned, and no plans to initiate any positions within the next 72 hours. I wrote this article myself, and it expresses my own opinions. I am not receiving compensation for it (other than from Seeking Alpha). I have no business relationship with any company whose stock is mentioned in this article.