On Thursday, May 30th, it was announced that Westport Innovations (NASDAQ:WPRT) has agreed to design and develop spark-ignited natural gas systems for a new range of GAZ Group's compressed natural gas commercial vehicles. WPRT's new WP580 engine system will be applied to the Russian company's diesel engines, with first commercial production expected next year. As a result of today's announcement, I not only wanted to take a closer look at how the company plans on applying its WP580 Engine Management System to the YaMZ 540 4.4L and 6.6L diesel engines of GAZ's, but some of the fundamental catalysts behind my decision to establish a position in the stock.
Overview: Based in Vancouver, British Columbia, Westport Innovations is a leading global supplier of proprietary solutions that allow engines to operate on clean-burning fuels such as compressed natural gas, liquefied natural gas, hydrogen, and renewable natural gas fuels such as landfill gas and helps reduce greenhouse gas emissions (Source: Seeking Alpha).
The WP580 (Westport): The WP580 Engine Management System, being introduced in Russia for the first time, is a highly configurable system that has been specifically developed for spark-ignited, dedicated natural gas engine applications and can be integrated with a wide range of proprietary Westport fuel system components for flexible vehicle design and production.
The YaMZ 540 (GAZ): The YaMZ-530 Euro-4 medium-duty in-line diesel engines family includes 4- and 6-cylinder base models with power range of 120-190 horse power and 240-312 horse power, respectively. Euro-4 is achieved through use of an EGR (exhaust gas recirculation) system and catalytic converter with replaceable filter.
How is Westport's partnership with GAZ expected to play out with regard to the WP580 Engine Management System? As many investors already know, Westport has teamed up with GAZ to introduce a new spark-ignited natural gas system by applying Westport's WP580 to GAZ's YaMZ 530 diesel engines. According to Nasdaq.com, "Westport's WP580 Engine Management System will be applied to GAZ's YaMZ-530 4.4L and 6.6L diesel engines, which will incorporate Westport proprietary components and technology in the multi-year development and supply agreement that was signed by both parties. Investors should note that the first products are slated for commercial production by the year 2014."
If Westport is able to successfully apply its WP580 system and ultimately bring the finished product to market by late 2013 or early 2014 (which would be ahead of schedule), I think this particular partnership could positively affect the company's earnings growth over the next several years and more importantly pave the way for similar partnerships in other key regions.
Trend Status: On Thursday shares of WPRT, which currently possess a market cap of $1.68 billion and closed at $30.99/share, were trading 6.77% above their 20-day simple moving average, 6.99% above their 50-day simple moving average, and 5.99% above their 200-day simple moving average. These numbers indicate a short-term, mid-term and long-term uptrend for the stock, which generally translates into a buying mode for traders.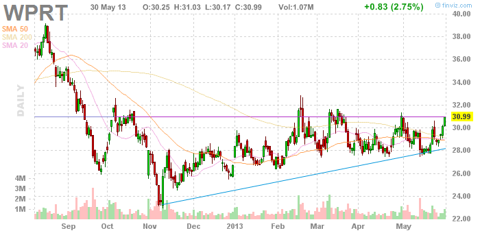 Q1 Earnings Performance: After taking a closer look at the company's worse-than-expected quarter, I think both near-term and long-term investors need to look beyond the numbers and consider the company's partnership with GAZ as a viable catalyst for future earnings growth. On Friday May 3, Westport reported a Q1 EPS loss of -$0.57/share, which missed Street estimates by a $0.09/share margin, and quarterly revenues of $30.1 million, which missed street estimates by a margin of $8.83 million. Analysts had been expecting an EPS loss of -$0.48/share and quarterly revenue results of $38.93 million.
Although both EPS and revenue performance missed the mark, I think there were two key variables investors should have taken away from the company's quarter given the fact it was a clear period of transition for Westport.
The first of these catalysts relates to the company's Weichai Westport HPDI 12L system and how it had performed during the company's winter test. Seasonal performance plays a vital role is the testing of these engines as they need to be ready to handle any type of terrain or weather-related condition Mother Nature throws at them. During the first quarter, the Weichai Westport high pressure direct-injection 12L system has completed testing and the trucks that were being tested performed very well even in the lowest of the tested temperatures, which was minus 35 degrees Celsius.
Investors should also note that the Weichai Westport HPDI 12L system has now completed all of key tests including but not limited to the summer test, plateau test, and winter test. The next step in the process would be obtaining a Euro V certification, which is expected to occur by the second half of 2013.
The second of the two variable catalysts is one that should considered from an R&D perspective, and that is the fact the company has increased its investment in both initial and preexisting research and development programs by an impressive 136% compared to the prior year period. Not only do the company's innovations play a key role in Westport's overall growth strategy, but each new application creates the potential for an additional stream of revenue.
Conclusion: When it comes to those who may be looking to establish a position in Westport Innovations, I'd continue keep a watchful eye on not only the company's earnings growth over the next 12-24 months, but any news that may pertain to the continued development of the company's WP580 Engine Management System, since I strongly believe that the continued development of WP580 Engine Management System could lead to future partnerships in the very near future.
Disclosure: I am long WPRT. I wrote this article myself, and it expresses my own opinions. I am not receiving compensation for it (other than from Seeking Alpha). I have no business relationship with any company whose stock is mentioned in this article.