Cash America International, Inc. (NYSE:CSH) and its subsidiaries provide specialty financial services to individuals through retail services locations and e-commerce activities. The company was incorporated in Texas in 1984 and has been providing specialty financial services to its customers for approximately 28 years. The company believes it was the nation's largest provider of pawn loans and the largest operator of pawnshops in the world in 2012 (source: 10-K).
The company has two reportable operating segments: retail services and e-commerce. The retail services segment includes all of the operations of the company's Retail Services Division, which is composed of both domestic and foreign storefront locations that offer some or all of the following services: pawn loans, consumer loans, the purchase and sale of merchandise, check cashing and other ancillary services such as money orders or wire transfers. The e-commerce segment includes the operations of the company's E-Commerce Division, which is composed of the company's domestic and foreign online lending channels through which CSH offers consumer loans.
Competition
Cash America has many competitors to its pawn lending activities, such as retailers of new merchandise and retailers of pre-owned merchandise, thrift shops, Internet retailers, Internet auction and other similar sites and other pawnshops. The pawnshop industry in the United States remains very fragmented, with approximately 10,000 stores nationwide operating in 2012 that were owned primarily by independent operators and, to a lesser extent, by publicly-traded companies. The company believes that it is the largest operator of pawnshops in the world. The three largest publicly-traded pawnshop companies, First Cash Financial Services, Inc., EZCORP, Inc., and CSH, operated approximately 1,400 total pawnshops in the United States in 2012.
The pawnshop industry in Mexico is fragmented and remains substantially less developed than it is in the United States. There has been significant growth in the number of pawnshops servicing Mexico over the last several years to an estimated 5,000 locations operating in 2012. Most of these locations provide loans secured only by gold jewelry and are owned by independent operators and small chains, including some owned by not-for-profit organizations and publicly-traded companies.
Challenges
The company has two considerable risks:
1. Adverse changes in laws or regulations affecting the company's products and services could negatively impact the company's operations: Certain consumer advocacy groups and federal and state legislators have also asserted that laws and regulations should be tightened so as to severely limit, if not eliminate, the availability of certain consumer loan products to consumers, despite the significant demand for it. In particular, both the executive and legislative branches of the U.S. federal government continue to receive significant pressure from consumer advocates and other industry opposition groups, and those governmental branches have recently exhibited an increased interest in debating legislation that could further regulate consumer loan products.
2. Cash America's earnings and financial position are subject to changes in the value of gold: A significant portion of the company's pawn loans are secured by gold jewelry. The company's pawn service charges, sales proceeds and ability to dispose of excess jewelry inventory at an acceptable margin depend on the value of gold. A significant decline in gold prices could result in decreases in merchandise sales margins, in inventory valuations, in the value of collateral securing outstanding pawn loans, and in the balance of pawn loans secured by gold jewelry.
Main Positives
1. Great industry fundamentals: There is a growing need for consumer credit, as many "traditional" consumer lenders have exited the market. In fact, 20% of U.S. households are underbanked and 29% of U.S. households do not have a savings account.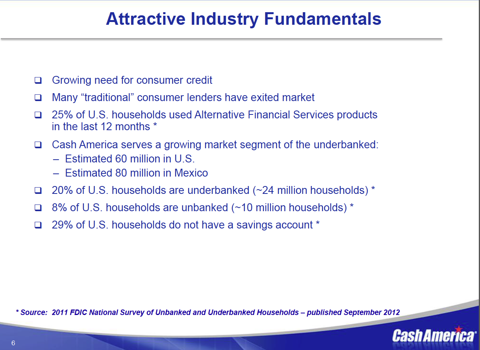 Click to enlarge
2. Superb track record: The company has grown its total revenue at a CAGR of 75% in the past 5 years and grew EPS at 69%. This shows that the company has a superior management team with a proven track record.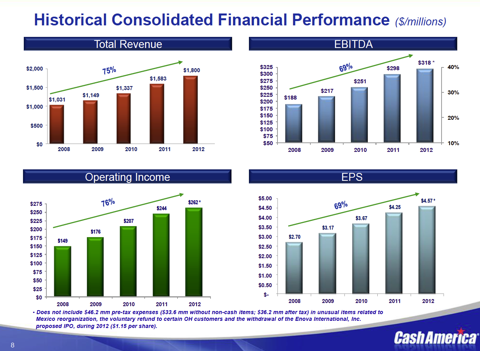 Click to enlarge
3. E-Commerce is a top growing segment: CSH has a growing e-commerce segment that is exposed to a rising trend of online lending. The company has been experiencing a CAGR of 176% in the past 5 years and should be the main growth engine of Cash America in the foreseeable future.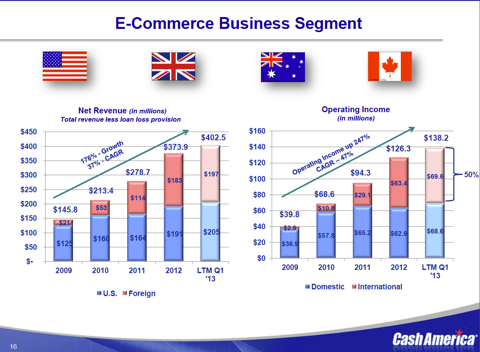 Click to enlarge
Valuation
Cash America trades at a current P/E of just 10x taking an adjusted EPS of $4.57 (not considering restructuring charges, which are non-recurring). Taking the consensus EPS estimate of $5.57 for FY14, the stock is trading at just 8.5x earnings. This is a very inexpensive multiple considering that Cash America's lowest P/E in the past 8 years was 8x. Every time the stock traded at 8x, it rebounded fast.
In addition, the stock is trading at just 0.8x P/S, which is inexpensive for a company that in average has traded at an average multiple of 1x sales.
I think the stock should trade above $60 considering a projected EPS of $5.50 and a conservative P/E of 13x.
Conclusion
While I believe that the Payday Loan industry could face many risks, I consider that Cash America is an indisputable leader in this profitable segment and the company will continue growing and delivering results. The company has a strong balance sheet and proven management team.
I like good companies trading at attractive valuations and Cash America is surely one of those.
Disclosure: I have no positions in any stocks mentioned, but may initiate a long position in CSH over the next 72 hours. I wrote this article myself, and it expresses my own opinions. I am not receiving compensation for it (other than from Seeking Alpha). I have no business relationship with any company whose stock is mentioned in this article.