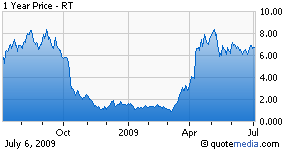 With Ruby Tuesday's (NYSE:RT) earnings due out Tuesday July 7th, tomorrow, a number of factors should make the outcome knowable or at least, guessable:
Analyst Projections seem too low: the analyst mid range for EPS for the year is $.45, but we roughly calculate $.42 already in so far, through Q3 (excluding closures/impairments). Shouldn't be too hard to meet $.03 in Quarter 4, right?
Other issues:
Weak June chain restaurant sales and outlook: are being reported by multiple sources, including a restaurant sector private equity CEO conference, the National Restaurant Association sentiment surveys and the very well done RBC Monthly survey. But did June weaken enough early enough to impact RT for this reporting cycle?
CEO Compensation: RT CEO Beall had total compensation package of $4.8M in 2008. Given a expected book loss for the year, there could be some downwardplay in that number to offset some earnings shortfalls. The April 7 2009 earnings call noted corporate labor savings pending.
Impairments and year end adjustments: RT has closed 48 units so far this year. Since this is the end of the FY, this is the quarter where impairment adjustments and other year end adjustments will happen.
Food Commodities: On the April 7 earnings call, RT noted they were locked into commodity contracts. That may or may not be good, depending on the locked in cost. Some protein centric-operators are avoiding going long right now. Commodities, expecially steaks, have been in freefall. The RT Hamburger contract expired in May and that may be fortunate timing, for next FY.
Disclosure: no stock positions.