My favorite alternative energy company Syntroleum (NASDAQ:SYNM) was up big Thursday (over 17% as of this writing) on increasing volume and no news. In fact it was the 2nd largest gainer on the NASDAQ today, closing up 17.7% Why this is significant is that there are so many things that can happen to drive this stock higher. I've always viewed this company as a company on the cusp of emerging into a something bigger... if only the cards would fall their way. Until now, however, SYNM has had almost nothing but bad luck, and the alternative energy plant that they partially own is not producing as we speak. Why then would a stock like SYNM be up 17.7% on no news? These are the possible drivers that may be driving the stock higher and have not yet hit the news:
1) This could simply be a technical move. SYNM looks to have formed a flag/pennant pattern, with the base at about $4.00 and the flag at about $6.00. If that is the case, the upside target would be $8.00 if the saying "flags fly at half mast" holds.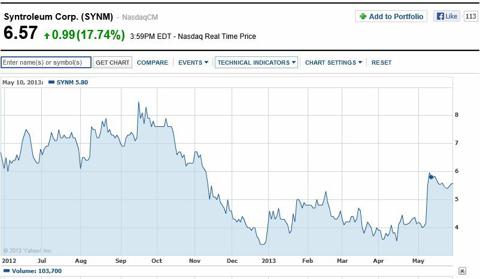 2) SYNM is in a legal dispute with NESTE Oil. Unpublished good news on this front may drive SYNM higher.
3) SYNM has plans to replace their catalyst in June/July, with a plant restart planned for mid/late July. Current margins are very strong in the biofuels industry, so this move may simply be anticipating the future earnings.
4) D4 and D5 RIN prices are strengthening, feedstock prices are remaining low, so at least now margins are widening and the markets may simply be discounting the possibility of strong margins after plant start up.
5) SYNM has been working on arranging a gas-to-liquid (GTL) joint venture. Any progress there may be discounted in the stock price before the news hits.
6) Military contracts are currently being issued. It is hard to keep secrets in Washington, so any military contracts may be discounted into the stock price before the news hits.
7) SYNM has a "phase change material" that is used for insulation. Progress on that front may be discounted in the stock price before the news hits the wire.
In conclusion, SYNM had a big move Thursday with increased volume and no news. The move may be purely technical, or the markets may be discounting information that has yet to be released to the public. In either case, SYNM may be worth watching to see if the technical target of $8.00 is reached, or if news on the many fronts that could drive SYNM higher is released in the near future. While there are many negatives that have driven SYNM lower over the last few years, looking forward, SYNM appears to be headed towards smoother sailing... if they can get the plant to run consistently, something they have yet to do.
Disclaimer: This article is not an investment recommendation. Any analysis presented in this article is illustrative in nature, is based on an incomplete set of information and has limitations to its accuracy, and is not meant to be relied upon for investment decisions. Please consult a qualified investment advisor. The information upon which this material is based was obtained from sources believed to be reliable, but has not been independently verified. Therefore, the author cannot guarantee its accuracy. Any opinions or estimates constitute the author's best judgment as of the date of publication, and are subject to change without notice.
Disclosure: I am long SYNM. I wrote this article myself, and it expresses my own opinions. I am not receiving compensation for it (other than from Seeking Alpha). I have no business relationship with any company whose stock is mentioned in this article.