Back in February 2010, Seeking Alpha asked me to share my favorite stock idea. In an article entitled "This Small-Cap Gaming Stock is Fund Manager Chad Brand's Highest Conviction Pick," I chose regional casino operator Pinnacle Entertainment (NYSE: PNK), which at the time traded at $7 per share after getting hammered during the economic downturn. After slightly more than three years, and a stock that has nearly tripled in value since then (the shares closed at a new post-recession high of $21 on May 15th), I figured it was a good time to update my view on Pinnacle shares.
This update is especially timely because just this week the Federal Trade Commission decided to challenge Pinnacle's pending acquisition of Ameristar Casinos (NASDAQ: ASCA), another regional gaming company focused on the U.S. market. While the FTC's decision does not impact my view of PNK's shares directly (more on that later), it will serve to highlight one of the reasons I have turned bearish on PNK's stock now that the price is no longer compelling on a valuation basis.
The FTC is against the Ameristar deal because if it were allowed to close as proposed, Pinnacle Entertainment would own three casinos in the St Louis market. Having gone to college in St. Louis, spending a total of a decade living there, and frequenting the casinos in that market on a regular basis, these are properties I know well. I am not surprised the FTC is concerned about competitive concentration, and the Missouri Gaming Commission likely has concerns as well at the local level. With Ameristar's St. Charles property (northwest suburbs), Pinnacle would own three high-end casinos in the St. Louis market, and none of them would be more than a 30-minute drive from one another.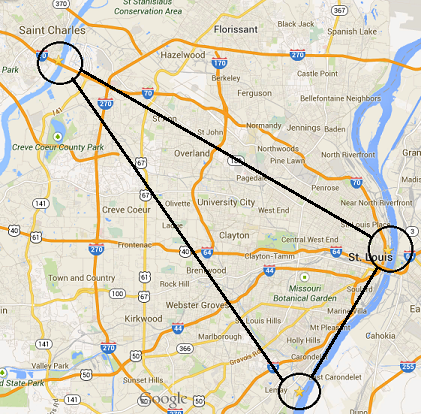 It is very likely that Pinnacle will be forced to sell one of its three casinos in St. Louis in order for regulators to allow this deal to close. The downtown Lumiere property is most likely to be sold, in my view, as it is the least profitable of the three due to its downtown urban location.
This likely asset sale will highlight one of the reasons Pinnacle's stock has not done even better over the last three-plus years. I estimate Lumiere Place would fetch between $300 million and $350 million if sold, which would be far less than the $507 million Pinnacle spent to build it. Without a doubt, Pinnacle's development track record has been lackluster at best. They simply have not earned returns on their new properties that other leading gaming companies have. As a result, PNK's capital allocation decisions have eroded shareholder value over time as the company has added more and more debt to build new properties that earn unimpressive returns. The loss they would take on Lumiere Place, if they go ahead with a sale, would only highlight this point.
At the current price, Pinnacle stock appears fully valued at best, and likely overvalued, and that is regardless of the outcome of the FTC challenge. In fact, the shares were trading in the low teens before the Ameristar deal was announced, so the more concessions Pinnacle is forced to make to close the acquisition, the worse off shareholders will be.
Not only that, but the FTC has also expressed concern about Ameristar's pending $500 million development project in Louisiana, which is directly across the street from one of Pinnacle's larger casinos. If regulators halted that project, it would be a blessing in disguise for Pinnacle, as the last time they spent $500 million on a new casino they built Lumiere Place. Ironically, Lumiere was built under the leadership of Pinnacle's former CEO Dan Lee, who after being fired from the company actually took control of the site across the street from his old company's property and later sold it to Ameristar. For some reason, Pinnacle now wants to build that very same property despite its proximity to one of its existing cash cows.
The bottom line is this. Pinnacle shares now trade in-line with their peer group. Take a stock that is no longer undervalued, throw in the FTC challenge to the company's pending merger agreement with Ameristar, and top it off with a rather unimpressive long-term track record of new development projects, and you get a gaming stock that is ripe for sale after a huge bullish run over the last three years.
Disclosure: I have no positions in any stocks mentioned, and no plans to initiate any positions within the next 72 hours. I wrote this article myself, and it expresses my own opinions. I am not receiving compensation for it (other than from Seeking Alpha). I have no business relationship with any company whose stock is mentioned in this article.
Additional disclosure: I am long PNK put options with a strike price of $20.00