To create the list below, we began by searching for companies experiencing insider buying with net purchases over the last six months representing more than 2% of share float. Since insiders are employed at the company and have nonpublic information, their stock buying suggests they are bullish about the firm's future and believe the current share price is undervalued.
Two percent may seem minimal, but considering these are often individual investors putting enough money on the line to collectively acquire that percentage of float, it can be significant. There are also studies that suggest when insider purchases greatly outweigh any insider selling, the stocks are correlated with outperformance in the market during the following six months.
Next we screened for companies that are expected to achieve high earnings growth going forward, with 5-year projected EPS growth above 20%.
Among the stocks that remained on our list, we ran a screen for companies that have outperformed over the last quarter, with over 20% return.
We were left with two companies on our list. Increased insider buying combined with strong EPS growth potential and outperforming returns may signal that there are reasons to be optimistic about these stocks.
The List
For an interactive version of this chart, click on the image below. Average analyst ratings sourced from Zacks Investment Research.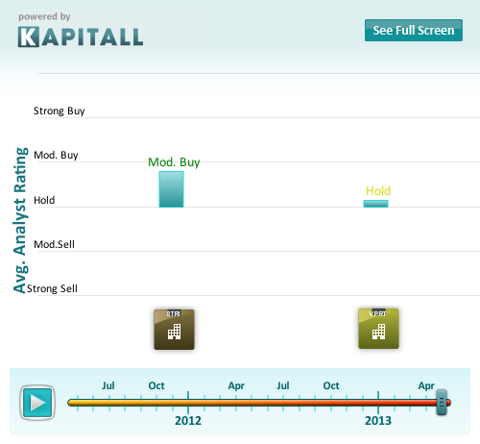 Do you agree with insider sentiment regarding these companies? Use the list below as a starting point for your own analysis.
1. STR Holdings, Inc. (NYSE:STRI): Engages in the manufacture and sale of encapsulates to the solar module industry. Its ethylene-vinyl-acetate (NYSE:EVA)-based encapsulates, developed in conjunction with the Jet Propulsion Laboratory of the California Institute of Technology under a NASA contract, are used in solar panel technologies such as crystalline silicon.
Market cap at $118.4M, most recent closing price at $2.84
EPS this year: -431.04%
EPS next year: 85.00%
EPS past 5 years: -11.44%
EPS next 5 years: 21.67%
Performance (week): -2.07%
Performance (quarter): 41.29%
Performance (year-to-date): 12.70%
Over the last six months, insiders were net buyers of 1,262,120 shares, which represents about 3.9% of the company's 32.35M share float. And over the last six months, there have been no insider sales.
STRI has recorded great gains over the last month, when compared to its closest competitors. The stock returned 29.68% since 4/29/13, better than Berry Plastics Group, Inc. (NYSE:BERY) and AEP Industries Inc. (NASDAQ:AEPI), which returned 11.72% and 9.56%, respectively, during the same holding period.
STRI released earnings for the first quarter in 2013 earlier this month, as reported by Wall St. Cheat Sheet. While adjusted earnings per share compared to the same quarter last year fell from $0.07 to $-0.07, this still beat out analyst expectations, as the average estimate had been $-0.09. Revenue also decreased to $11.22M, but again this was higher than analysts estimates, which averaged $9.72M.
2. Vistaprint N.V. (VPRT): Operates as an online provider of marketing products and services to micro businesses worldwide. Products include printed items such as business cards, calendars, note cards and photobooks, as well as non-paper products like calculators, decals, hats, key chains and engraved pens.
Market cap at $1.51B, most recent closing price at $46.23
EPS this year: -38.17%
EPS next year: 23.53%
EPS past 5 years: 13.55%
EPS next 5 years: 20.47%
Performance (week): -2.57%
Performance (quarter): 30.81%
Performance (year-to-date): 40.69%.
Over the last six months, insiders were net buyers of 391,580 which represents about 2.01% of the company's 19.47M share float.
Included in that net buying there are 4 insider purchases of 487,832 shares (over 4 transactions) and insider sales of 96,252 shares (also over 4 transactions) over the same time period. Sales include recent payments by two VPRT officers, Katryn Blake and Michael Greiner, of exercise price or tax liability by delivering/withholding securities incident to the receipt/exercise/vesting pursuant to SEC Rule 16b-3 (occurring in connection with participation in an employee benefit plan).
VPRT has performed in line with the rest of its industry since 4/29/13, returning 11.69% over the last month. This performance has been better than Shutterfly, Inc. (NASDAQ:SFLY) and Shutterstock, Inc. (NYSE:SSTK), but worse than industry leaders like Multi-Color Corp. (NASDAQ:LABL) and Office Depot, Inc. (NYSE:ODP), which returned 18.01% and 16.49%, respectively.
VPRT was honored by The Boston Business Journal on 5/20/2013, which named the company one of the 'Best Places to Work in Massachusetts' in the journal's 11th annual regional awards. Results are based on employee-satisfaction surveys, which cover topics including relationships with co-workers and supervisors, support and recognition of achievement as well as pride in the company.
*Insider ownership sourced from Yahoo! Finance, all other data sourced from Finviz.
Disclosure: I have no positions in any stocks mentioned, and no plans to initiate any positions within the next 72 hours.
Business relationship disclosure: Business relationship disclosure: Kapitall is a team of analysts. This article was written by Emily Smykal, one of our writers. We did not receive compensation for this article (other than from Seeking Alpha), and we have no business relationship with any company whose stock is mentioned in this article.