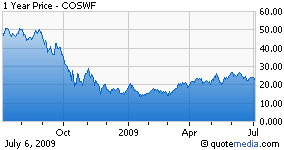 On the basis of statistical relationships and recent oil price quotes, we raise estimated distribution for the next twelve months to US$2.06 a unit from US$0.55 a unit for buy-recommended Canadian Oil Sands Trust (OTCQX:COSWF). Quite simply, a higher quarterly distribution looks justified by the trend of quarterly oil price.
More rigorously, estimated distributions are covered by estimated cash flow. Though management declines to indicate the distribution level that the board of directors will approve, we suggest C$0.50 a unit for the distribution to be declared on July 27 and C$0.60 for the next three quarters. Two months of maintenance was just completed on Coker 8-3 that should go a long way toward supporting operations near capacity for the next four quarters. Achieving capacity has a magnified impact on cash flow for the remainder of 2009.
Apart from the volume impact, cash flow more than doubles at oil price indicated for the remainder of 2009 compared to actual experience in the year so far. Finally, the trend of long-term oil price suggests appreciation to a stock price of more than US$42 a unit, our estimate of Net Present Value justified at a long-term oil price of $75 a barrel. On June 11, 2009 long-term oil price settled at $82 a barrel.
Originally published on June 12, 2009.