On Wednesday May 29th Plains All American Pipeline, L.P. (NYSE:PAA) announced that it expects Q2 EBITDA to exceed the mid-point of its quarterly guidance by an estimated 10%, driven by consistently strong fundamentals and favorable market conditions, even though a less favorable environment was experienced during the company's first quarter. In the wake of the company's positive outlook I wanted to examine two supporting catalysts behind my decision to enhance my previously established long-term position in Plains All-American Pipeline, L.P.
Overview: Based in Houston, Texas, Plains All American Pipeline, L.P. is a publicly traded master limited partnership engaged in the transportation, storage, terminalling and marketing of crude oil and refined products, as well as in the processing, transportation, fractionation, storage and marketing of natural gas liquids. Through its general partner interest and majority equity ownership position in PAA Natural Gas Storage, L.P. (NYSE:PNG), PAA owns and operates natural gas storage facilities. (Yahoo! Finance)
Performance & Trend Status: On Thursday shares of PAA, which currently possess a market cap of $19.11 billion, a P/E ratio of 23.49, a forward P/E ratio of 19.71, and a forward yield of 4.08% ($2.30), settled at $56.37. Based on Tuesday's closing price, shares of PAA are trading 3.18% below their 20-day simple moving average, 0.53% below their 50-day simple moving average, and 15.15% above their 200-day simple moving average.
These numbers indicate a short-term and mid-term downtrend and a long-term uptrend for the stock, which generally translates into a near-term sell mode and long-term buy mode for traders. When it comes to the company's near-term trend status, the implied downtrend is more or less an indication of profit-taking as a result of the PAA's stellar EPS performance during Q1 ($1.26/share versus expectations of $0.97/share).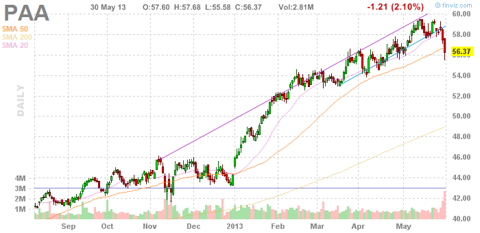 Catalyst #1: 24-Month Distribution Behavior: Since April 29, 2011, PAA has increased its quarterly distribution a total of eight times by an average of $0.01125/share each time. From an income perspective, the company's forward yield of 4.08% coupled with its continued annual increases could equate into a very viable income option for long-term investors in search of a higher-yielding oil & gas play.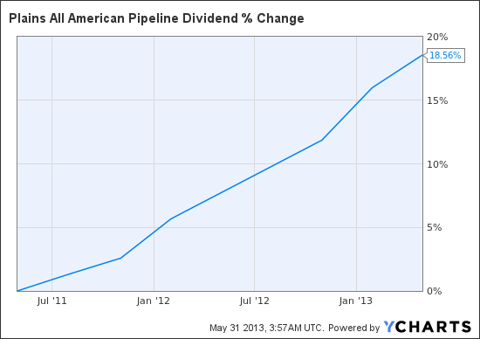 PAA Dividend data by YCharts
Catalyst #2 Oklahoma Pipeline Expansion: On May 20th, 2013 it was announced that Plains All-American would be constructing a 95-mile extension of its pre-existing Oklahoma crude oil pipeline system to service increasing production from the Granite Wash, Hogshooter and Cleveland Sands producing areas located in western Oklahoma and parts of the Texas panhandle. The new pipeline has the potential to provide up to 75K bbl/day of new takeaway capacity. When it comes to an expansion project of this size, timing plays a vital role and the sooner the expansion is brought on-line, the sooner PAA will begin to generate revenue.
It is estimated that the expansion will be brought online by the end of the first quarter of 2014. If by chance the expansion is developed ahead of schedule and brought by the end of 2013 or even the beginning of 2014, shares may indeed experience a near-term pop.
Conclusion: When it comes to those who may be looking to establish a long-term position in Plains All-American, I'd continue to keep a watchful eye on three things. The first thing I'd keep in mind would be the company's efforts to expand any of its pre-existing pipelines similar to the company's May 20th announcement regarding the expansion of its Oklahoma Pipeline. Secondly, I'd continue to monitor the company's dividend behavior as I strongly believe shareholders will see continued increases in the company's quarterly distribution at least the next 24 months. The last of the three things to consider would be the company's efforts to shed its under-performing non-core assets, as was the case on February 20th (when Plains All-American sold $190 million is under-performing non-core assets to Magellan Midstream Partners, L.P. (NYSE:MMP)) , which I had previous mentioned in an older article pertaining to Plains All-American.
Disclosure: I am long PAA. I wrote this article myself, and it expresses my own opinions. I am not receiving compensation for it (other than from Seeking Alpha). I have no business relationship with any company whose stock is mentioned in this article.