When Warren Buffett, who prides himself on buying and holding for the long term, sold off his 11.5 million shares of Intel (NASDAQ:INTC) last fall after holding them less than a year, many people took this as a sign that Intel must be caught in a downward spiral from which it will not soon recover, if at all. There are plenty of reasons, however, why Intel remains a good investment for the next several years.
Chips for PCs and Tablets
Intel built its early successes on dominating the CPU market for desktop PCs but now it's a mobile society we're living in, and the continued decline in demand for PCs has been driving Intel to keep revising its revenue estimates in a downward direction. What's on the rise, however, are mobile devices, but Intel is coming to the mobile chip market very late in the game, which is why ARM Holdings (NASDAQ:ARMH), which just designs the chips and then licenses its designs to manufacturers like Qualcomm (NASDAQ:QCOM), Broadcom (BRCM) and Nvidia (NASDAQ:NVDA), has a 90-95% market share for mobile chips. Take note, however, that while PCs are in decline, they will not disappear entirely, and Intel will continue to dominate that segment of the chip market. In addition, although it is arriving late to the mobile chip market, Intel has poured a lot of money into R&D, and the results are just now starting to show some real teeth. On the tablet front, Intel's Atom line of processors is poised to make significant inroads in the coming years, mostly through Microsoft's Windows tablets, but also through its penetration into the Android tablet market this year. Given the rate of tablet shipments estimated for 2014 and 2015 that will carry Intel chips, the company could see revenues of around a $1 billion in each of those years just for tablet chips.
New Chips for Mobile Devices
Intel has also been busy developing the next generations of mobile chips, which will be smaller, faster and cheaper than the chips produced by rivals. The company just revealed its Silvermont architecture, which will allow it to start making inroads into the smartphone chip market. Unlike recent offerings, Silvermont is a completely new design that will outstrip its Atom line processors by tripling peak performance and using five times less power.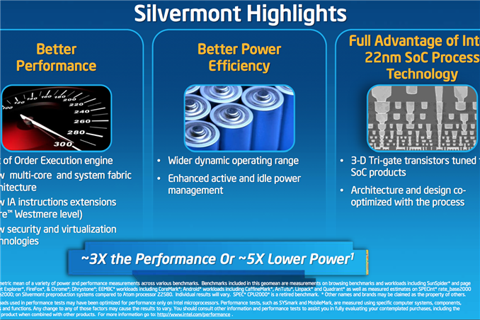 This will be followed up next year by the even smaller and faster Airmont line of processors. Outperforming ARM Holdings chips on technical specifications is one thing, but the real challenge will be for Intel to convince smartphone companies used to dealing with ARM to make the switch. If its recent scores with Samsung (OTC:SSNLF) and Asus (OTC:AKCPF) are any indication, then Intel could become a serious player very quickly.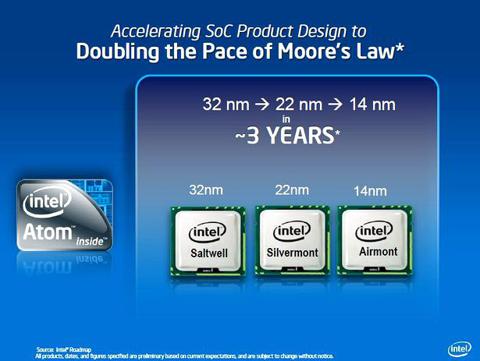 Cornering the Ultrabook Market
Intel's recently revealed Haswell line of processors is aimed squarely at the laptops, notebooks and hybrid tablet devices. The new line of chips can reportedly not only double graphics performance, it will drop power consumption from 10 watts to only 7. This in turn results in better battery performance to the tune of 50% more battery life, which is huge. This is a high-end line of processors that could result in significant revenue streams for Intel. Not only can they be in Apple's (NASDAQ:AAPL) next generation of MacBooks, they could also be used in high-end tablets. In fact, if Intel could win at least 50% of Apple's foundry business, it would add $3.6 billion in incremental sales by 2017.
But the Most Exciting News of All…
The biggest news about Intel, however, has nothing to do with personal or mobile computing. Intel is positioning itself to become a leader in cloud storage solutions for consumers and small businesses. Intel processors, of course, will power those storage solutions. The amount of data being generated that needs to be stored is truly mind-boggling. Small business cloud storage needs are increasing by 30% each year. Consumer cloud storage use is also expected to keep growing exponentially, from its current ~325 exabytes to 4.1 zettabytes. In case you didn't know, an exabyte is more than a billion gigabytes and a zettabyte is more than trillion gigabytes.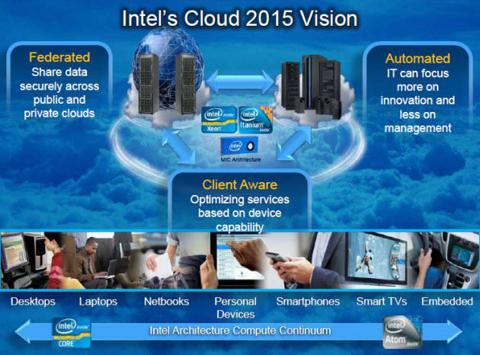 The Bottom Line
From potential inroads into smartphone chips, high-end laptop chips and cloud storage solutions to continued dominance in PC chips, Intel has a lot going for it. Although its stock has been rising steadily for the last six months, from a low of $19.57 on Nov. 30, 2012 to its current $24.40, its PEG+Y ratio is still below the magical threshold of 1! This price is still low enough to make it an attractive grab right now, especially given the company's prospects for growth over the next several years.
Disclosure: I have no positions in any stocks mentioned, but may initiate a long position in INTC over the next 72 hours. I wrote this article myself, and it expresses my own opinions. I am not receiving compensation for it (other than from Seeking Alpha). I have no business relationship with any company whose stock is mentioned in this article.