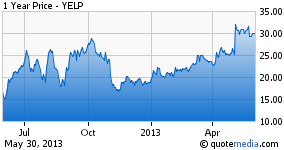 Yelp (NYSE:YELP) is an online firm that generates revenues through local advertisements. During the quarter ended March 2013, the Yelp website was used by 102.1 million unique visitors and 9.9 million unique mobile users on a monthly average basis. As per its Q1 2013 Form 10Q, the company is active in 54 Yelp markets in U.S. and 46 Yelp markets internationally.
On the face of it, Yelp seems to be growing at a robust pace. However, I am quite skeptical about Yelp's future due to the following reasons.
1. Yelp's business model is flawed and is going to affect its long-term prospects.
2. The acquisition of Qype will lead to a significant write-off in the short term.
1. Flawed business model - The reliability of the reviews posted on Yelp is questionable, since the identity of the reviewer cannot be confirmed. Sites like freelancer.com help companies hire freelancers to write good user reviews for its products. There are thousands of projects posted on freelancer.com by local businesses that ask freelancers to generate "user reviews" which may not be based on authentic experience. Also, friends of businesses may post favorable reviews of its products/services and poor reviews of the competitors' products. Businesses engaging in such practices may create unreliable reviews thereby driving the visitor traffic away. Yelp, however, claims that it has programs to ensure the authenticity of reviews.
2. Qype acquisition
In the short term, the acquisition of Qype may create significant write-offs and hurt Yelp's balance sheet.
Yelp has raised $96 million from its IPO. It acquired Qype in October 2012 for $47.6 million to expand internationally. Qype had total assets of only $4.5 million and current liabilities of 6.4 million. Its revenues were only $8 million with a net loss of $4 million. In fact, the shareholders of Qype had to inject additional cash through a loan of $8.2 million to ensure Qype's survival. But this acquisition somehow enabled Yelp to increase synergies and raise the goodwill of the combined entity by $43.83 million. It is interesting to note that prior to the acquisition, Qype's goodwill was only $243,000 and Yelp's balance sheet showed zero goodwill. But post acquisition, Yelp registered a goodwill of $43.5 million on its balance sheet. How did it gain goodwill of $43.5 million? (Source)
The acquisition of Qype was also supposed to increase the Yelp's footprint in Europe and other strategic markets such as Brazil and Turkey. However, Form 10K (December 2012) shows that Yelp generated only 2.2% of revenues in 2012 from international locations. This translates to $3.025 million. Yelp had also stated in its Form 10Q (Q3 2012) that most of its revenues YTD came from within U.S. Since Qype was acquired in October 2012, one can make an educated guess that the international revenues came in during the 4th quarter.
The 4th quarter revenues were $41.1 million (Annual revenues of $137.5 million - Q3 2012 YTD revenues of $96.4 million). This implies that the international revenues accounted for 7.36% of the total revenues in the 4th quarter ending December 2012. To determine the value of this acquisition one should compare this figure with Q1 2013.
The latest 10Q (Mar 2013) states that:
"For the three months ended March 31, 2013, revenue generated in the United States was approximately 94% of total revenue, while revenue generated internationally was 6%".
This translates to 6% of $46.1 million = $2.766 million. While Yelp increased its revenues from $41.1 million to $46.1 million sequentially, the international revenues decreased from 7.36% to 6% of the quarterly revenues. Even in absolute terms, the international revenues decreased from $3.02 million to $2.766 million.
The acquisition of Qype has not created the synergy that Yelp expected. In fact, the goodwill of the company has taken a minor hit from $48.6 million in Dec 2012 to $45.993 million in Mar 2013.
Yelp reviews the value of its goodwill in the third quarter of the fiscal year. I expect a big write-off on the goodwill in the coming quarters, and this charge is likely to affect its future earnings. Since it will be a one-time charge, no one will probably notice?!
Conclusion:
I don't know why Yelp acquired Qype. But I don't want to find out the consequences of the acquisition by being a Yelp shareholder.
Sources: Form 10ks and Form 10Qs
Disclosure: I am short YELP. I wrote this article myself, and it expresses my own opinions. I am not receiving compensation for it (other than from Seeking Alpha). I have no business relationship with any company whose stock is mentioned in this article. I have purchased Yelp put options