We were asked yesterday our opinion on the market as a whole and what we make of the mixed news and data we are getting. Well overall we are bullish, which should be well documented by now. Regarding the mixed news from the talking heads, we view this as just noise...the type of noise which one must ignore in order to be successful in the market. Yes there is some volatility right now, however we view this as a positive rather than a negative as it allows bears to re-establish positions and gives bulls that new wall of worry to climb.
The data is a different story. Yes it has been mixed, however overall it has been better when looking at the big picture. This is not one's traditional recovery, but a sputtering one and one which will need to be coaxed into becoming a full blown economic expansion with real, bonafide growth.
Chart of the Day:
Today we wanted to provide readers with a chart on the Nikkei and how its latest fall has put it right at the 50 day moving average. We did get a bounce today, but this is something to pay attention to nevertheless.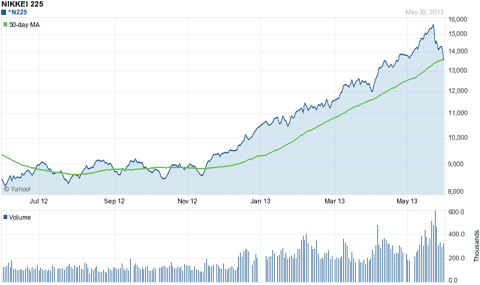 Chart courtesy of Yahoo Finance.
We have economic news due out today, and it is as follows:
Personal Income (8:30 a.m. ET): 0.1%
Personal Spending (8:30 a.m. ET): 0.1%
PCE Prices - Core (8:30 a.m. ET): 0.1%
Chicago PMI (9:45 a.m. ET): 49.3
Michigan Sentiment - Final (9:55 a.m. ET): 83.7
Asian markets finished mixed today:
All Ordinaries -- down 0.06%
Shanghai Composite -- down 0.74%
Nikkei 225 -- up 1.37%
NZSE 50 -- up 0.91%
Seoul Composite -- up 0.05%
In Europe, markets are lower this morning:
CAC 40 -- down 0.67%
DAX -- down 0.70%
FTSE 100 -- down 0.99%
OSE -- down 0.04%
Technology
Investors in 3D Systems (NYSE:DDD) continue to enjoy gains as the shares crossed the $50/share threshold yesterday by rising nearly 5.3%. Volume was strong as well, registering at 6.6 million shares. So what caused shares to rise? Well the company announced via a press release that SYNNEX would become a reseller of all of the company's 3D printers and supplies (see press release here). The news propelled the industry higher, but more importantly for shareholders it placed 3D Systems firmly above the resistance levels we have previously discussed and within range of taking out the 52-week high. We went bullish on the shares at $30/share and believe that they were poised to start a new bull run, and should we see a breakout above the 52-week high a new leg higher might very well appear. Short and medium term investors should have this one on their watch lists.
We have seen a healthy bounce...one that almost mirrors prior action in the chart.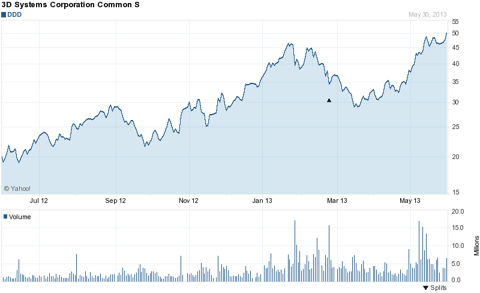 Chart courtesy of Yahoo Finance.
Also continuing its recent winning streak was Sonus Networks (NASDAQ:SONS) which saw shares rise another nearly 12% to close at $3.23/share on above normal volume of 7.4 million shares. The company has put together a string of solid up days, rising even on down days in the market. With the above normal volume here and the increased interest which has pushed shares higher we are interested to see if this one can finish strongly into the weekend. That will tell us what type of investor has been accumulating shares, because with a sell-off into the close we would be inclined to believe that most of the recent action was due to the high frequency crowd and day traders. Just something readers should be aware of heading into the weekend.
Retail
One of the winners yesterday in the retail sector was Express (NYSE:EXPR) which has shown some signs of life over the past few months. The shares rose $2.41 (12.83%) to close at $21.20/share on volume of 5.7 million after the company announced earnings which beat Wall Street's estimates and the company adjusted its outlook higher. To be fair, the company's bottom line declined by over 20% as higher costs pertaining to such items as purchasing and store costs rose and the retailer was forced to heavily discount to draw shoppers in. So it was not all great news, but it does appear that the company is on the right track. The company's shares hit a new 52-week high and finished just a few pennies off of that level when the closing bell rang. For those wanting to read the transcript of the company's conference call, it is located here.
One of retail's losers yesterday was Big Lots (NYSE:BIG) which is one of our least favorite discounters to go to. In our area the stores are extremely old, poorly organized, and in many cases have what is best described as junk located throughout the store...even on some of the most valuable shelf space! Yesterday's drop was caused by poor earnings and the company's new CEO asking for more time and patience from investors as he tries to fix the problems which plague the company (see conference call transcript located here). They are big issues and they are all intertwined in one way or another. Inconsistent foot traffic hurts sales and affects the company's margin, something which has consistently fallen for two and a half years. This one might be headed lower in the next few months and we would stay away.
Big Lots has had a nice run, but it might be over as new headwinds, and old, have presented themselves. It could have been the new CEO trying to get a clean slate, but there could be real problems here.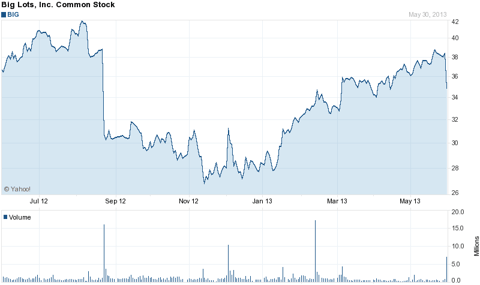 Chart courtesy of Yahoo Finance.
One place to be if exiting Big Lots is The TJX Companies (NYSE:TJX), parent company to such names as TJ Maxx and Marshall's. This is one company which does discount retailing right and Big Lots, although a different kind of discounter, could learn a heck of a lot from the way these guys execute and manage their stores at the store level. Presentation is a lot in the business and keeping old stores does not cut it with today's consumer. Yes their store remodeling is a step in the right direction, but that will take years to complete and many quarters before word of mouth effectively draws in new consumers. In the meantime one would do well to be in a winning trade and we think that TJX would be the way to go.
Disclosure: I have no positions in any stocks mentioned, and no plans to initiate any positions within the next 72 hours. I wrote this article myself, and it expresses my own opinions. I am not receiving compensation for it (other than from Seeking Alpha). I have no business relationship with any company whose stock is mentioned in this article.