With this article I am aiming to track the performance of my portfolio and determine when to take action to rebalance, initiate new positions and exit others. I am under 30 and have a strong stomach for risk, which is why this portfolio is tech heavy and includes a high yielding Chinese real estate developer. With this initial analysis, I am going to cover a brief overview of the companies and simple diagnostics that rationalize their inclusion into my dividend portfolio. In subsequent articles, I will lay out a case by case basis for their continued inclusion and investigate others that may be candidates.
First, the portfolio's YTD performance: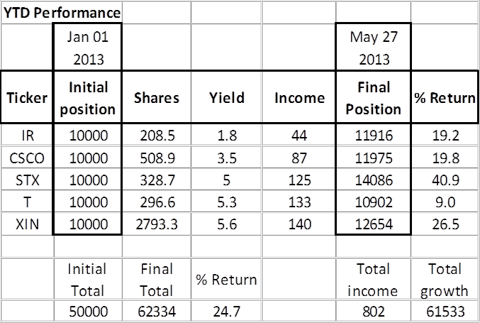 Click to enlarge
It's been stellar so far this year with a 25% return, but in a market that has risen significantly this is not anything particularly special. With dividend investing and reinvestment, the focus should be whether the yields are sustainable and safe in the long term and not on taking short term gains in order to lock in a short term profit. My time frame for these investments when I am investigating them is ten to fifteen years, not six months to one year. I do occasionally take some profit when positions have appreciated to a great degree and I have also stopped DRIP on a position or two when I think the yield at the current valuation does not warrant reinvestment at the time. This portfolio reflects a ten thousand dollar starting position at January 1, 2013 for each stock going through present with calculated dividend income as a portion of total return. I did pay attention to the extra dividends that happened at EOY 2012 for CSCO, STX, and IR when calculating income for the 6 month time period. My calculations for FCF payout are calculated for the last three quarters for CSCO and STX and the last 4 quarters for the rest.
IR

Click to enlarge
Ingersoll Rand (NYSE:IR) is a diversified industrial company that has segments such as Trane air conditioning, Club Car golf carts, and a security division that it is in talks to spin off. It has recently attracted the attention of the hedge fund Trian Capital and has allowed CEO Nelson Peltz a position on the board. Ingersoll's yield is a bit low at 1.5% at current valuation and in 2009 they dropped their dividend from 0.18 to 0.07 which has knocked it off of a lot of dividend candidate list screens that look for continuous dividend growth. Since then the dividend has increased to 0.21 with yearly increases. At the current valuation, the stock is a Hold for me as I am interested in seeing the performance as the security division is spun off. The P/E is 17.4 at current valuations and the Free Cash Flow payout is 27%, so the dividend payout is by not a stretch for the company to cover.
CSCO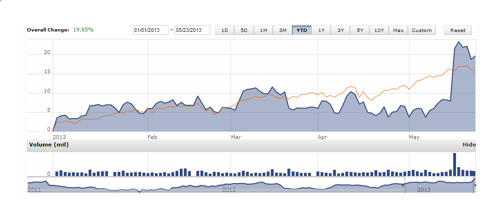 Click to enlarge
Cisco (NASDAQ:CSCO) is a huge networking company that has become a mature tech company. With a respectable dividend and a more reasonable valuation, the current company is in stark contrast to the glory days when it had the largest market capitalization in the world. The company has a P/E of 13.1 and the FCF payout for the last 3 quarters is 33%. Cisco also has a large amount of cash held overseas waiting for either relaxation of taxation rates on foreign income or investment/acquisition of foreign companies that complement their portfolio. The stock is a Hold for me as the yield of 2.9% at current price levels is still attractive. I will likely increase my position if there is a pullback to the 21-22 dollar range.
STX

Click to enlarge
Seagate Technology (NASDAQ:STX) is one of two major hard-drive manufacturers due to a large amount of consolidation in the industry. The company has a P/E of 6.9 at current valuation, has a 3.6% yield, and a FCF payout for the last 3 quarters of 11.5%. There is significant angst over the demise of PC sales and the pressures that this will put on hard drive sales. In my opinion, this decline will likely be offset as demand for off-site storage of data requires increasingly large amounts of hard drive space in order to responsibly back up customers data (usually 3X). STX is a hold for me at current levels and I have sold off a portion at the most recent spike to 42 dollars on earnings in order to take a bit of profit and rebalance the allocation within my portfolio.
T

Click to enlarge
ATT (NYSE:T) is a telecommunications company that is enormous. It has a long history of increasing dividend payouts and yields 4.9% at current valuation. The FCF payout for the last year is 50%, which is a bit high for my liking, but not something that will prompt me to sell at this point. The stock is a Hold for me at current levels and I will be looking to increase my position with a pullback below $35. There are significant worries over the demise of the landline revenue and potential longterm issues with pension payouts.
XIN

Click to enlarge
Xinyuan Real Estate Company (NYSE:XIN) is a Chinese real estate developer that focuses primarily on tier 2 cities in China, but has recently started expanding into projects in the US with aims to sell US properties to Chinese nationals. This is risky position as with all Chinese stocks as there is always a concern about transparency with accounting. The Management has gone to great lengths to address this concern, and the 4% yield at current valuations is enough to keep me around to get paid while I wait. The FCF payout for the last year is 16% and is about as safe as you can expect from a small Chinese company. This stock is currently a Hold for me as I wait for concerns about bubbles in the Chinese real estate market to play out.
This portfolio is not for the faint of heart, but for a young investor who is interested in holding stocks for the long term it is an interesting lesson in balance between growth and dividend strategies.
Disclosure: I am long IR, CSCO, XIN, STX, T. I wrote this article myself, and it expresses my own opinions. I am not receiving compensation for it (other than from Seeking Alpha). I have no business relationship with any company whose stock is mentioned in this article.