The Henry Hub's Natural Gas price break-out from bearish sentiment on gold, copper and oil prices is a reflection of US fundamental strength and strong industrial demand. Speculative positions look excessively bearish against natural gas price momentum and the overly bullish positions in crude oil.
Henry Hub's Natural Gas offers investors an isolated play on the US economy that, against oil, gold and copper where prices reflect global demand and supply conditions, remains resilient to the external macro uncertainty. Given the rising demand for cheaper energy by industrial users, the still bearish financial position on natural gas looks excessive. In anticipation of more unwinding of shorts and a reversal towards net bullish positioning by investors further out, the upward price momentum is likely to last much longer. Investors may consider buying United States Natural Gas Fund (NYSEARCA:UNG), or a 3x leverage Natural Gas product.
Henry Hub's Natural Gas prices have shaken off the bearish sentiment overhanging other commodities and have continued to rise despite gold's sell off since Friday 12 April last week and the recent economic disappointments regarding Chinese growth and German investor sentiment of late. This year, natural gas has outperformed oil, gold and copper by a wide margin: it's up over 20% even while gold and silver crashed in the double digits, pulling copper and crude oil sharply lower along with it.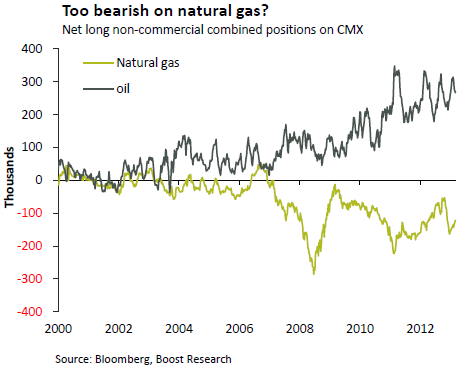 The chart above features the speculative net long positions in natural gas (Henry Hub) and crude oil (NYSE:WTI) held in options and futures contracts traded on CMX. Quite clearly, with 135K net shorts positions, investor have remained excessively bearish on natural gas, most likely because since the 2008 credit crisis, a severe recession accompanied by a shale gas boom created prolonged periods of supply overhang that undermined its price for too long. In contrast, judging by the 200K net long positions on WTI crude oil since the start of 2012, investors have remained overly optimistic on the commodity, even while its price was volatile, had moved side-ways, and failed to break out of the 80-100 US$/bbl range. Against natural gas prices rising 125% from 1.84 US$/mmtu to 4.19 US$/mmtu over the same period, the wildly differing speculative positions in both commodities do not seem to make sense. As a result, the overly bearish position in natural gas is expected to reverse itself, helping the rally in gas to sustain itself further out, possibly even after the end of the cold streak that has hit the US Midwest of late. However, underneath the momentum in gas prices lurk deeper structural changes that have recently come into the fore, and which give the commodity more fundamental price support.
Now, on the back of the boom in shale gas production, cheap energy source is attracting more demand for natural gas than ever before. Most notable, the demand is coming from industrial users who face growing pressure to cut operating costs. In fact, the industrial sector's energy consumption since 2009 grew by 6.4% even while demand from end users in other sectors remained essentially flat. In the US, the access to cheap energy has (along with steep wage cuts) restored the competitiveness of US manufacturing and motivated companies to rebuild production capacity as a result. Accelerating this trend too is the rising wages in China.
Moreover, the industrial demand is not just the result of US companies rebuilding domestic output capacity but is increasingly coming from European companies facing high electricity surcharges at home as well. In Germany for instance, the large energy intensive industrial manufacturers and chemicals companies are pressured to foot the bill of Angela Merkel's government's ambitious green energy plans to invest in expensive renewables that is becoming too costly to be borne by households alone. BASF, one of the largest chemicals companies in the world is already repositioning itself to avoid being put into a cost-competitive disadvantage by setting up production facilities in the US.
The cost advantage the US enjoys is significant: as a rough reference, according to the World Bank, the latest monthly average price of imported natural gas is 11.87 US$/mmbtu, 3x more expensive than Henry Hub's 3.82 US$/mmbtu. With many European countries formulating energy policy around the Kyoto Treaty to promote costly renewable energy investments, the incentive for other European companies to move factories to the US is growing. This is especially so since the cheaper alternative to natural gas in Europe remains coal which is a heavy polluter. But in the US, with natural gas prices as low as coal, the incentive to tab US shale gas is much greater than what markets appear to give credit for.
Disclosure: I have no positions in any stocks mentioned, and no plans to initiate any positions within the next 72 hours. This article was produced by Viktor Nossek, Head of Research at Boost ETP, where we both work.