By Brandon Clay
Ah, Russia. Home to those infamous cold winters, backdrop to so many dark classic novels and exporter of, among other things, vodka. But that's not all investors should think of when it comes to Russia.
Despite what often appears to be political calamity and corruption at nearly every turn, Russia has one of the world's ten largest economies. Vast energy reserves mean Russia is an emerging economic power, the "R" in the now-ubiquitous BRIC acronym.
In the past, we talked about a new family of emerging market sector ETFs. You can also trade certain Russian stocks. While some Russian stocks trade in the U.S., most suffer from illiquidity. This makes a broader ETF a better way to gain exposure to this sometimes-profitable and sometimes-perilous market.
There is presently only one U.S. listed ETF focusing exclusively on Russia – Market Vectors Russia ETF Trust (NYSEARCA:RSX), managed by Van Eck Global. Barely more than two years old, RSX tracks the DAXglobal Russia Index. As such, RSX has limited ties to U.S. stock performance, making it a potential way to add some international diversification to your portfolio.
Unfortunately, on a sector basis RSX is not very diversified with a heavy concentration in energy stocks. In fact, if you find the overall energy sector attractive or are bullish on natural gas and crude oil prices, RSX may be the kind of ETF you're looking for. At the end of May, the underlying index had more than 45% exposure to oil, gas, and other energy holdings. Industrial materials stocks account for another 18%, and telecom rounds out the top three at more than 14%.
The fund's four largest holdings are Surgutneftegaz (OTCPK:SGTZY), OAO Gazprom (OTCPK:OGZPY), Rosneft Oil, and Lukoil (OTCPK:LUKOY) each with approximately an 8% allocation. Gazprom, the state-owned natural gas giant and Lukoil, the Russian oil goliath, are names most U.S. investors have heard before. Other holdings in RSX that American investors may be familiar with include MMC Norilsk Nickel (OTCPK:NILSY), Mobile Telesystems (NYSE:MBT), Vimpel Communications (NYSE:VIP), and Wimm-Bill-Dann Foods (NYSE:WBD).
Recent trading shows congestion below the 50-day moving average, suggesting that now may not be an ideal time to initiate new long positions. RSX has potential support in the mid-$19 area, a point from which it bounced in mid-June.
The fundamentals of oil and natural gas are likely to dominate the performance of RSX in the near-term. While RSX may not be a good buy-and-hold candidate, its liquidity and volatility can provide traders with some decent short-term opportunities. Think of RSX as a candidate for a swing trade on bullish energy data.
click to enlarge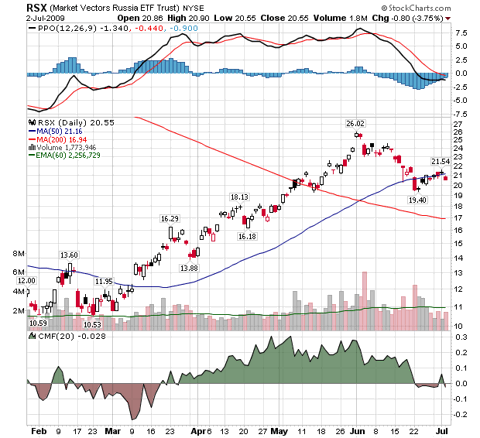 Disclosure: No positions