Murphy Oil (NYSE:MUR): Value Release From Spinoff and Insider Buying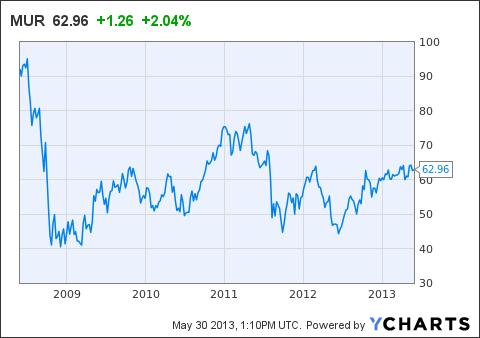 Murphy Oil Corporation is a worldwide oil & gas exploration and production company with marketing operations in the U.S. and the U.K., including a refinery in Milford Haven, Wales. The company produces oil and natural gas in the U.S., Canada, the U.K., Malaysia, and the Republic of the Congo and conducts exploration activities worldwide. Murphy USA Marketing Co. (Murphy Oil USA, Inc.) operates retail gasoline stations under the Murphy USA® brand across 23 states in the U.S. Murphy Oil USA, Inc., also operates a network of seven product distribution terminals.
What will the Spinoff look like?
Murphy Oil USA: Murphy USA's business will consist of retail marketing of petroleum products and convenience merchandise through a large chain of retail gasoline stations. Its assets will also include seven product distribution terminals and two ethanol production facilities in North Dakota and Texas. Murphy Oil USA is a low-margin fuel-making and retail operations. Murphy has low EBITDA margins compared to its peers (Susser, Casey's, Delek, Couche Tard and The Pantry). Its revenue mix is 70% fuel and 30% merchandise as against that of its competitors' ~30% fuel and 70% merchandise. We might witness some index selling pressure on Murphy USA post Spinoff as the expected market cap would be $2.0bn and the stock might not make it into the S&P 500 Index.
What will the Parent (ex-Spinoff) look like?
MUR (ex-Spinoff): Murphy ex-Spinoff will become an independent exploration and production company with principal activities focused in the U.S., Canada and Malaysia. The company will continue its exploration program and offshore development projects complemented by predictable growth in its North America onshore businesses, primarily in the Eagle Ford Shale and Seal areas. The United Kingdom downstream operations will remain with Murphy until these assets are fully divested. Management expects Murphy production to grow at a 10.2% CAGR during FY11-15E to 265,000 BOE per day with oil and oil indexed gas to account for 80% by 2015. The strong oil focus is provided by Eagleford Shale position and cash-generative Malaysian assets that comprise high-margin oil and oil-linked gas with several development opportunities. We believe that the stand-alone peer group E&P players are trading at 5.4x FY13 EV/EBITDA, a premium to MUR's multiple of 3.6x FY13 EV/EBITDA, which provides a re-rating for MUR post Spinoff.
On May 1, 2013, MUR reported its 1QFY13 results with net income up by 24% YoY to $360.6m while net income from continuing operations down by 26% YoY primarily to higher expenses for exploration, administration, financing and income taxes partly offset by the better results from the downstream operations.
MUR reported an after tax gain of $147.4m in 1QFY13, associated with the sale of the Schiehallion and Amethyst fields in the UK (discontinued operations). MUR expects to conclude the sale of the remaining Mungo/Monan field during 2QFY13.
We believe that MUR's main catalyst to move the stock upwards will be the sale of these Canadian assets (Canadian Natural Gas Assets (Montney) and 5% stake in the Syncrude Oil Sands Project), which have been put on hold as of now. Having said that, we expect that these assets will be disposed eventually but it may take a bit longer until the conditions are conducive for MUR. We reaffirm our valuation for MUR and expect MUR to report an FY13E EBITDA of $3.4bn on the combined basis, with an upside of ~20% on the stock with a base case TP of $76
Lastly, in May of this year, The Chairman of Murphy Oil Corp. , Claiborne P. Deming, has once again bought shares on the open market. Mr. Deming bought 30,000 shares @ $63.86, spending $1.9 million in order to increase his shares by another 1.2%. Previously, Mr Deming has spent over $7.8 million in Feb 2013 to increase his stake by over 5% and this was the very first time he had purchased shares since being a director of MUR in 1993. We view this as a very positive signal.
Apollo Group Inc (NASDAQ:APOL): Deep Value with Turnaround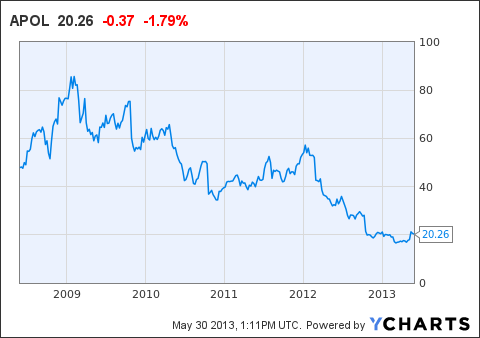 Apollo Group is the largest publicly-traded for-profit post-secondary education provider and largest private university in the US with an operating history of more than 35 years.
APOL offers educational programs and services both online and on-campus at the undergraduate, master and doctoral levels through its subsidiaries:
University of Phoenix (NYSEARCA:UOP)
Apollo Global, Institute for Professional Development (IPD)
College for Financial Planning (CFFP)
At a time when for-profit education sector stocks are out of favor due to regulatory concerns, historical low valuations and investor apathy, we believe it is time for investors to take a contrarian view and look with a fresh eye at well-capitalized companies with strong financials, established brand names and past execution abilities that can come out as winners in the future.
Our deep value pick, APOL, is a stock idea generated through our rigorous analytical framework (details on the next page). APOL, the largest post-secondary for-profit education provider, has been a pioneer in the education field (~328,400 students enrolled) with a strong track record of growth, brand value, high operating profit margin compared to peers (~25% over last five years), and a high ROCE (~30%), but it is currently trading at the bottom of its historical PE trading range of 7-28x and high FCF yield of 15%. With a YTD 62% fall in the share price, net cash now constitutes ~25% of the market cap. We believe the current valuations are inexpensive for a well-capitalized company like APOL.
Turnaround: In response to regulatory changes, APOL has made radical changes in its business model to improve the quality of student intake by introducing an orientation program before final admissions, raising admission criteria and de-incentivizing enrolment counselors on admissions. Additionally, APOL expects huge savings of $300m (~8% of FY12 op. exp.) by closing down 115 locations (~40% of ground location square footage) but impacting only 4% of students. A focus on quality has led to a steep decline in enrolment levels but at the same time it has provided sustainability to the business model.
Risks/Reward: We believe that the sector will continue to be faced with regulatory risks in the medium term. Headwinds would remain till the latter half of FY13 before a turnaround is visible in terms of stabilization of enrolment levels. As a result, we believe that the stock can give an attractive entry point over next 6 months, rewarding value investors with favorable risk/reward metrics. Our price recommendation of $27 implies an upside of 34% from the current levels.
Target Price/Scenarios
Our earnings multiple-based valuation by assigning a multiple of 10.5x to FY13 EPS of $2.57 (vs consensus estimate of $2.75) comes to $26.94 per share, implying an upside of 33.3% from current levels. As mentioned earlier, we expect weakness in the stock to continue for the next six months, providing attractive entry points with favorable risk/reward scenarios.
Our Bear case valuation gives us a target price of $14.00, implying a downside of 30%. In our bear case, we assume that enrolment levels do not stabilize in FY13 and new enrolment levels fall by 25% (vs 17% in our base case scenario) for FY13, thereby leading to an EPS of $1.75 for FY13. We believe that if the stock price reaches near our bear case assumption over the next 6 months (with business outlook at status quo), it would give an attractive entry point for investors with a favorable risk/reward metrics.
Our Bull case valuation gives us a target price of $31, implying an upside of 53%. In our bull case, we assume that enrolment levels stabilize in FY13 and new enrolment levels fall by a lesser rate of 15% and the company buybacks a larger proportion of shares during FY13.
Dean Foods (NYSE:DF) and WhiteWave (NYSE:WWAV): Takeover Play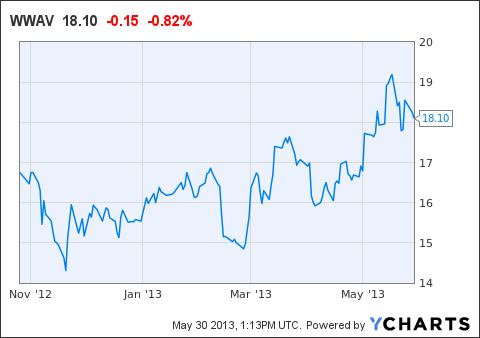 WhiteWave Foods Company is a leading producer, marketer, distributor and seller of packaged foods and beverages across North America and Europe. It is focused on high-growth product categories that include plant-based foods and beverages, coffee creamers and premium dairy products.
On August 7, 2012, DF announced its plans to go for an IPO of up to 20% of its wholly-owned subsidiary, WWAV, with an intention to distribute its remaining interest in WWAV to DF shareholders in a tax-free distribution, after a 180-day lock-in period following the closing of the IPO. DF moved ahead with the partial, tax-free IPO of 23m shares (or 13.3% stake) of WWAV and completed the process on October 31, 2012. On the other hand, as part of its strategic initiatives, on January 3, 2013, DF completed the sale of its Morningstar Foods division (manufacturer of dairy and non-dairy extended shelf-life and cultured products) to Saputo, Inc. for $1.45bn, of which it expects to realize ~$887m, net of taxes and expense.
On May 1, 2013, DF announced the approval from its board of directors to Spinoff 47,686,000 shares of WhiteWave Class A common stock and 67,914,000 shares of WhiteWave Class B common stock. The Spinoff announcement followed the expiry of six-month lock-in period on April 23, 2013. Post demerger, DF will retain 34.4m of Class A shares post-spin (~20% equity stake), which it plans to dispose of within 18 months of the distribution in one or more debt-for-equity exchanges or other tax-free dispositions.
On May 23, 2013 (end of the market), Dean Foods completed the demerger of its 66.8% stake in WhiteWave Foods .
Potential Takeover Target: WWAV could be a potential takeover target in the long term owing to its high growth, higher margin business profile and leadership position in the US's healthy milk products segment. We believe that other packaged food firms like Danone, Nestle, and General Mills may be interested buyers and find WWAV as an attractive takeover target.
a) General Mills (market cap: $33bn): General Mills, Inc. (NYSE:GIS), a manufacturer and marketer of branded consumer foods, is currently struggling as its US yoghurt business is facing stiff competition from Greek yogurt brands that include Chobani and Danone. Hence, we believe that General Mills could be interested in the adjacent categories of organic dairy and dairy alternatives like WWAV's Silk soy milk and Horizon Organic products that is a high-growth and high-margin business.
b) Danone SA (market cap: $48bn): Danone SA (OTCQX:DANOY) is a French-based food company that primarily produces fresh milk products, baby foods, biscuits, cereal products and medical nutrition products. In the US, the Danone brand of yogurt is marketed as Dannon. We believe that acquisition of WWAV would provide Danone with the fast-growing WWAV brands that are big players in the natural-foods space in both the US and Europe, thereby help Danone further build a market position in these markets.
c) Nestle SA (market cap: $228bn): Nestle SA (OTCPK:NSRGY) is a Swiss multinational nutritional, snack food, and health-related consumer goods company. Although a substantial free cash flow provides Nestle financial muscle to acquire WWAV, a move that will enable Nestle to expand into healthier segments, we feel that WWAV is not a strategic fit for Nestle as it is currently focused on expanding in emerging markets. Additionally, Nestle is focused on its Nestle Heath Science unit that offers more value to its health and wellness ambition compared to WWAV's soy and organic business.
d) Other suitors: We also see other multinational packaged-foods rivals of WWAV like Kraft Foods Group, Inc. (KRFT) and The Hain Celestial Group, Inc. (NASDAQ:HAIN) as potential suitors for WWAV takeover following the distribution.
TSR View: We believe the growing consumer preference towards healthy plant based and organic milks makes WWAV's an attractive acquisition target for multinational foods & beverage companies. Although acquisition of WWAV would not significantly increase Danone or General Mill's presence in the yoghurt categories, we believe it will help Danone consolidate its leading position in the global dairy market, grant instant access to a large-scale local production and distribution infrastructure as well as expand the company's operations to the high-growth categories. Takeover scenarios available on request.
Disclosure: I have no positions in any stocks mentioned, and no plans to initiate any positions within the next 72 hours. I wrote this article myself, and it expresses my own opinions. I am not receiving compensation for it. I have no business relationship with any company whose stock is mentioned in this article.