Banks profit from lending out money and/or making deals involving lending such as securitizing loans. In this way, other people effectively buy the loans yet the banks make a profit. Banks also invest capital (even loans are an investment). This means their profits are very sensitive to the net interest margin (the difference between the cost of funds for the banks and the amount of money the bank earns on those funds). When the net interest margin is wider, banks make more money.
One of the main determiners of the cost of funds is the fed funds rate. This has remained unchanged at 0% to 0.25% for many years now, and the Fed says that it intends to keep it at this low value until mid-2015. This essentially means the cost of funds is not changing (or changing very little), and the cost of funds is very low for banks. However, the amount banks can charge customers for loans has been going up recently. For instance, 30-year fixed-rate mortgages are usually based on the yield of the 30-year U.S. Treasury bond. This has been going up recently, as the chart below shows.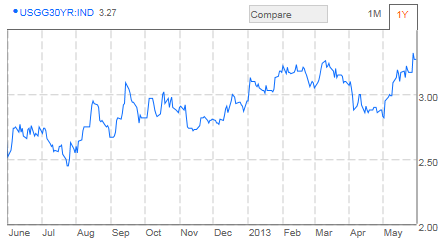 As you can see from the one-year chart above, the 30-year Treasury bond yield has gone up dramatically in the last month. It has been overall trending upward for the last year. Banks will normally only lend money for residential 30-year fixed-rate mortgages at a premium to the 30-year U.S. Treasury bond yield. For example, if the 30-year Treasury bond yield is 3.30%, which it is close to now, a bank might lend a person or a couple with good credit the money to buy a house at 3.30% plus a 0.50% premium -- especially if the loan is being guaranteed by the U.S. government. This would mean their mortgage rate would be 3.80%.
On July 25, 2012, the 30-year Treasury bond yield was 2.45%. As of the close on May 30, 2013, that same yield was 3.27%. Since the cost of funds has changed little if at all, the banks are making approximately 0.82% more on high-quality residential real estate loans. When you consider how many loans banks make, you realize this difference means a lot of extra money will flow into the banks profits column. In actual fact, the 30-year fixed-rate residential mortgage rate rose to 3.81% in the week ending May 30, 2013.
On top of that boon, the Case-Shiller 20-City Housing Price Index was up +10.9% for March. This means many of the older loans that a company such as Bank of America (NYSE:BAC) still holds are no longer underwater, or they are less far underwater. In either case, BAC's assets are consequently worth more than they would have been without the price rise. The quality of the loans is better. Troubled owners can sell more easily, and any foreclosures that occur will result in smaller losses.
The number of homes being sold is also up. Pending-homes sales for April 2013 were +0.3%. New-home sales for April were 454,000 vs. a prior month's 444,000. The existing-home sales for April were 4.98 million vs. the prior month's 4.94 million. All of these are healthy numbers. They mean there is growing liquidity in the residential real estate market. This means home loans are less of a risk. It means provisions for losses can be lower, and that money can instead be put to work elsewhere. It means banks will make more profits.
Bank of America had already been showing great improvement before the above news. Its net income for Q1 2013 was $1,483 million vs. $732 million in Q4 2012. Tangible book value per common share was unchanged at $13.36 for Q1 2013 vs. Q4 2012. Book value per common share was slightly lower at $20.19 in Q1 2013 vs. $20.24 in Q4 2012.
It is worth noting that BAC's stock price of $13.83 at the close on May 30, 2013, was only 68% of its book value -- a huge discount. Before the "Great Recession," BAC often sold at a multiple to its book value. The Basel 3 (fully phased-in) Tier 1 common ratio was 9.52% in Q1 vs. 9.25% in Q4 2012 and 7.95% in Q2 2012. This improvement from Q4 2012 to Q1 2013 reflects a decrease in risk weighted assets of $37.3 billion.
The table below gives a summary of BAC's income streams for Q1 2013.
Click to enlarge images.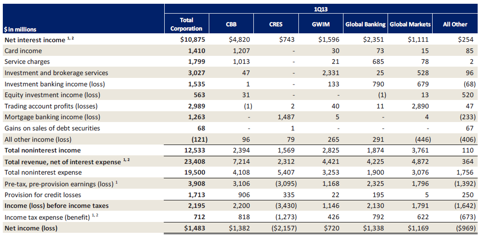 Click to enlarge
In case some don't know what the acronyms mean, they are:
CBB -- Consumer and Business Banking
CRES -- Consumer Real Estate Services
GWIM -- Global Wealth and Investment Management
The rather ugly number for CRES in Q1 2013 included $1.3 billion related to a recent MBIA settlement. There were also other losses. Still the number of 60+ day delinquent loans is falling, and this bodes well for BAC's future. Furthermore, BAC's first mortgage production in billions of dollars is rising steadily as the chart below shows.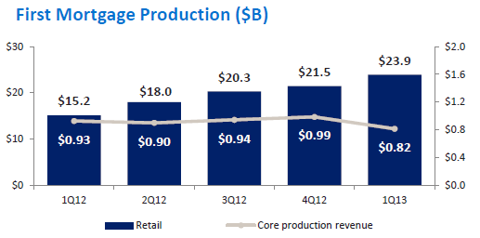 Click to enlarge
Core production revenue did drop in Q1 2013. However, BAC has been on a hiring binge for new loan officers, and it attributes much of the core production revenue loss to the added expense and the training and relative lack of efficiency of the new hires. Revenue growth is usually taken as the better indicator of long-term profit growth. This case will likely follow that rule.
In sum, BAC seems to be firing on all cylinders. The legacy mortgage issues are slowly fading away. The Q1 2013 results were overall a big improvement over Q4 2012, and they do not even reflect the new positive fundamentals that I introduced this article with. BAC is a buy.
Admittedly, BAC currently pays only a 0.30% dividend. However, I expect the dividend to increase substantially by this time next year (barring a new recession). I am sure it will soon get back to its more normal 2%-4% range. Meanwhile, the stock price could easily rise 50% in the next year. There is very little short interest (1.50% of the float). Analysts forecast that BAC will grown earnings 276.00% in 2013 and 37.20% in 2014. Their five-year EPS growth per annum estimate is 23.39%. This is the kind of growth one sees in growth stocks, not in huge multi-national banks. BAC stock could take off at anytime. You want to be in it when it does.
The two-year chart of BAC provides some technical direction for this trade: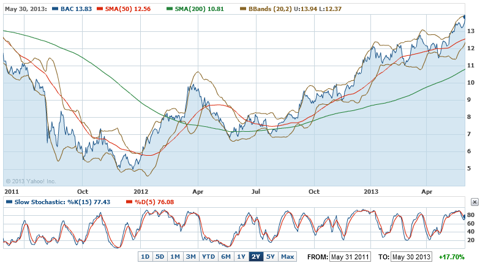 Click to enlarge
The slow stochastic sub chart shows that BAC is near overbought levels. The main chart shows that BAC is near its upper Bollinger Band (overbought). BAC is in a strong uptrend. However, its stock price is far above its 50-day SMA and its 50-day SMA is far above its 200-day SMA. BAC is overbought.
BAC has obviously been bid up as the 30-year U.S. Treasury bond yield rose. The 30-year U.S. Treasury bond yield may now be fading a bit or consolidating. This should allow BAC to fall back a bit. If you can get BAC when its is nearer its 50-day SMA, that would probably be a good buy point. Alternatively, an investor could average in over the next year. That strategy would smooth out any dives that might occur if the EU and the U.S. run into much more severe economic problems. BAC has an average analysts recommendation of 2.7 (a hold). I would guess analysts think it needs to fall back a bit, too. However, it has a four-star CAPS rating (a buy). This may be the view of the long-term investor. You must decide for yourself when you want to get in, but BAC definitely looks to have improving fundamentals. You might rue the day you missed out on this one. With the Fed behind it, BAC represents very limited risk.
Note: Some of the fundamental financial data above is from Yahoo Finance.
Disclosure: I have no positions in any stocks mentioned, but may initiate a long position in BAC over the next 72 hours. I wrote this article myself, and it expresses my own opinions. I am not receiving compensation for it (other than from Seeking Alpha). I have no business relationship with any company whose stock is mentioned in this article.