This article starts by providing an overview of the latest earnings call, which took place on May 30th. Later, I will introduce 4 reasons to be long Costco (NASDAQ:COST), taking into consideration the latest results.
Overall, Costco is doing amazingly well in terms of profitability. The company just announced a 19% increase in net profit to $459M. This is quite an achievement, if you bear in mind that comparable sales grew only 5% (12 weeks), mainly due to changes in gasoline prices and adverse foreign exchange movements.
Earnings Overview
Bear says: High exposure to forex risk and fuel prices
Sales were impacted by both gasoline price deflation and weakening currencies relative to the U.S. dollar. Abenomics played against Costco: the company opened 2 additional warehouses in Japan (Kitakyushu and Hiroshima) in the third quarter. According to Richard Galanti, CFO:
"... the 6% U.S. comp sales increase in Q3, excluding gas deflation, would have been 7%. Our reported international comp figure, assuming flat year over year FX rates, would have been plus 7%. And total company comps, again reported for the quarter, at 5%, excluding both gas deflation and FX impact, would have come in at 7% as well for the quarter".
Bull says: Strong renewal rates and membership signups growth rate
Costco continues to enjoy strong renewal rates, even after the $5 and $10 membership fee increases that began in November 2011 in the U.S. and Canada for new signups. New membership signups were up 19% year over year. Regarding this point, Galanti notes: "That strong performance is mostly reflective of the very strong signups we've had in our Asia openings this past March in Japan."
Bull says: Cost reductions are improving operating margins, which is amazing for a giant like Costco
Central expenses were lower by 2 basis points, which is admirable considering the size of Costco and also the fact that they have ongoing IT modernization costs.
-- Operating income in the third quarter was up $100 million, or 16%, from $623 million last year to $722 million this year.
-- Overall net income was up 19% from $386 million last year to $459 million last year.
4 reasons to be long Costco
1. Costco's membership system and high-quality customer base is a huge competitive advantage
Unlike Wal-Mart (NYSE:WMT) and Target (NYSE:TGT), Costco uses a membership only system. You have to be a Costco member to buy there. No exceptions. This may be an unorthodox practice amongst big box stores, but it also happens to be a very successful strategy. Just compare the 1 year stock performance of Costco with other main competitors:
Costco is the best performing stock after Best Buy (NYSE:BBY), with a 32.2% price increase in the past months. The reason? Unlike Wal-Mart ,which recently admitted that sales may be suffering, or J.C. Penney (NYSE:JCP) ,which has well-known profitability issues, Costco is a membership only club.
Costco shoppers have to pay in order to buy merchandise at the warehouses. At first sight, this looks like an impediment to revenue growth. But this mechanism forces customers to return frequently and be loyal to Costco, in order to recover their up-front investment. Psychology helps here. Many Costco shoppers believe that since they already paid $55.00 for the membership, they have to use their membership card as much as possible.
Notice also that Costco shoppers not only are more loyal to their club. They tend to "buy in bulk" and by buying large amounts of products, they help Costco to keep down maintenance costs and increase the firm's price negotiation power against manufacturers.
To take more advantage of its membership feature, Costco also employs other smart strategies like offering high quality luxurious items from time to time. Business Insider mentions that they have offered Coach purses and Don Perignon champagne before. Furthermore, Costco does not advertise. These strategies help the firm to maintain an "elitist" aura, which adds competitive advantage.
2) Low Risk, High Return
Because of its membership program, Costco is able to book nearly all of its profits 12 months in advance. According to R.J. Hottovy from Morning Star, membership revenue accounts for nearly all of Costco's operating profits. Do the math: assume that everybody has the cheapest membership ($55 per year). Multiply this by 50 million members. The result? Roughly speaking, Costco could get about $2.75B just from memberships!
As long as Costco's members continue growing in number, Costco will continue delivering amazing operating profit 12 months in advance. A negative growth rate of membership looks unfeasible, if you take into consideration that the number of new membership sign ups has increased substantially over the last 3 years: 2.3 million in 2009 and 4 million in 2011, despite the increase in the membership fee.
In the worst of cases, Costco could see some deceleration in its membership base growth rate, but if renewal rates remain high, the stock will be safe. According to Morning Star, membership renewal rates stand at about 89% in the U.S. and Canada. It seems that this proportion does not change even during recessions. Therefore, there is no need to be afraid about a possible deceleration in membership growth.
3. Outstanding EPS growth
Costco has one of the highest P/E ratios in the industry, 25.94 (according to Google Finance). On the other hand, Wal-Mart's P/E ratio is about 14.9. The good news is that EPS growth is also amongst the highest in the industry. According to YCharts, Costco's EPS diluted quarterly (y/y) growth is 37.78% since 2008. Therefore, Costco can grow into an even more attractive multiple in the future.
4. International operations are successful
Like most of its competitors, Costco also operates international warehouses. Apart from the U.S., the firm operates around 170 international stores from Canada to Korea. Revenue contribution from overseas is about 50%, or $90B, significantly more than Wal-Mart.
The difference is that Costco is successful abroad, if by "successful" we mean that its international operations generate returns above its cost of capital.
According to Morningstar, return on net assets for operations outside of North America are about 12%, which is above the company's cost of capital. For comparisons, Wal-Mart's RONA range for international operations over the last 10 years is 6-7%.
Considering that Costco is still at an early stage in its internationalization process, I believe that more success is on its way. I am particularly interested in seeing more Costco warehouses in Asia. In the earnings update provided in March, Costco revealed plans to open 14 warehouses stores until September, of which half would be in Australia and Asia.
This makes sense since Asia is full of potential Costco members: it's the continent of emerging markets, with price sensitive customers who are looking forward to buy in bulk. And according to a note by Trefis on March, Costco has seen 20,000 to 60,000 membership signups on the opening day of Asian stores.
According to the Supplemental Information document provided yesterday at the earnings call, the company plans to open up to an additional nine warehouses by the end fiscal 2013, 5 of them in Asia. The fast internationalization of Costco and its emphasis on Asia are a catalyst that could take the stock price to a new high level.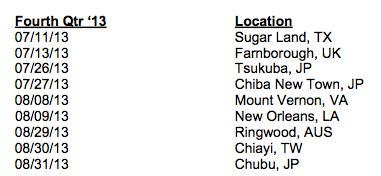 Potential risks
-- Adverse foreign currency movements. Since Costco is opening 3 stores in Tokyo, it should strengthen the hedge against further yen depreciation.
-- Overvaluation concerns amongst investors.
References
Data comes from Morningstar. The earnings call document was obtained from the Investor Relations section of the official website. The latest earnings call transcript can be found here.
Final Remarks
Rating: Buy
Investment Strategy: Growth
Investment Horizon: 1 year
Uncertainty: Low
Disclosure: I have no positions in any stocks mentioned, and no plans to initiate any positions within the next 72 hours. I wrote this article myself, and it expresses my own opinions. I am not receiving compensation for it (other than from Seeking Alpha). I have no business relationship with any company whose stock is mentioned in this article.