Often I am asked why I have chosen the strikes listed in my disclosure for Sirius XM (NASDAQ:SIRI). Many have asked why, if my January 2014 target for Sirius XM remains at $4.25, I have not gone with options at the $4 strike. Likewise many ask how to choose the best option today, for their own expectations in the future.
When one goes about choosing long call options for a particular stock, one must consider a very important thing, and that is where the fundamental story of the equity you are investing in will be at the option's expiration.
I'm going to, hopefully, make this easy for you.
First, consider the fundamental story of Sirius XM. We know about the $2 billion buyback which has been discussed at great length. We know that auto sales are up, and increasing. And we know that Sirius XM is making great inroads into the used car market. If you don't know these things already, take a look at the following excerpts from some other articles here on Seeking Alpha.
Consider how the buyback should support the share price of Sirius XM while it is in process:
I expected that the share price of Sirius XM would have strong support and would find a stair stepping pattern of appreciation with rising support during periods of consolidation followed by pops once the share price was squeezed enough. It's similar to the type of behavior seen as Liberty Media was buying shares for control. Supply dwindles as shares are bought, and the buyer must move the share price up to acquire more shares.

Has this happened? Yes. Arguably it has.

It couldn't get more simple, and I would expect that so long as the company performs within 2013's stated guidance, the buyback plan will push the stock to new heights reaching $4.25 before January 2014 option expiration.
Spencer Osborne showed excellent support for the idea that the used car market will be a big driver for future Sirius XM subscribers due to expansion of satellite radio equipped used cars, and deals with the resellers.
One of the key focuses of Sirius XM's growth going forward will be derived not from new car sales, but rather the secondary market. While new cars deliver 10 to 11 million satellite radio trials each year, the secondary channel is quickly catching up. I estimate that within the next 3 years the contribution in free satellite radio trials in the secondary market could eclipse that of the new car market. Carmax (NYSE:KMX) will be an integral part of assessing the secondary market for Sirius XM investors.

At the moment Sirius XM has over 9,000 used car dealerships signed up for participation in the free trial program.
And again Spencer has become an excellent source of coverage of new auto sales, from which Sirius XM currently derives the majority of its new subscribers.
Auto sales look to be at about 1.4 million for May. This is modestly better that the 1.33 million we saw last May, but the growth rate appears to be flattening out. There are several dynamics at play. Inventory has been creeping up, which means discounts could come into the equation and spur sales. However, production may also slow a bit, meaning that satellite radio subscribers counted at the time of production may slow a bit. All of these are very modest moves and should not be of paramount concern at this point.

The trick here is trying to gauge the headlines coming out as May ends. As of right now, they will likely be modestly positive, with hints of a small lull in the equation. Absent other news, the car sector will not be enough to drive Sirius XM's stock to higher levels.
Sirius XM has the right "recipe" from a fundamental standpoint to move forward towards my year-end price target. Let's say you currently agree with my year-end target and wish to invest in call options instead of stock. How do you choose properly?
Rookies often make the error of purchasing calls which are too far out of the money, and it should be evident by the formula and graphs below which is the correct option to buy if one were to purchase at the time I am writing this article.
To figure value at expiration of the option take the following formula
A=Expected price at expiration
B=Option Strike
C=Option Cost
D=Gain %
D= (100*(A-B)/C)-100
For example purposes, take my January 2014 $2's I purchase for $1.15 several months ago.
A=$4.25
B=$2
C=$1.15
D=(100*($4.25-$2)/$1.15)-100
D=(100*($2.25)/$1.15)-100
D=(100*(1.956))-100
D=195.6-100
D=95.6% gain YOY at expiration if the share price reaches $4.25
You can use the formula above to manually calculate all the strikes you are considering. But even better, you can graph them in Google (NASDAQ:GOOG) search to get an interactive visual representation that allows you to select the right option quickly.
plot y=(100*(x-2)/1.15)-100
Throw that into Google. The result is a graph of profit and loss for my January 2014 $2 calls. The y axis is gain or loss, and x is price at expiration.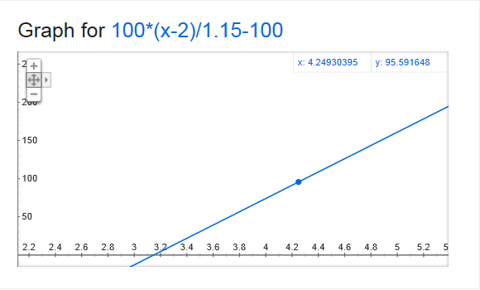 Click to enlarge
The graph above is fully interactive when searched through Google, and you can see here that an end price of $4.25 results in a gain of 95.6% at expiration.
What is even more useful, though, is the ability to plot a selection of up to four options using the formula I have provided above. The string of equations below plot current profit and loss graphs for $2.50 to $4 option strikes.
plot y=(100*(x-2.5)/1.14)-100, y=(100*(x-3)/.73)-100, y=(100*(x-3.5)/.41)-100, y=(100*(x-4)/.22)-100
You will notice I simply "plugged in" the values of the strike and going ask in each equation. The resulting graph looks like this: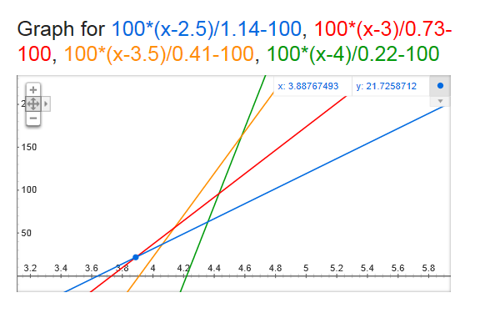 Click to enlarge
It should be very apparent by the resulting graph that Jan 2014 $3.50 calls (denoted by the yellow line) are your best bet out of those four strikes IF you expect share price of $4.25 near expiration. As you can see the $4's, denoted by the green line, do not exceed the gains of the $3.50's until the share price approaches $4.60.
Because I do not feel the fundamental story of Sirius XM warrants a $4.60 January 2014 share price, the higher priced calls do not make sense for me.
I would even go so far as to argue that I would feel safer with the $3 calls denoted by the red line. Gain potential may not be as high, but there is added safety in the lower strike. I went through this same decision making process when I entered into my current position earlier in the year, weighing upside potential and downside risk.
Hopefully the above formulas and graphs prove helpful. Investing through options is not for everyone, but with proper research into an equity's fundamental story, one may find investing with options for the increased leverage they provide to be the best bet. By carefully analyzing the different strikes and how they play out at one's fundamentally supported price target, you can be sure to choose the best option for maximum gains.
Disclosure: I am long SIRI. I wrote this article myself, and it expresses my own opinions. I am not receiving compensation for it (other than from Seeking Alpha). I have no business relationship with any company whose stock is mentioned in this article.
Additional disclosure: I am long SIRI January 2014 $2 and $2.50 calls. I will be liquidating my SIRI position and be out for a few days for a play in early June after which I will be buying back in to SIRI. This has nothing to do with my views on SIRI and is merely an opportunity grab.