Aluminum was a hot commodity during the housing-led economic boom, but its prices collapsed with the financial crisis. While spot prices have risen since the dark days of the recession, those prices are still not as high as aluminum producers would like. According Citibank, aluminum has been experiencing a rise in both production and inventories, but demand has been high enough to keep prices stable.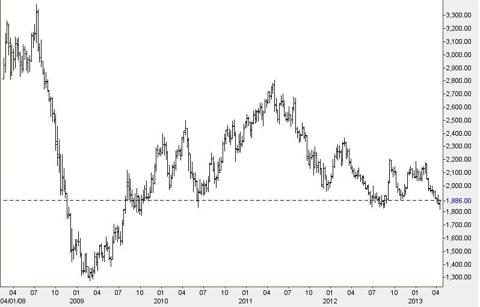 Click to enlarge
The above graph shows the aluminum price over the past few years. You can clearly see the pre-financial crisis prices and post-financial crisis prices of aluminum, respectively. It is evident that current aluminum prices are below six-year average prices.
Despite strong projected growth in demand, the industry's short-term profits outlook is still gloomy. The industry still has not fully recovered from the fallout of the financial crisis. At the peak of the commodity's boom, Alcoa (NYSE:AA) attempted to acquire Canadian aluminum producer Alcan in an effort to create the world's largest aluminum producer. However, Rio Tinto (NYSE:RIO) outbid Alcoa by paying more than $38.1 billion for the company. But the deal didn't work out for Rio Tinto because of the collapse of aluminum prices. Earlier this year the company wrote off $9 billion of its aluminum assets.
Despite an abundant surplus of aluminum, producers have not taken sufficient measures to balance the aluminum market. The surplus reached 889,000 tons in 2011, 1.5 million tons "MT" in 2012, and is expected to peak at 1.8 Mt in 2013, resulting in a drop in aluminum prices.
About Alcoa
Alcoa is the world's largest producer of aluminum, as well as the world's leading miner of bauxite and refiner of alumina. In addition to inventing the aluminum industry, Alcoa has achieved other key milestones in the aerospace, automotive, packaging, building and construction, commercial transportation, consumer electronics and industrial markets over the past 125 years. Aluminum is infinitely recyclable and approximately 75 percent of all of the aluminum ever produced since 1888 is still in active use today. The company has a workforce of approximately 61,000 people in 30 different countries around the world.
Historic Stock Performance

Click to enlargeThe above chart shows the historic stock price performance of Alcoa compared to its competitors Kaiser Aluminum Corporation (NASDAQ:KALU) and Alumina (AWC), and the Dow Jones U.S. Aluminum index. You can see in the above chart that the company's stock price underperformed its competitors and the industry index with a price depreciation of 3.49 percent over a one-year period. The decrease in the stock price reflects the deceasing price of aluminum over the one-year period.
Financial Performance in recent years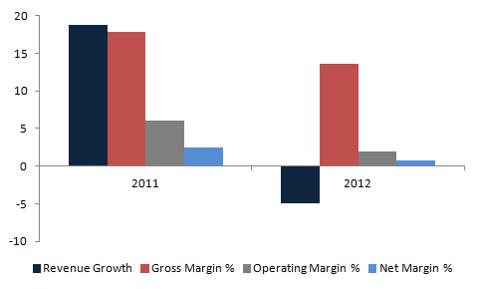 Click to enlarge
The above graph shows the company's revenue growth and its margins from 2011 to 2012. As you can clearly see, the drop in aluminum prices has squeezed the margins of the company substantially. Revenues dropped 5 percent in 2012 as compared to an increase of 18 percent in 2011. Gross margin, operating margin and net profit margins also dropped significantly due to the negative price effect.
In April 2013, Alcoa reported lower-than-expected first-quarter revenues, and recently the company announced that it will close down two production lines at a plant in Canada, and cut about 500 jobs there because of lower aluminum prices. However, the company has seen strong demand for aluminum, despite the falling prices.
Moody's Downgrades Alcoa ratings
On the basis of lower aluminum prices, Moody's downgraded Alcoa's credit rating to junk status. Moody's stated that although Alcoa has reduced costs and made itself more productive, difficult industry trends and decreased aluminum prices will make it hard for the aluminum smelter and parts-maker to make its credit measurements investment grade in 2013 or 2014. Moody's analyst, Carol Cowan, lowered her rating to "Ba1" from "Baa3.""Ba1" is the highest junk status rating, on the other hand, "Baa3" is the lowest investment grade status.
Conclusion
As mentioned earlier, the researchers expected 1.8 million tons in 2013, which means that aluminum prices will remain under pressure for the rest of the year. For 2013 Citibank sees consumption growth of just 1.3 percent because of the slowdown in China and the continued sovereign debt crisis in Europe. In current conditions it is not feasible for investors to invest in this stock. So instead of investing in it, investors should take a short position.
Disclosure: I have no positions in any stocks mentioned, and no plans to initiate any positions within the next 72 hours. I wrote this article myself, and it expresses my own opinions. I am not receiving compensation for it (other than from Seeking Alpha). I have no business relationship with any company whose stock is mentioned in this article.