AMB Property Corp. (AMB), a leading global owner, operator, and developer of industrial real estate, has recently signed a 172,000 square foot leasing agreement in South San Francisco. The deal was signed with DBI Beverage Inc., one of the leading beverage distributors in the U.S. The 10-year agreement was the largest industrial leasing deal signed in a decade in the region.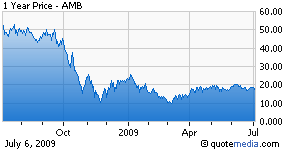 The 21.5 acre property, located at 245 Spruce Avenue in San Francisco, currently has 560,000 square feet of space, out of which only 172,000 square feet was leased to DBI. AMB intends to utilize the space for transit-oriented development. However, with market fundamentals deteriorating in the housing, retail and office properties, the company has decided to lease the space for distribution and warehousing facilities.
The leased facility is strategically located in close proximity to the San Bruno station – a Bay Area Rapid Transit (BART) station located adjacent to the Tanforan shopping center in suburban San Bruno, California. With the deal, DBI has gained a tactical advantage of access to superior transport facilities, which will better serve its customers.
The majority of AMB's portfolio comprises high throughput distribution (HTD), which provides multiple options for quick movement and the distribution of goods to the customer. HTD properties are warehouses or other industrial properties that are located near airports, seaports, and ground transportation facilities, which enable rapid distribution of customers' products. These HTD centers are typically located in areas characterized by global ports in supply-constrained, in-fill markets, which enable the company to gain a significant pricing advantage.
The company has a concentration of assets in high-barrier gateway markets that hold up better in a recessionary environment. While 2009 will be a more difficult year for industry-focused REITs, AMB is well positioned to weather the downturn.
With a strong balance sheet, AMB is much better prepared than private developers and smaller public companies to tide over the continued global economic slump. We reiterate our Hold rating of AMB.