The future of Hoku Scientific, Inc.'s (HOKU) ambitious 4,000 MT poly-silicon project at Pocatello, Idaho looks hazy at the moment. Resilience and out-of-the-box thinking are what HOKU needs to sail through with empty pockets.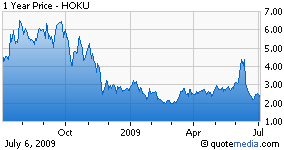 The fate of the $390 million polysilicon project is in the doldrums purely due to a scarcity of funds. However, the management is still optimistic about continuing with the project. Earlier, the company had estimated that the plant will be operational in the second half of 2009 and will achieve full capacity in 2010.

According to its initial estimates of the plan's operability in the second half of 2009, HOKU had entered into polysilicon delivery contracts commencing in the second half of fiscal 2009. However, the strategy of garnering funds through pre-payments from customers backfired when a couple of them ran into rough weather and defaulted. HOKU had to amend four contracts in fiscal 2009.

As per company estimates, HOKU needs to plow in another $106 million to cover the full cost of the polysilicon plant. The company realigned its customer mix and added four new long-term supply contracts while terminating two. This took its polysilicon order backlog as of March 31, 2009 -- encompassing six customers and spanning over a ten-year period -- to approximately $1.9 billion.

The company is also innovative in its approach to conserve cash through means such as delaying construction of the on-site TCS (trichlorosilane) facility in its poly-silicon plant and outsourcing the requirement, delaying reactor testing and initial small production runs.

The immediate threat looming large on the horizon is that HOKU may have to buy poly-silicon from the spot market to comply with its delivery contracts starting in the second half of fiscal 2009, leading to further erosion of cash.

HOKU subsequent to posing a loss of $4.29 million on revenue of $3.23 million in fiscal 2008, posted a loss of only $2.96 million in fiscal 2009 on revenue of $4.96 million.

We reaffirm our HOLD rating on HOKU.