By Jon Kolb
Going forward, as the utility continues to focus primarily on regulated utility operations, positive investment factors for PG&E (NYSE:PCG) including favorable decisions from the CPUC and FERC such as a CPUC authorized 11.35% ROE until 2010, long-term supply agreements, diversification into alternative power sources and infrastructure improvement programs such as the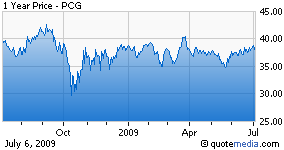 Cornerstone-Smart Meter-Tesla generating station, long-term supply agreements, diversification into alternative power sources and an increased dividend may be partially offset by risks including rising natural gas prices, increased purchased power costs, earnings dilutive stock issuances, and an over-leveraged balance sheet.

PG&E reported financial results for the 1st quarter and year ended March 31, 2009. In the reported quarter, GAAP net income after dividends on preferred stock was $241 million, or $0.65 per share, up from the same period last year when net income after dividends on preferred stock was $224 million, or $0.62 per share.

On a non-GAAP basis, PG&E's operation earnings was $246 million, or $0.66 per share, in the 1st quarter of 2009, up from the same period last year with operating earnings of $224 million, or $0.62 per share. The quarter-over-quarter increase in operating earnings primarily reflects higher authorized revenues associated with additional capital investments in Pacific Gas and Electric Company's (Utility) core infrastructure and lower storm-related costs, partially offset by expenses due to a rise in uncollectible customer debt, severances associated with the consolidation of regional facilities, and several other miscellaneous items.

Return-on-Equity (ROE) DuPont Decomposition Analysis:





The company has been earning impressive returns on equity of over 10% since 2003, often surpassing the utility's authorized 11.4% ROE. ROE reached a peak of 18.4% in 2004 as a result of the implementation of its reorganization plan that included the utility's recognition of a $2.9 billion, after-tax Settlement Regulatory Asset and other regulatory assets. Although operating profit margins declined significantly in 2005 and remained at the same level in 2006, the negative impact on ROE was partially offset by greater revenue per dollar of assets, significant improvements in net income and higher leverage after the company repurchased $2.2 billion of common stock under accelerated share repurchases arrangements.

In 2006, ROE decreased from the previous year due to greater leverage as in 2005 shareholder's equity decreased from repurchase of shares. This trend continued in 2007 with ROE declining again due primarily to greater leverage at a higher cost of debt as well as lower operating margins. In 2008, however, ROE improved on account of lower leverage as well as improved tax retention; partially offset by a lower cost of debt.

Looking ahead through 2009, we expect ROE to decline modestly into single-digit percentage range on account of lower operating margin and higher debt for financing its capital expenditure plans; as well as lower tax retention; all of which we expect to be partially offset by a lower cost of debt.

Free Cash Flow to Equity (FCFE) Analysis: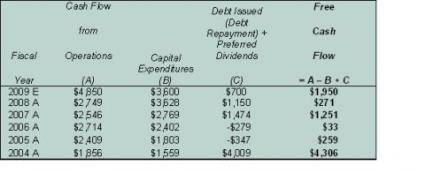 (All figures in millions)

Free cash flow to equity has been positive, though declining significantly, since 2004, as shown in the table above, with increasing cash flow from operations more than offset by increasing capital expenditures and debt service. In 2004, FCFE was greater than $4.3 billion primarily on account of a $6.7 billion public offering of first mortgage bonds. However, in 2005 free cash flow declined sharply due to debt repayment, despite an 11% decline in CFO. In 2006 and 2008, free cash flow decreased to only $33 million and $271 million, respectively, mainly due to higher capital expenditures. FCFE improved in 2007 primarily due to significant long-term debt issuance, despite a significant decline in CFO and greater capital expenditures.

Looking ahead through 2009, we expect FCFE to improve further with increasing CFO partially offset by lower issue of new debt. PCG common stock trades at 12.0x and 11.3x, respectively, our 2009 and 2010 earnings per share estimates, or in-line with the broad electric utility industry yet above some of its more comparable diversified energy utilities industry peers.

Likewise, PCG trades at a modest premium to its industry peers with respect to book value and sales multiples yet at a discount relative to cash flow multiples. Accordingly, with a mixed outlook for the company and partially conflicting valuation metrics, we note a bias toward the upside yet maintain a market-neutral Hold recommendation on PCG common stock with a six-month target price of $39.75, or 12.5x and 11.8x, respectively, our 2009 and 2010 EPS estimates.

Price appreciation to our near-term valuation target, coupled with a $0.42 per share quarterly cash dividend -- which we deem sustainable and secure based on reasonable projected earnings payouts of 53.0% and 49.7%, respectively, of our 2009 and 2010 EPS estimates -- represents annualized total return potential of 13.5%.

San Francisco, California-based PG&E Corporation is the parent holding company of California's largest regulated electric and gas utility, Pacific Gas and Electric Company (Pacific Gas), which serves approximately 5.1 million electric and 4.3 million natural gas customers in northern and central California. The utility also operates hydro-electric, nuclear and fossil-fueled power plants.