Amicus Therapeutics (NASDAQ:FOLD) began registration for phase III trial of its investigational drug Amigal for the treatment of Fabry disease and expects to begin the dosing of subjects in the second half of this year. Along with the US FDA, the company has already decided on the primary endpoint of the pivotal trial which will be based on the change in the amount of kidney GL-3, the substrate that accumulates in the cells of Fabry patients.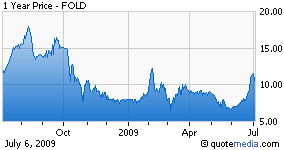 The trial will consist of a six-month enrollment of approximately 60 subjects who are either new to enzyme replacement therapy (ERT) or have not received ERT for at least six months prior to the start of treatment with Amigal. The Amigal treatment arm dose and regimen will be 150 mg every other day.
Amicus and partner Shire Human Genetic Therapies Inc. (Shire HGT) are discussing with the European Medicines Agency (EMEA) about the clinical trial designed to evaluate safety and efficacy of Amigal versus enzyme replacement therapy (ERT) in Fabry patients. They are expected to provide an update regarding registration plans in Europe in the second half of 2009.
Amigal is the company's most advanced candidate under trial and its approval can turn Amicus' fortune. Once approved, Amigal will face tough completion from the already approved drugs like Genzyme's (GENZ) Fabrazyme and Shire's (NYSE:SHP) Replagal. However, the total market size for the product is currently close to $700 million and likely to cross $1 billion within the next two to three years.
For Fabry disease patients who respond to Amigal, we believe that the use of Amigal may have advantages over Fabrazyme and Replagal. Moreover, since treatment with Fabrazyme and Replagal requires intravenous infusions every other week and often onsite at health care facilities, it is inconvenient for patients. Oral treatment with Amigal may be much more convenient and may not have the safety risks associated with intravenous infusions.
Amicus has generated significant losses to date and we believe the situation will worsen further as the company advances its three lead programs to late developmental stages. As a result, Amicus may need to obtain additional funds for further research and development programs thus diluting shareholder value.
We maintain our Hold rating for the shares of Amicus Therapeutics.